The Best Outdoor Dining Patios in Asheville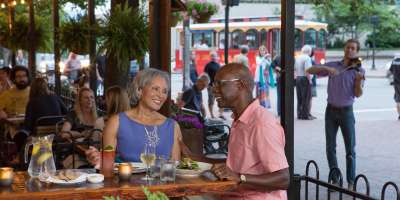 Go Al Fresco in Foodtopia
If there's one thing that drives home Asheville's moniker as "the Paris of the South," it has to be the outdoor dining scene. On a warm evening in downtown Asheville, diners are seated at sidewalk tables, tucked into courtyards and gathered around fire pits, enjoying the mild mountain climate with a side of world class cuisine. There are more than 100 restaurants/breweries with outdoor dining in and around Asheville.
Here's a brief guide to some of the area's favorite patios, courtesy of our Facebook fans and others:
Great Patios in Asheville, N.C.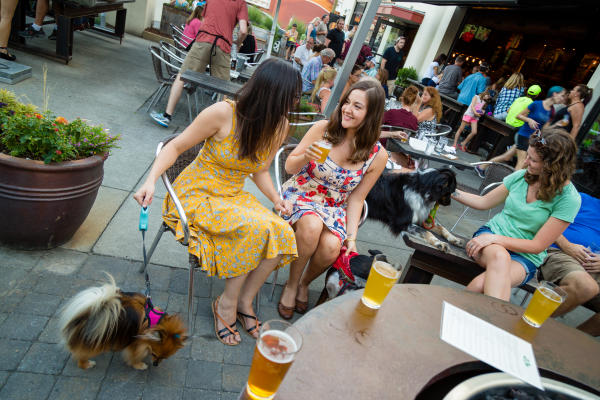 Earning high marks from our fans are the patios at the Foundation in the River Arts District. Wildly popular 12 Bones Barbecue has a large patio area that is decorated with bright and vibrant street art and murals done by local artists (also check out the patio at 12 Bones' South Asheville location). The Wedge brewery, which shares the Foundation building with 12 Bones, has its own extensive patio area. Drive up the road just a couple miles to the patio at White Duck Taco on the French Broad River. With a large patio and ample parking, it's definitely a local and visitor favorite.
Downtown Asheville offers a wealth of outdoor dining options. Pack Square features some of the city's favorite patios including Rhubarb, Posana, Bomba, The Noodle Shop, and Farm Burger (just around the corner). All of these restaurants offer great people watching and you'll often enjoy entertainment from a busker (street performer)! On the other side of Pack Square, Twisted Laurel has attracted quite a bit of attention for its patio which includes live plants, twinkling lights and a mural. The patio is also very dog-friendly (ask about the menu just from dogs!).  
At the Grove Arcade, an architectural gem in downtown, check out Carmel's Kitchen and Bar. You'll find a series of tables under bright red umbrellas at its corner location. Carmel's is just one of several restaurants at the Grove Arcade with outdoor dining. Also near the Grove Arcade is Isa's Bistro, a French restaurant with an Asheville twist.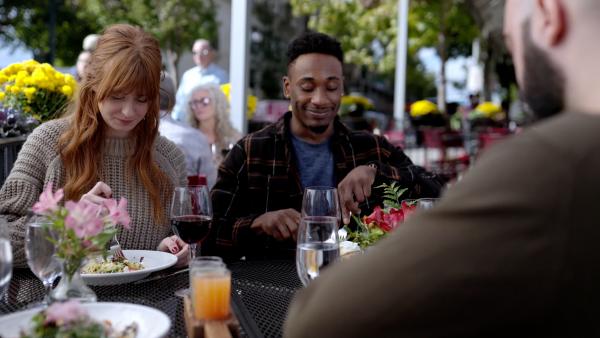 Mellow Mushroom on Broadway Street received a high number of votes thanks to its quirky and colorful patio. Decorated with bowling balls, a pretty psychedelic sculpture that was once Ronald McDonald and plenty of other conversation pieces, it's a great place to feel the Asheville vibe as you bite into a fresh slice of pizza.  
Across the street from Pritchard Park, where the Friday night Drum Circle is held, Mayfel's courtyard is a popular among locals especially on Sundays when the menu boasts a Bloody Mary Bar. Other favorites downtown include: Tupelo Honey, Isa's Bistro and Laughing Seed Cafe.
Pick up your coffee from Double D's, a coffeeshop houses in a double-decker bus, then sit in the courtyard.
Other restaurants, such as The Lobster Trap, feature newly-updated sidewalk dining built during 2020.
Spread Out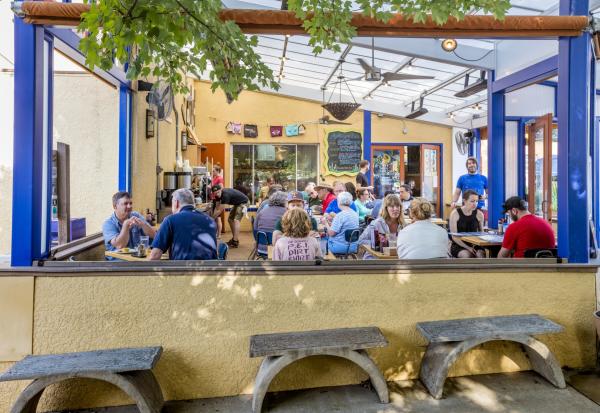 For diners seeking a different pace, check out these top patios in Asheville's outlining neighborhoods:
Just blocks from downtown in the historic Montford District, All Day Darling has a beautiful patio area along the tree-lined street. The restaurant is within walking distance of the Asheville Visitor Center (36 Montford Avenue). Head just a few miles north on Charlotte Street and enjoy Asheville's premiere oyster destination at Jettie Rae's. Their new open-air expansion features ample space for dining and drinking with shareable bites and drinks available from The Pearl, Jettie Rae's vintage airstream sidekick. 
Known for its hip, laid-back vibe, West Asheville is a great place to dine outdoors. Sunny Point and Early Girl Eatery West are hot spots in the morning. Haywood Common along with the Universal Joint are popular especially for lunch and dinner. Heading to experience Biltmore? Just outside of the estate in Biltmore Village, The Cantina and The Village Wayside are among our fans' favorite patios. 
In the peaceful Reynold's Village neighborhood in Woodfin, The Village Porch lives up to its name with tables and chairs outside of its brick facade.  
And, just to the east of downtown Asheville in the Haw Creek area, dine al fresco at RendezVous, which offers French comfort food. 
Bottoms Up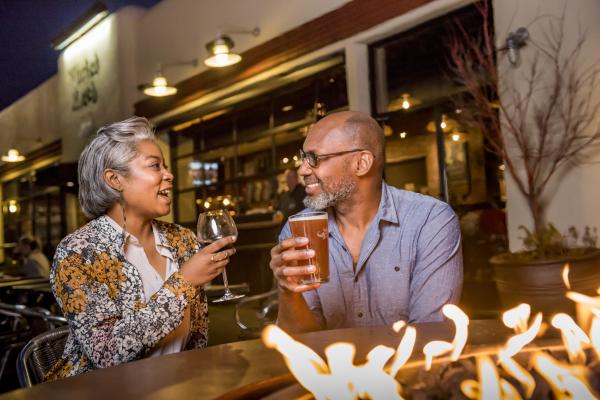 According to our fans, Wicked Weed Brewing has two of the best patios around. The space in front of the brewery and restaurant features a large fire pit and high-top tables. The downstairs space in the back of the building offers picnic tables, complimentary pretzels and cornhole sets for casual hang-outs.
In fact, almost all of Asheville's more than 50 craft breweries have outdoor seating areas, as do popular craft beer bars. And, those breweries that do not have their own kitchens often welcome food trucks in the evenings and on weekends.
Stop by the visiting food truck on your way to Highland Brewing Company's Meadow or rooftop bar, which features cornhole and a clear view of Cold Mountain. Or, pedal your way over to the deck at New Belgium Brewing's tasting room, which overlooks the French Broad River. Enjoy a cold beer at French Broad Outfitters' Riverside Bar, which Blue Ridge Outdoors magazine named the "Greatest New Bar in Asheville."
The South Slope District, just blocks from downtown, has several breweries with top-rated patios including, Burial Beer's outdoor space (complete with an old frame you can sit in and a notable mural of Sloth and Tom Selleck), and Catawba Brewing (which has picnic tables and a space for hammocks).   
Hillman Beer, a neighborhood brewery in Biltmore Village, and Lookout Brewing in Black Mountain are also great places to have on your radar.
Evening on the Town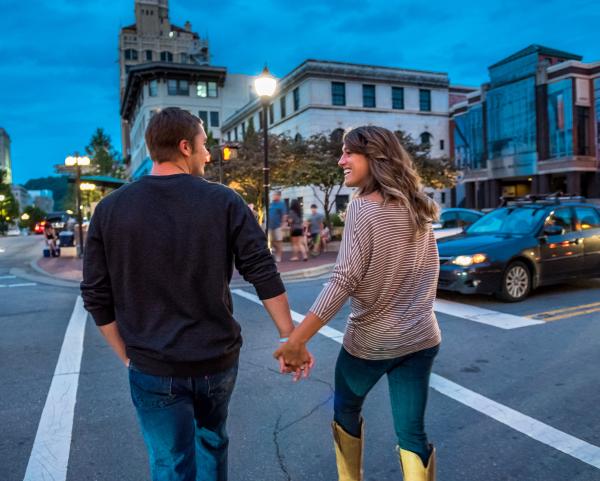 While these outdoor dining destinations are great at any time of day, the ambiance is especially welcoming in the evening.
Bottle Riot, a wine bar, in the River Arts District is on the lower level of the century-old Wedge Studios building. The cool lighted Bottle Riot sign and table top gas firepits are eye catching. 
Biltmore Village's historic buildings are all lit up at night with lights, making the patio at Corner Kitchen even more romantic when the sun goes down.
In downtown Asheville, dining at Pack's Tavern's patio provides you a view of the green space at Pack Square Park and the art deco City and County buildings.
And, treat yourself to a delicious dessert and great people watching at the outdoor space at Crave Dessert Bar.
Food with a View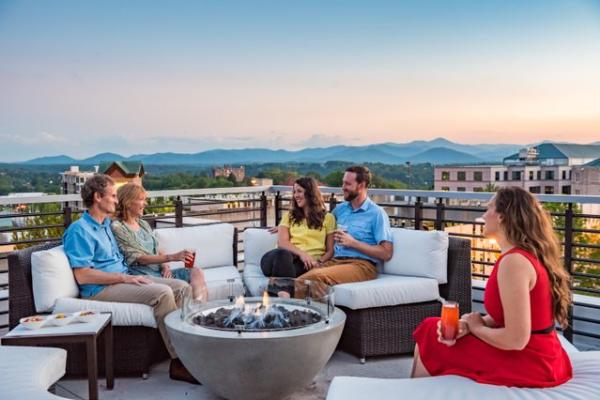 One thing Asheville has that Paris lacks is the stunning beauty of the Blue Ridge Mountains, and no place quite captures that view like the Sunset Terrace at The Omni Grove Park Inn. Stop in for an inspired lunch or a leisurely dinner featuring chop house cuisine, or step on over to Edison for comfy couches, fireplaces and an open-air table set with creative pub fare. One of the best views in downtown is Hemingway's Cuba. Located in the Cambria Hotel, Hemingway's offers incredible views of the city skyline combined with delicious Cuban comfort food. 
The Montford offers one of the most stunning views for sunset. You'll want to stay for the seasonally-driven craft cocktails and small bites prepared with local ingredients. There's a new rooftop bar at the Hilton Garden Inn downtown, The Pillar Bar. Other favorite rooftops include The Aloft, and the rooftop patio at downtown's Social Lounge is a favorite for craft cocktails and summer breezes, and the Courtyard Market at Biltmore offers one of Asheville's favorite views--the 250-room Biltmore House itself.
For more great rooftop bars, check out our guide to the 11 best rooftop bars in Asheville.
Small Town Charm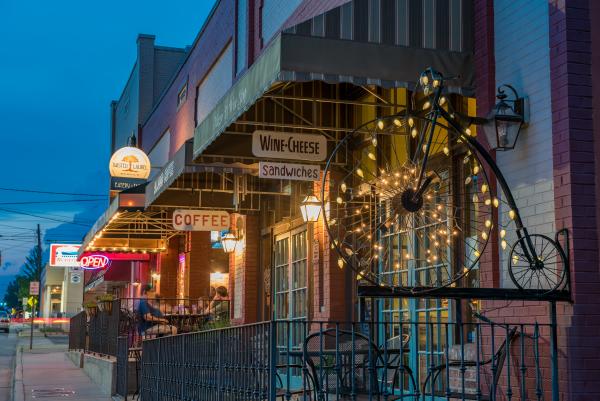 Asheville's neighboring towns such as Black Mountain and Weaverville, box above their weight when it comes to outdoor dining options.
In Black Mountain, social media buzzed over patios at Black Mountain Bistro, My Father's Pizza, Black Mountain Kitchen and Ale House and The Trailhead. Weaverville's nods include Main Street staples: Twisted Laurel, Soba, Blue Mountain Pizza and Yellow Mug Coffee House.
Updated February 20, 2023