The Best Outdoor Dining Patios in Asheville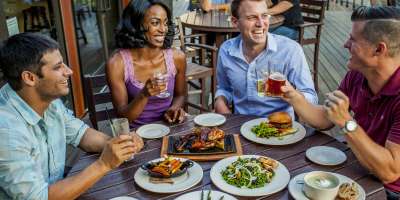 Go Al Fresco in Foodtopia
If there's one thing that drives home Asheville's moniker as "the Paris of the South," it has to be the outdoor dining scene. Outdoor dining provides a great way to maintain social distancing in an open-air environment.
On a warm evening in downtown Asheville, diners are seated at sidewalk tables, tucked into courtyards and gathered around fire pits, enjoying the mild mountain climate with a side of world class cuisine.
Here's a brief guide to some of the area's favorite patios, courtesy of our Facebook fans and others:
Great Patios in Asheville, N.C.
There are several relative newcomers on the patio scene, including rooftops, decks and riverside retreats. Among those is the Foundation building area of the River Arts District. Wildly popular 12 Bones Barbecue has a large patio area that is decorated with bright and vibrant street art and murals done by local artists. The Wedge brewery, which shares the building with 12 Bones, has its own patio area.
Just outside of downtown Asheville, Bonfire Barbecue has constructed a patio, complete with colorful sun shades. The patio sits just outside of Bonfire's live music and games space, The Pit.
Stop by the visiting food truck on your way to Highland Brewing Company's rooftop bar, which features cornhole and a clear view of Cold Mountain, or pedal your way over to the deck at New Belgium Brewing's Liquid Center tasting room, which overlooks the French Broad River. Also relatively new on the river, enjoy a cold beer at French Broad Outfitters' Riverside Bar, which Blue Ridge Outdoors magazine named the "Greatest New Bar in Asheville." Order up some tacos and sliders to accompany the live music and summer sun at Salvage Station.
Bottoms Up
According to our fans, Wicked Weed Brewing has two of the best patios around. The space in front of the brewery and restaurant features a large fire pit and high-top tables. The downstairs space in the back of the building offers picnic tables, complimentary pretzels and cornhole sets for casual hang-outs.
In fact, almost all of Asheville's more than 40 craft breweries have outdoor seating areas, as do popular craft beer bars like Thirsty Monk. And, those breweries that do not have their own kitchens often welcome food trucks in the evenings and on weekends.
Sidewalk Style
We feel we need to give the Mellow Mushroom its own patio shout out -- it received the second highest number of votes from fans and it gets extra points for style! Decorated with bowling balls, a pretty psychedelic sculpture that was once Ronald McDonald and plenty of other conversation pieces, it's the perfect place to do some people-watching as you bite into a fresh slice of pizza.
Carmel's Kitchen and Bar also received its fair share of votes and can lay claim to having one of the largest patios in downtown Asheville. Enjoy the creative and casual cuisine at this eatery in Asheville's historic Grove Arcade building. Twisted Laurel Downtown gets high marks for its dog-friendly patio that sits across the street from downtown's Pack Square Park -- Asheville's main gathering place for festivals and events. The patio is decorated with live plants and twinkling string lights add to the ambiance.
Bouchon, has a pleasant patio area, perfect for relaxing with a glass of wine and some good friends.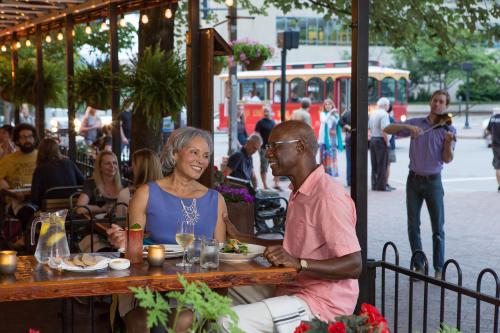 When it comes to places for people-watching, the Universal Joint in West Asheville, Tupelo Honey Cafe's downtown location and the restaurants around Pack Square -- including Posana, Rhubarb, the Noodle Shop and Bomba -- are all wonderful as well. Other downtown favorites include: Isa's Bistro and Laughing Seed Cafe. And the French Broad Chocolate Lounge has added park-side patio seating!
Unseen Spaces
For diners seeking a table further from the activity of downtown streets, courtyard dining can be ideal.
Check out Smoky Park Supper Club in the River Arts District. The main part of this restaurant/bar is made of 19 recycled shipping containers. 
The courtyard behind Mayfel's is a popular spot among locals -- especially on Sundays when the menu boasts a bloody mary bar. And, on the growing South Slope, Ben's Tune Up offers a festive beer garden that mixes the indoors with the outdoors.
Food with a View
One thing Asheville has that Paris lacks is the stunning beauty of the Blue Ridge Mountains, and no place quite captures that view like the Sunset Terrace at The Omni Grove Park Inn. Stop in for an inspired lunch or a leisurely dinner featuring chop house cuisine, or step on over to Edison for comfy couches, fireplaces and an open-air table set with creative pub fare.
The Montford is one of the newest rooftop venues in town and offers one of the most stunning views for sunset. You'll want to stay for the seasonally-driven craft cocktails and small bites prepared with local ingredients. There's a new rooftop bar at the Hilton Garden Inn downtown, The Pillar Bar. Other favorite rooftops include The Aloft, and the rooftop patio at downtown's Social Lounge is a favorite for craft cocktails and summer breezes, and the Courtyard Market at Biltmore offers one of Asheville's favorite views--the 250-room Biltmore House itself.
For more great rooftop bars, check out our guide to the 11 best rooftop bars in Asheville.
Updated November 4, 2020