The Grove Arcade: Dine and Shop at Asheville's Architectural Jewel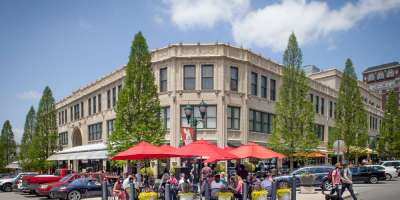 The Grove Arcade is an Asheville landmark, featuring a mix of more than 35 businesses: eateries, galleries, and locally-owned shops just waiting to be explored.
Check out information on the Grove Arcade's Winter Wonderland holiday event!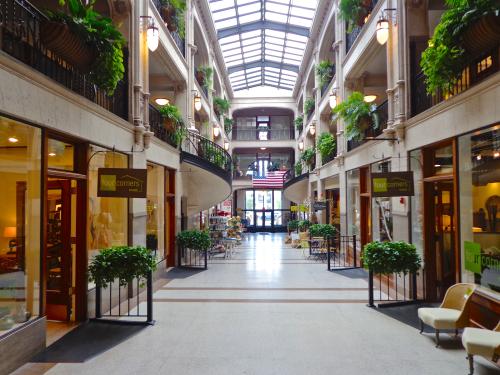 When you walk into the Arcade, glance above and then down. Light streams in from a glass ceiling of skylights creating a quilt of geometric shadows on the marble halls beneath your feet. The halls are sloped, designed to follow the contours of the mountain landscape, making for intriguing nooks and long vistas. Then, allow your eyes to follow the spiral wrought iron staircases to the ascending floors where leafy green plants compliment intricate stone details and ornamental sculptures.
When the creator of the Grove Park Inn envisioned this architectural jewel in downtown Asheville in the early 1900's, the idea was simple: to create a fanciful "city within walls" that would serve as "a palace of dining and shopping enchantment." More than 100 years later, you'll see Edwin Wiley Grove's vision holds true.
Paris of the South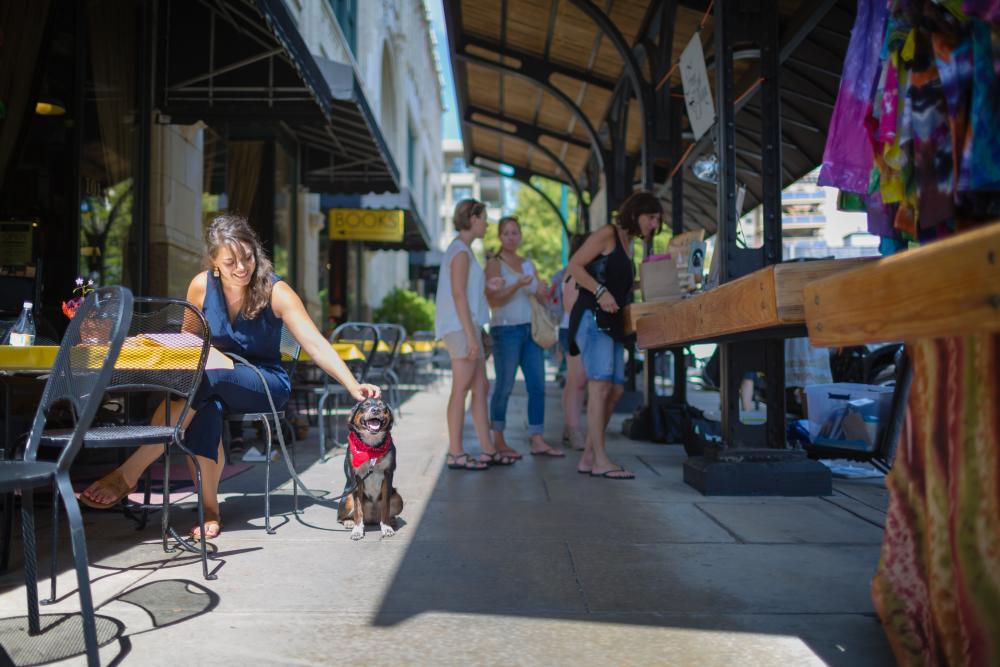 Begin exploring the Grove Arcade outside where the Outdoor Artists Market is open daily, rain or shine, from 10:30 a.m. to 10 p.m. Dozens of local artisans sell their wares. On any given day, you'll be greeted with handmade jewelry, paintings, clothing, soaps, local honey, musical instruments and more. Strolling this lively public market is a great way to work up an appetite.
Restaurant Row: Wine and Dine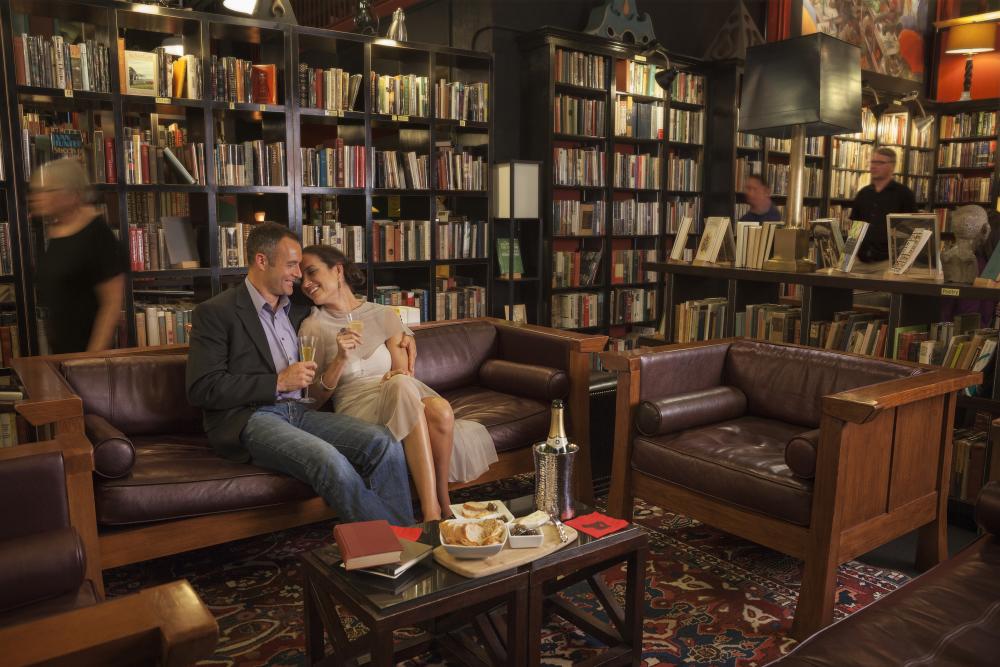 In true Parisian form, the Grove Arcade features outdoor dining with brightly-colored umbrellas and table cloths beckoning you to take your seat. Carmel's Kitchen and Bar is a popular gathering spot lauded for its al fresco dining. The restaurant uses naturally-raised meats, organic produce, and line-caught seafood. The Battery Park Book Exchange and Champagne Bar also has outdoor seating but is best known for bringing together two favorite pleasures: books and wine. Explore shelves of thousands of books while sampling your way through the wine list of more than 80 selections. And, sit at the bright blue tables outside of Nani's Rotisserie Chicken, one of the newest additions to Restaurant Row.
Global Influence
A trip to the Grove Arcade is like a culinary trip around the world with a wealth of restaurants offering international cuisine. Baba Nahm, serves quick, vibrant, and wholesome Mediterranean food. Modesto celebrates the flavors of Italy. For an American staple, the burger, head over to BurgerWorx. Coming soon is Huli Sue's, a Hawaiian-style BBQ and grill. 
Coffee and Dessert
After having your main course (or beforehand -- we don't judge!), stop in at Bebette's, a New Orleans-style coffeeshop serving up delicious beignets. Well-Bred features glass cases full of giant cookies, eclairs and other treats. Area favorite, Summit Coffee is a great place for a cup of joe, tea or juice. 
Equally Eclectic Shopping                 
The shops inside the Arcade are as diverse as the cuisine at the eateries. You can find everything from fine furniture to jewelry, from the latest clothing trends to crafts. Among the visitor favorites are Mountain Made, a gallery showcasing the work of Western North Carolina artists, and Enter the Earth, a shop specializing in fine minerals and fossils. After a day of exploring, treat yourself to a relaxing foot soak at Wake- The Foot Sanctuary & Shop.
During the Holidays, It's a Winter Wonderland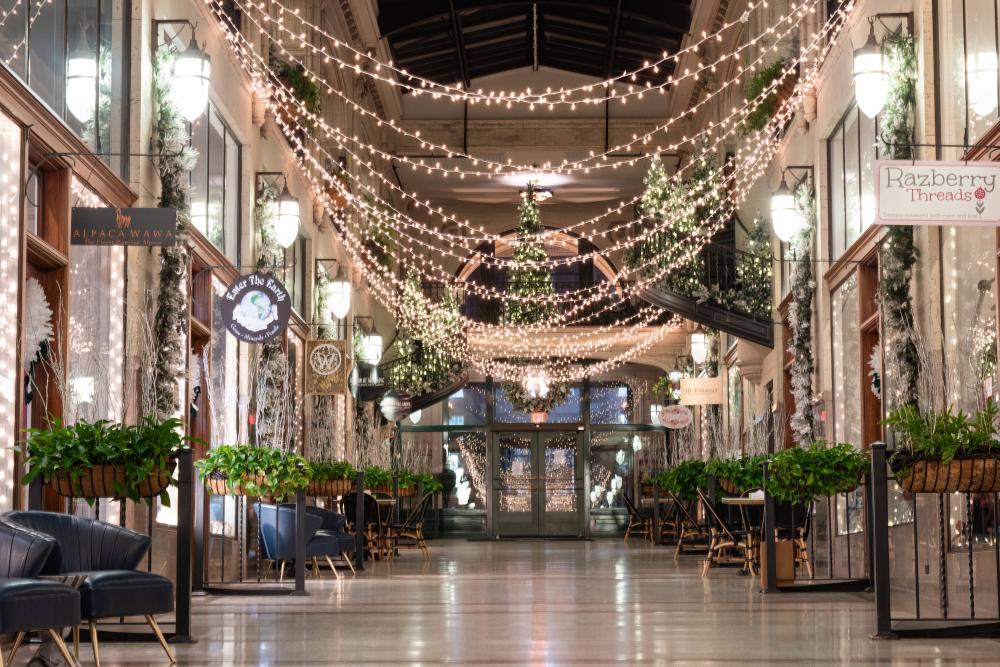 Asheville architectural gem the Grove Arcade takes its decorations to the next level for its Winter Wonderland celebration. Inside, string lights and decorated trees complement the stunning architectural details, leading the eye to the ceiling of skylights. Outside, a gorgeous giant lighted tree serves as a gathering spot and photo op. Adding to the ambiance, lights are strewn in the trees lining the sidewalk.
Wellness is Where it Began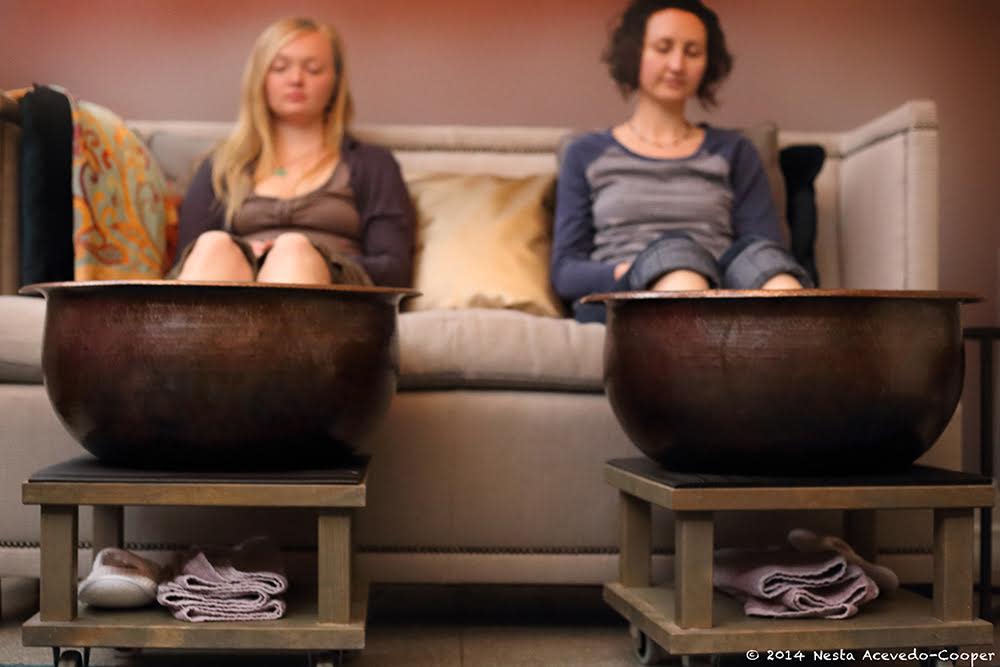 Edwin Wiley Grove amassed a great fortune by attending to the health of others with his Paris Medicine Company. He originally came to Asheville on orders from his own doctor who recommended Asheville for its reputation for having healing power.
Years after constructing the Grove Park Inn in 1913 with his brother-in-law, Grove worked with architect Charles Parker to design the Grove Arcade. The Grove Arcade would be his final project and he would die before seeing it completed. While a proposed 14-story tower on the top of the Arcade was never built because of the expense, Parker carried out the rest of Grove's vision, completing the 269,000-square foot Arcade in 1929.
In 1942, the Federal Government took over the building, housing 2,000 Postal Accounts employees there before bringing in the National Climatic Data Center. But in the late 1970's public support grew to return the Arcade's to its original form as a public market. After extensive renovations, the Grove Arcade reopened, much as you see it today, in 2002.  
Know Before You Go
Address: 1 Page Avenue, Asheville
Hours: Most indoor shops are open Monday-Saturday, 10 a.m. to 6 p.m. and on Sunday from 12:00 p.m. to 5 p.m.
Parking: Parking is available around the Grove Arcade at metered spaces. Parking is also available nearby in the Wall Street Parking Garage and at other parking garages located throughout downtown.
 
Top photo by Art Meripol. Outdoor Market photo by Nathan Chesky. Indoor photo by Jason Tarr.