Asheville's Drum Circle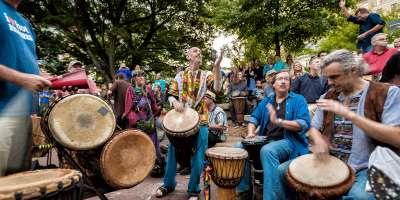 Every Friday night in the rounded outdoor amphitheater of downtown's Pritchard Park people join together to play thundering sounds on the drums, dance to the powerful rhythms, or just sit back and enjoy the show of individuality and diverse community.
The Drum Circle is a free event all about creating harmony, both in music and with one another. The weekly ritual draws hundreds of people together outside during the warm weather months (generally April through October). It's a tradition that began in Asheville in 2001 with just about 10 drummers.
Anybody is welcome to join in the music by bringing their own drum. Drummers begin showing up in the early evening (around 6 p.m.). They continue with brief breaks until about 9:45 p.m.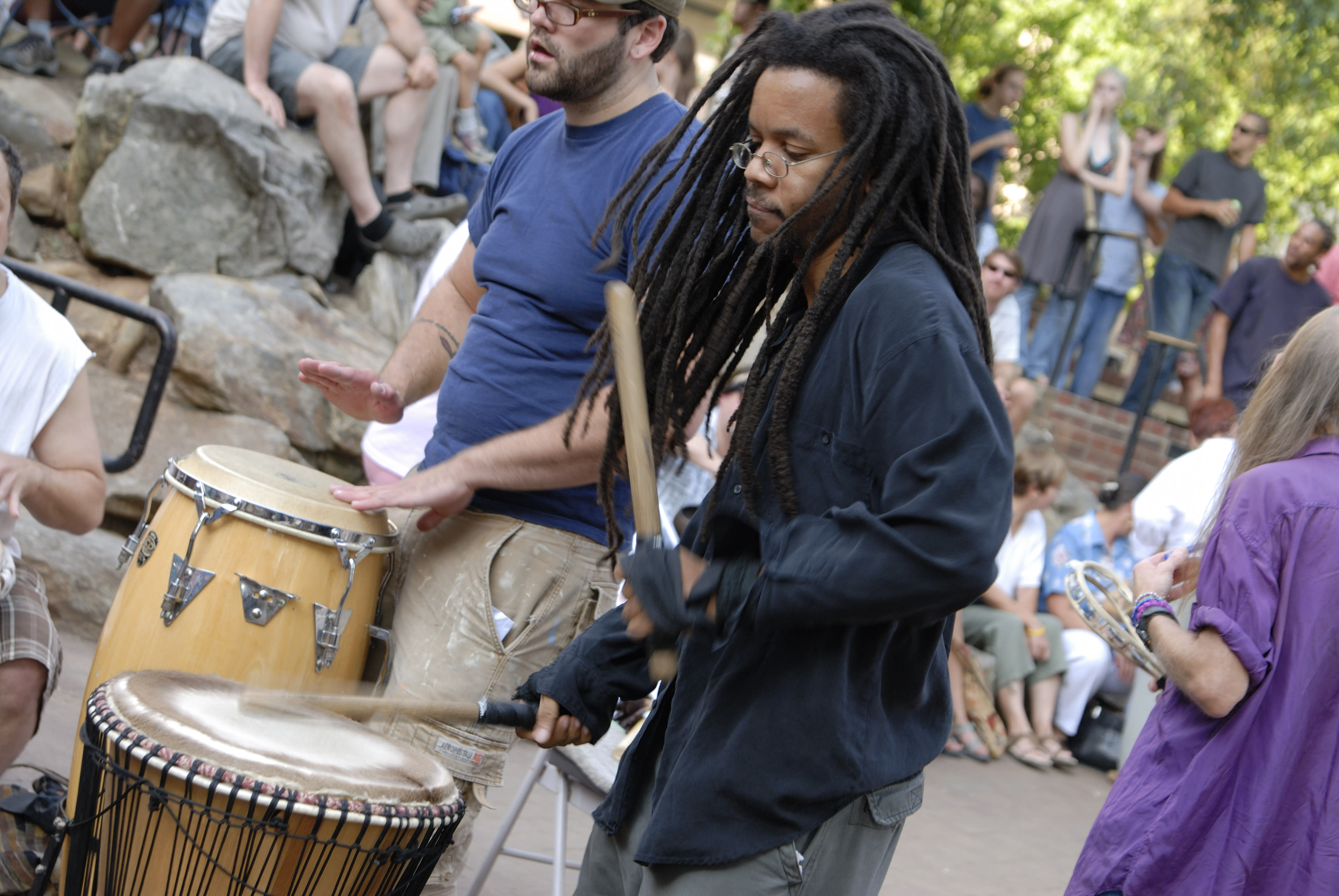 Some drummers stand in the circular brick courtyard, while other drummers fill in the rows of ascending concrete steps behind. Hundreds of enthralled onlookers make up the rest of the circle.
There is no one leader but rather the rhythm comes together as the group feels the momentum of the beat. In the courtyard, belly dancers, hula-hoopers and other dancers with cowbells and triangles add to the symphony of sounds and variety of visuals. Everyone from toddlers to the more seasoned share their moves with the crowd. The popularity of the Pritchard Park drum circle has led to another drum circle at Lake Julian, which occurs on the last Thursday of every month from 5:30 p.m. to 7:30 p.m.
Interested in joining in the circle but need to build some confidence? Skinny Beats Drum Shop in downtown offers classes to help you learn to keep the beat.  You don't even have to own a drum to take the beginners course with teacher Billy Zanski. Among his specialties is Djembe, a goblet drum originating in west Africa that is played with bare hands.  He also teaches classes on playing crystal bowls, gongs and other instruments.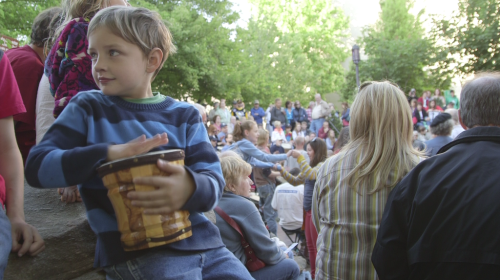 Local rhythm leader, River Guerguerian, hosts "World Percussion classes" weekly. Guerguerian founded a celebration of the drumming culture, the Asheville Percussion Festival. The festival typically takes place in June/July but won't be held in 2022. Instead, Asheville Rhythm will be hosting smaller events throughout the year. 
Top photo by Art Meripol. Second drumming photo by Sandi Stambaugh. Photo of child drumming by Jared Kay.