The Ultimate Guide to the 2023 Asheville Championship Basketball Tournament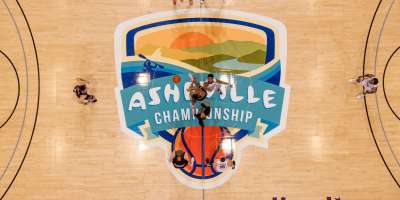 Welcome basketball fans to the third edition of the Asheville Championship... and to our beautiful mountain town! Get an exciting first look at some potential bracket busters in March while making the most of a quick Asheville vacation with our guide on where to stay and what to do, see and eat in Asheville between games.
Schedule, Teams and How to Attend
Harrah's Cherokee Center (87 Haywood St), in the heart of downtown Asheville, will play host to Clemson, Maryland, Davidson and the University of Alabama at Birmingham. The opening rounds take place Friday, Nov. 10 with the championship and third place games tipping off Sunday, Nov. 12. The full schedule is attached below. 
Maryland reached the second round of last season's NCAA Tournament, while Clemson was one of the first four teams to miss the field, instead accepting an NIT bid. UAB went 29-10 and reached the NIT championship game last season, and Davidson is coming off a 16-16 campaign in its first year under coach Matt McKillop.
If you have yet to purchase tickets, you can do so here.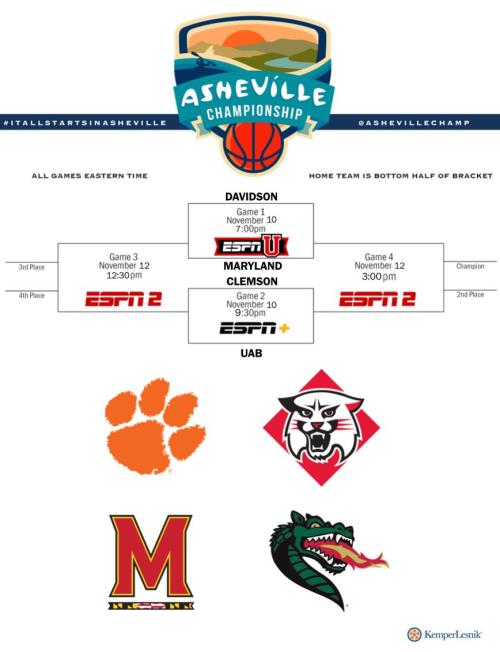 Players to Watch
PJ Hall, Clemson: Hall returns for his senior season as the Tigers' leading scorer after averaging 15.3 points and 5.7 rebounds last year. Hall's scoring ability and his 6-10, 240-pound frame will make him hard to stop in this early season tournament. 
Jahmir Young, Maryland: Young is one of 10 active college basketball players with at least 1,900 points, 600 rebounds and 350 assists in his career. The 6-1 guard returns to Maryland for his last season of eligibility with hopes of climbing up NBA draft boards.
Eric Gaines, UAB: With last year's leading scorer Jordan Walker off to the NBA, the pressure will be on junior guard Eric Gaines to step up as a scorer and leader for the Blazers. Gaines is the only player returning to the squad who averaged double digit scoring last season.
Jarvis Moss, Davidson: A Stanford transfer, Moss, a 6-4 guard, enters the next phase of his college career with the Wildcats, which look to bounce back after subpar season with a new coach. 

Take a Timeout With These Lodging Deals
When it's time to call it a night, Asheville hotels offer a wide selection of places for basketball fans to rest their head and great deals for those in town for the tournament. Staying in downtown Asheville hotels are located close to the Harrah's Cherokee Center and within walking distance of many breweries, restaurants and boutique shopping. 
Traveling with your dog? Asheville's pet-friendly hotels accommodate the entire family, including four-legged friends. Fall is also a great time to travel to Asheville with these limited-time lodging offers!
Looking for something new? The Radical is a daring new boutique hotel and living art installation that breathes new life into a once abandoned building. The hotel's richly layered design features original street art, both past and present. Now accepting reservations for stays beginning Oct. 23, 2023.
Friday Night Fast Break
The opening round games begin Friday night with Davidson and Maryland kicking off the tournament at 7 p.m. and Clemson-UAB following at 9:30 p.m.
If you're looking for some great food before the game, and want to stay close to the arena, check out Isa's Bistro for outdoor dining and a farm-to-table experience or Chai Pani for its world-renowned Indian street food. Click here for our entire downtown food guide. There are also plenty of delicious and unique food trucks to choose from if there's no time for a sit down meal. 
When the games conclude, it'll be time to find that perfect postgame spot. If you're hoping to catch some highlights of the game, stop by The Bier Garden, which is just down the road from the stadium on 46 Haywood St. You'll find cold local beer, plenty of televisions and tasty bar food available all night. Just down the road from The Bier Garden is Rankin Vault Lounge, known for its signature cocktails and late night chili cheese dogs. The Vault also has some great vegetarian options if that's more your speed.
Looking for something else? Here's a great guide to a plethora of places that stay open late om Asheville. 
Saturday Slam Dunk
The Asheville Championship just so happens to fall, well, during fall — our most celebrated time of the year, where golden and red hues take over the city and the Blue Ridge Mountains. It's a special time of year. With no games on Saturday, why not make the most of your weekend?
Start your morning at one of Asheville's favorite breakfast or brunch spots and then go out and discover stunning color around the Asheville area. You can stay up to date with the color changes via our weekly fall foliage reports or use this helpful guide to finding the best late fall scenic drives for color. More of a hiker? We've got that covered, too. Also, make sure and catch a sunset while you're in town. There's really nothing else like it, except maybe a buzzer-beating shot. 
If you're looking to stay and play in town, visit the River Arts District, where you can see local artists at work, shop or grab a bite and a beer. West Asheville is also a great place to spend the day or night with great dinner options like Jargon, The Admiral and Nine Mile or funky bars like The Double Crown, Fleetwoods and The Odditorium. If the weather's nice, find a great patio for lunch or dinner. It's hard to miss when choosing from outdoor seating near Pack Square, which features some of the city's favorite patios like Rhubarb, Posana, Bomba, The Noodle Shop, and Farm Burger (just around the corner).
Make sure and check out at least one of our over 50 local breweries and find out why we're nicknamed Beer City USA! 
Here are 50 more things to do in Asheville!Championship Sunday
With the third-place game beginning Sunday at 12:30 p.m. and the championship game shortly after at 3 p.m., there's plenty of time to grab some breakfast in the morning and plan a dinner in the evening after a champion is crowned. Here's another helpful guide to help you make your culinary choices.
If you're looking to stay with the sports theme, we recommend an early morning visit to Biscuit Head, where the biscuits are as big as basketballs. If you brought the kids with you to the tournament, here's a list of several family-friendly restaurants and breweries to try!
Pro tip: Sunday can be a busy time for brunch. We recommend either going early (especially at Sunny Point Café) or trying to book a reservation!
Why not stay another day, or two!
Going back to reality, especially after an exciting basketball tournament, can be a real drag. So why not stay a little longer in Asheville! There are so many advantages to a early or midweek stay in Asheville: hotels and flights are cheaper, the restaurants and hiking trails are less crowded and the nightlife bustles with regional music and excitement. If you decide to extend your trip, don't miss out on these insider tips!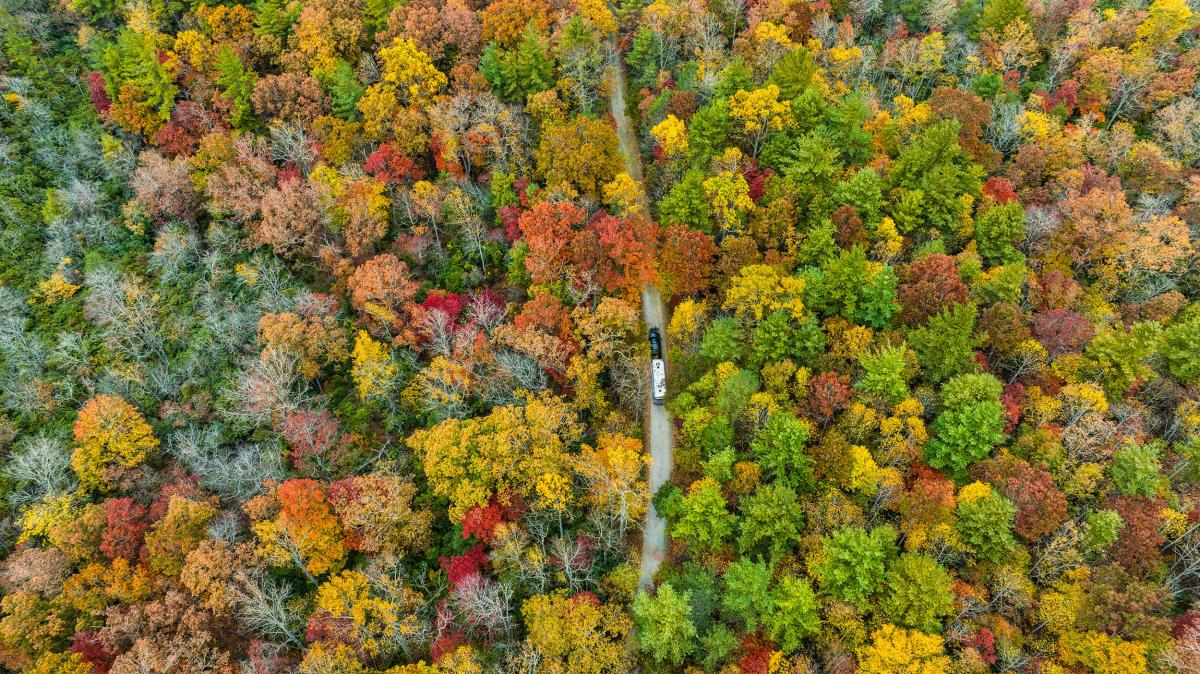 Updated October 12, 2023