Kid-Friendly Restaurants and Breweries in Asheville, NC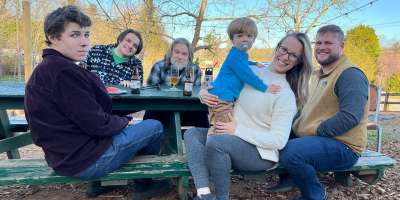 Photo by @jennybellphotography
Asheville is a culinary destination, even for the youngest of diners
Dining with kids can be tricky at times, but this list of kid-friendly restaurants and breweries in Asheville takes the guesswork out of whether your little ones will enjoy their meal out as much as you. It's especially helpful if you are visiting Asheville, North Carolina with kids and want to enjoy the city's iconic culinary scene while also making sure the whole family is welcome. This list of family-friendly restaurants in Asheville includes easy counter service options, restaurants with delicious kids menus, fun breweries and even nearby playground recommendations.
The S&W Market
Let's start with a true gem! As Asheville's only food hall, The S&W Market is such a fun place to eat with kids. Not only can your family choose from a variety of food options, but there are a ton of fun places to sit, including community tables and high tops on the main level, outside and upstairs by the Highland Brewing taproom. 
Your kids will love the novelty of a cafeteria-style food hall, but don't expect boring cafeteria food at S&W. This is Asheville, after all! Crowd favorites include steamed buns from Bun Intended, wildly delicious chicken sandwiches from Buxton Chicken Palace, empanadas from Mikasa Criolla and gourmet hot dogs from Farm Dogs. P.S. – Don't forget to cap your dinner off with ice cream (including dairy-free options) from Asheville's beloved local ice cream shop The Hop. 
Rocky's Hot Chicken Shack 
Though spicy Nashville-style hot chicken may not sound kid-friendly, Rocky's Hot Chicken Shack is a great place to eat with kids. Not only do their kids meals (choose from a chicken tender, leg or even a meatless option) come with a choice of side or waffle, but you'll also find fried pickles and banana pudding on the menu. And if you aren't sold yet, try their mac & cheese and you'll be forever changed.
Rocky's is a laid-back counter service restaurant with a location in West Asheville and a second in South Asheville. Their South location is directly next to Jake Rusher Park where you'll find an excellent mulched playground.
Luella's BBQ
Speaking of mac & cheese and banana pudding,
Luella's
is an excellent destination when dining with kids in Asheville. It's counter service and you can expect quick, delicious food that your kids (and you!) will love. The kids menu includes chopped pork, pulled chicken, BBQ tempeh, smoked wings and even a bowl of their famous kid-approved Mac 'N Hoop Cheese. And if you also personally love mac & cheese, try their version topped with brisket burnt ends, tomato and green onion.
Luella's has two locations in Asheville and both are great restaurants for families, especially their
North Asheville
location because it's next to Weaver Park. There you'll find a paved track perfect for bikes, a basketball court and a small playground for your wildlings.
Luella's in South Asheville
is located in Biltmore Park Town Square.
Sunny Point Café 
Located in West Asheville, the beloved Sunny Point Café serves up all-day breakfast as well as lunch and dinner. Their kids menu comes with crayons and includes everything from French toast to a cheeseburger and even their delectable carrot hotcakes. High chairs and booster seats are available and though it's table service, the food comes out pretty quickly.
Sunny Point is a busy spot, though, so you should expect a line. Luckily, there is a great garden on the side where kids can explore while waiting for a table. And don't worry, the food is definitely worth the wait. The whole family will love this Asheville restaurant!
Asheville Breweries Your Kids Will Love
Asheville Pizza & Brewing
Asheville Pizza & Brewing is a great destination for the whole family, whether you visit their production brewery and packaging warehouse in
South Slope
or their
North Asheville location
complete with a movie theater. Yes, you read that right! They show both new releases and throwbacks for as low as $3.
Though it doesn't have a movie theater, their South Slope location is the perfect place to eat with kids in Asheville. They offer delicious pizza and appetizers, awesome outdoor seating and 15 taps of their in-house brews for the grownups. Don't miss one of their signature flights if you want to sample a few varieties.
Asheville Pizza & Brewing also has a third, to-go only restaurant in South Asheville.
Highland Brewing 
Set on 40 acres in
East Asheville
, Highland Brewing paved the way for the beer scene we know and love today. But did you know that Asheville's original craft brewery is also one of Asheville's most family-friendly breweries?
Your kids will love frolicking on their large meadow and you'll love sitting back and enjoying one of their local brews. There are shaded tables along the side or you can bring your own seating for the grassy area. If you want to explore a bit more, check out their 1.2 mile hiking trail on the campus. Highland has daily rotating food trucks, as well as a large taproom with a great front porch for soaking up the sun. You can also find them downtown at The S&W Market.
Whistle Hop Brewing Company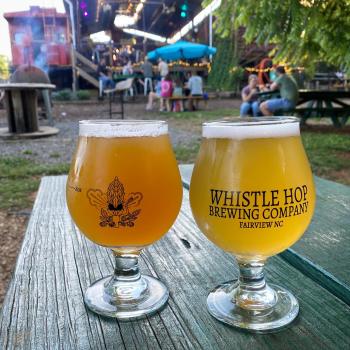 If your kids love trains and you love a good brewery, head to
Whistle Hop Brewing Company
. Located in
Fairview
, NC, this kid-friendly brewery near Asheville is only a 15-minute drive from downtown. And it makes for the perfect stop after hiking on the kid-favorite
Bearwallow Mountain Trail
. 
Explore a caboose or boxcar, play a round of mini golf, go mini bowling or try your hand at Disc Golf Connect 4. You'll also find tons of outdoor seating, bocce ball, soccer, a culvert slide, shuffleboard and occasional live music. Plan on a daily food truck, excellent beer and a fun time for the entire family!
Whistle Hop photo credit: @ashevilleuntapped
Updated February 8, 2023