Top 10 Family Friendly Parks in the Asheville Area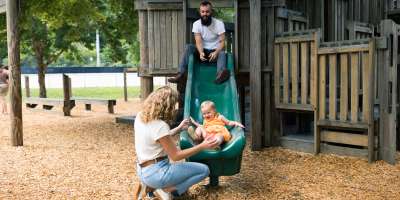 Asheville's popularity has exploded in recent years with a seemingly endless stream of visitors year round, as well as new residents taking root. With all that Asheville and the surrounding area has to offer, you might be wondering what are the top Asheville family friendly activities available in the nooks and crannies of our gorgeous outdoor setting. For those looking for family friendly things to do in Asheville, we have put together a list of the top parks in Asheville, NC and throughout Buncombe County. So, if you're visiting us for the first time or returning for your tenth adventure, this list will guide you to best playgrounds in and around Asheville, NC.
Carrier Park in Asheville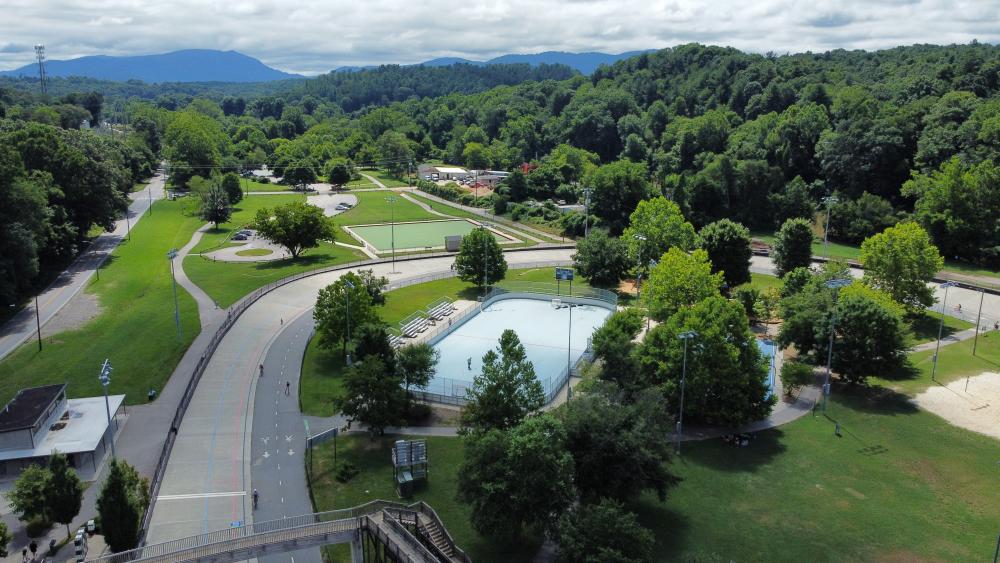 Formerly known as Asheville Motor Speedway, this once DIRTcar race track has been transformed into a velodrome bicycle track (also great for strollers and scooters!), with its massive former infield a multiuse park. Park amenities include a wooden playground (take your picture in the cute wooden racecar!), a roller hockey skating rink, sand volleyball courts, basketball courts, lawn bowling, plenty of places to run and play, as well as walking trails with beautiful views of the French Broad River. Be sure to stop by the memorial at the front of the park to read the story of its speedway days, and don't forget your fried bologna sandwiches!
Address: 220 Amboy Road, Asheville
Nearby: Outdoor exploring is big near this park with access to loads of walking trails that line the French Broad River, as well as a boat launch. Across the street, take your adventures inside at Climbmax, which is outfitted with an indoor climbing wall with instructors. Don't forget, right around the corner is the River Arts District with endless shops for food, beer, wine and of course art houses.
Botanical Gardens at Asheville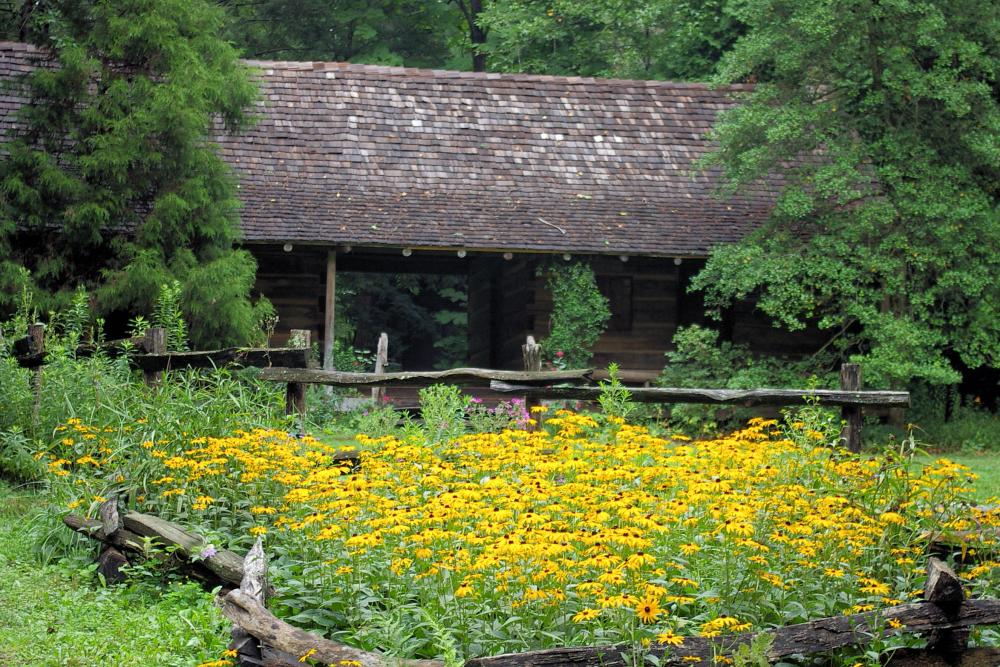 Located adjacent to UNC-Asheville, the Botanical Gardens at Asheville is a great place for kids to learn about the native plant heritage of the Southern Appalachians. All of the plants are labeled, so it's very educational, the gravel loop trail is appropriate for strollers and young walkers, and there is a nice creek there to splash around in (be sure to bring your water shoes!).
This isn't a play park, and parents are asked to closely monitor their children at all times during your visit, as the gardens are very fragile, but there is a gazebo and a shaded grassy lawn to hang out and enjoy a nice picnic. Be sure to pick up a free Investigation Passport from the Visitor's Center (there are five to choose from with different topics of focus) that encourage kids to use their observation skills while exploring the gardens, and includes fun activities to be enjoyed there and at home.
Address: 151 W. T. Weaver Boulevard, Asheville
Nearby: Downtown Asheville is not far at all from the gardens and we don't have to tell you what adventures await when you explore all Asheville city has to offer. From its many world class dining experiences to the arts, breweries and beyond, downtown Asheville has carved its name as one of the most desirable locations in the South to visit. Explore and you'll see why.
Buncombe County Sports Park in Enka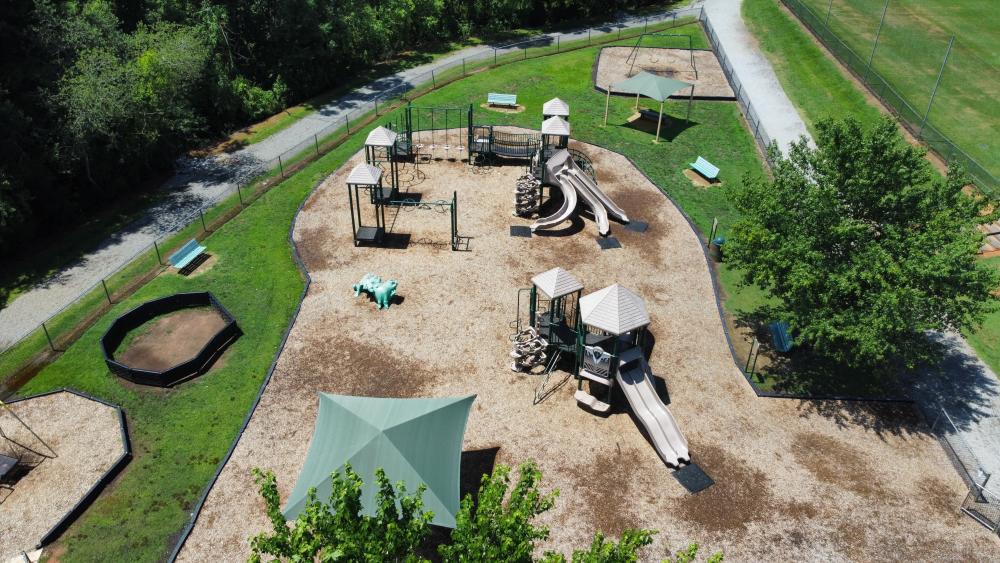 The list of amenities at the Buncombe County Sports Park is LONG. This park near Asheville, NC has it all, with the highlights being a massive soccer field (in addition to being a great place to kick a ball around, it is also the perfect place to fly a kite on a breezy spring day!), a large picnic pavilion, a fully fenced in kids playground with shaded benches and a new wheelchair swing, walking trails, a disc golf trail, bocce ball court, sand volleyball court and more. Public restrooms are also available.
Address: 58 Apac Circle, Asheville
Nearby: Just a bit further down on Sardis Road, you'll find pizza and brew on hand with Galactic Pizza and Wicked Weed Brewing's West taproom both available for good food and cold drinks. Further out on Brevard Road, you'll have access to both the Blue Ridge Parkway and The North Carolina Arboretum or more outdoor adventures!
Jake Rusher Park in Arden
Dubbed "castle park" by the locals due to its stunning wooden playground with bright blue-topped spires, Jake Rusher Park is a top park around Asheville, NC. It recently underwent an extensive renovation to include a new paved parking lot, accessible sidewalks, sports courts, a pavilion and a new restroom building.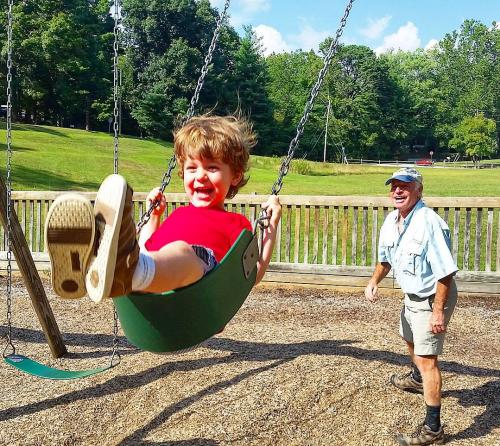 Although the playground has a separate "Tot Lot" for toddlers with a fun sand pit (bring the sand toys!), the playground overall is great for all ages with its clever use of climbing platforms and stairs instead of ladders. Surrounded by old growth trees, this well shaded park also features a large lawn area to run and play, ringed by a paved walking loop.
Address: 160 Sycamore Drive, Arden
Nearby: Within walking distance behind the park is a local favorite for food, Rocky's Hot Chicken Shack open seven days a week, perfect for an impromptu picnic. Across Hendersonville Road is a nice spot for miniature golf at the Lakeview Putt & Play.
Photo credit: @nicedrewishfella
Lake Julian in Arden
Lake Julian Park is a beautiful woodsy lakeside park, set beside a 300-acre public lake, with amenities such as boating (bring your own or rent one of theirs), fishing, outdoor gaming like disc golf, volleyball and horseshoes, picnic areas (we love grilling out at the park!), an enormous playground that includes a wheelchair swing, a gaga ball pit, an ENOpod in the woods overlooking the lake where you can hang up a hammock that you can borrow from the Ranger station if you don't have your own, and lots of room to run.
Lake Julian is also home to a monthly (March through September) drum circle, one of the best Independence Day fireworks displays in the area, and an amazing drive thru Festival of Lights Christmas lights display in the winter. When you visit, be sure to bring a few quarters for the duck food dispensers!
Address: 37 Lake Julian Rd, Arden
Nearby: Right outside of the park, you can find an abundance of restaurants and shopping nearby at Biltmore Park Town Square located less than a mile from the entrance of the park. You can easily spend an entire day between the two sites with excellent places to dine, shop, relax and even catch the latest releases at the area's largest movie theater.
Photo credit: @sarabrand57
Silver-Line Park in Woodfin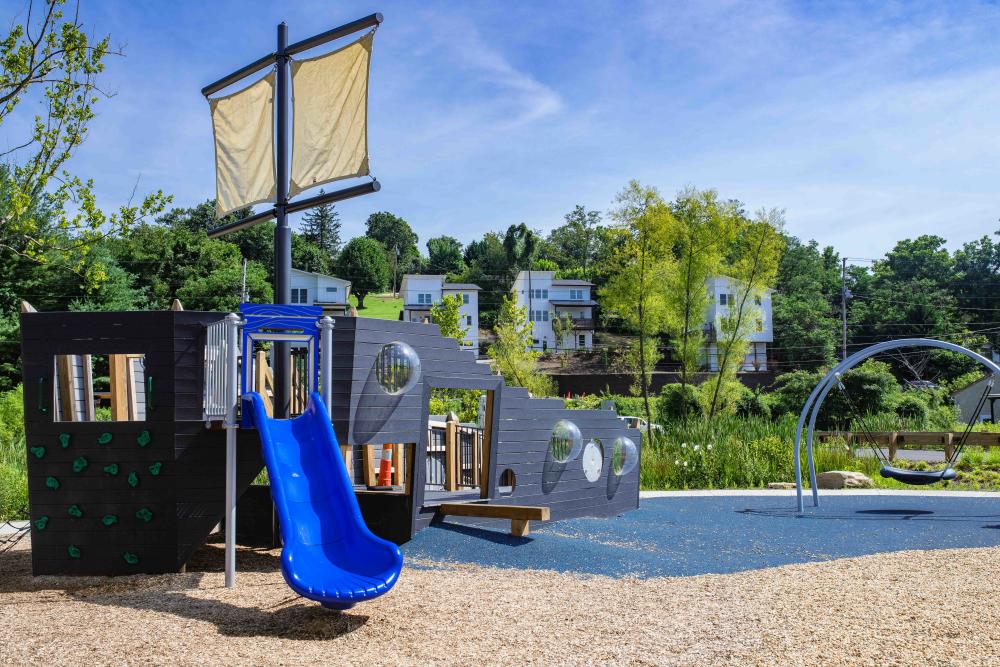 Silver-Line Park officially opened in April 2022, and marks the first major milestone for the town of Woodfin's ambitious plan to transform recreation on and access to the French Broad River through the town. The park includes a section of the Woodfin Greenway/Blueway and Whitewater Wave, a platform for the nearby Craggy Line Rail Line, a children's playground featuring a pirate ship structure, a pavilion, picnic area, river access, a boat ramp, public restrooms and walking trails. Affectionately called "pirate park" by the local kid set, this new addition to the area has become a fast favorite for littles and parents alike.
Address: 1054 Riverside Drive, Woodfin
Nearby: Parents can grab a cold brew down the road these two family friendly breweries in Asheville: Riverside Rhapsody or Zillicoah Brewing (Note: Family Day occurs only on Sundays). Or, take your family adventure to the next level by renting a mountain bike from nearby Beer City Bikes and hit the trails at Richmond Hill Park about 10 minutes away.
Roy Rope Park in Woodfin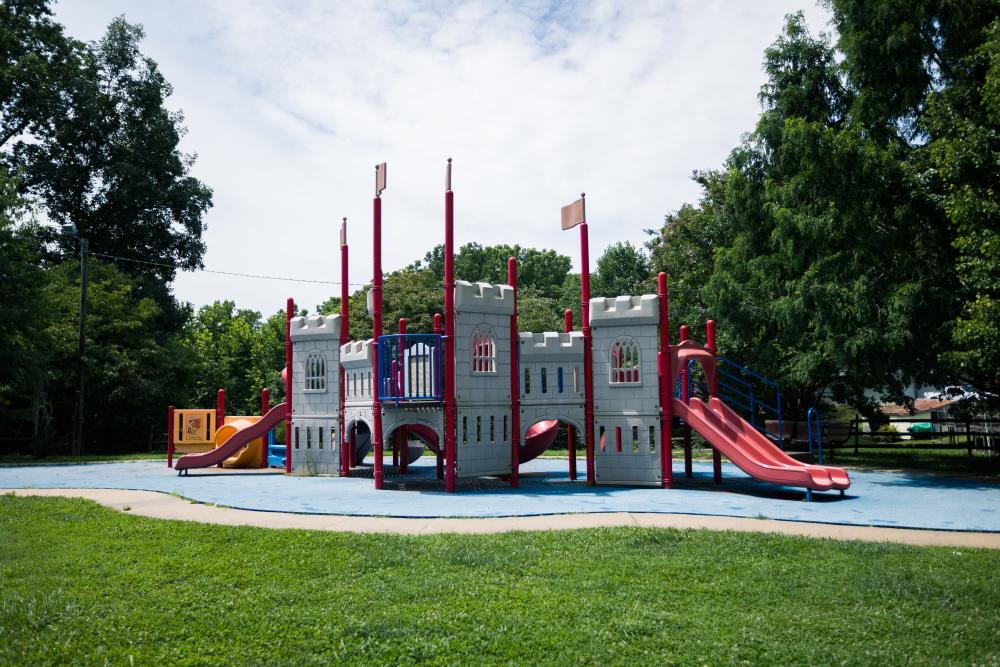 Amongst the locals, the Roy Pope Memorial Park and its Avery's Little Corner playground, is considered the best kids playground in the area for toddlers (although it is also a lot of fun for the older kids!). The ground cover is a soft rubber material rather than bark or concrete so your little ones won't get hurt if they take a tumble while running from the colorful castle, and zig zagging around the dragon on their way to check out the swings.
Aside from the playground, this park features a covered picnic pavilion available for rent, shaded benches, cooling misters, a gravel walking path, an open play area, and public restrooms. The Town of Woodfin has also installed a little free library in the park for your convenience for an impromptu story time while you take a break from the action and enjoy a little snack.
Address: 90 Elk Mountain Road, Woodfin
Nearby: Pop in to Pelican's SnoBalls just a couple miles north to cool down after a day of play or check out Beaver Lake Bird Sanctuary to the East just off Merrimon Avenue.
Robert Lake Park in Montreat
Also referred to as Montreat Park, this beautiful, shady and serene park is owned and maintained by the Montreat Conference Center, and is the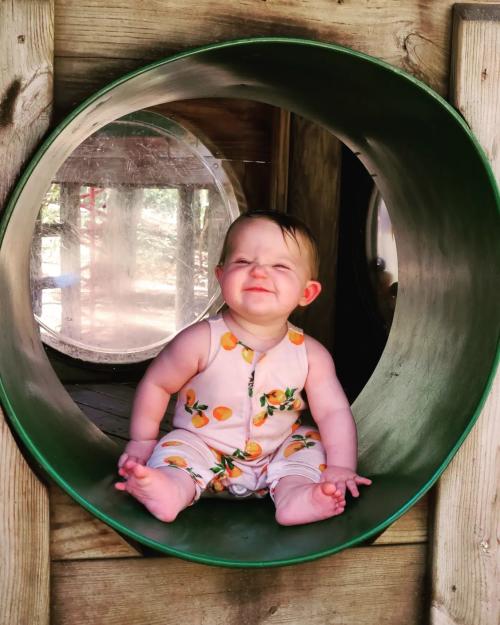 perfect park to spend a hot summer day. The park includes several separate wooden playgrounds connected by cute wooden bridges, with a creek running through, and it's Just. So. Pretty! Pack your little ones swimsuits and water shoes to protect their feet from the bumpy creek bed, and bring some water toys, because playing in the water here is a must do.
Address: 317 Assembly Dr., Montreat/Black Mountain
Nearby: If hiking is your thing, this is the park for you with two popular trail heads nearby. The West Ridge Trail beginning to the west and the Walk Jones Wildlife Sanctuary to the north. With downtown Black Mountain at the heels of the entrance to Montreat, a day out can easily be filled with its numerous shops lining State Street, as well as excellent places to grab a bite or a cup of Joe.
Photo credit: @beth_love143
Lake Louise Park in Weaverville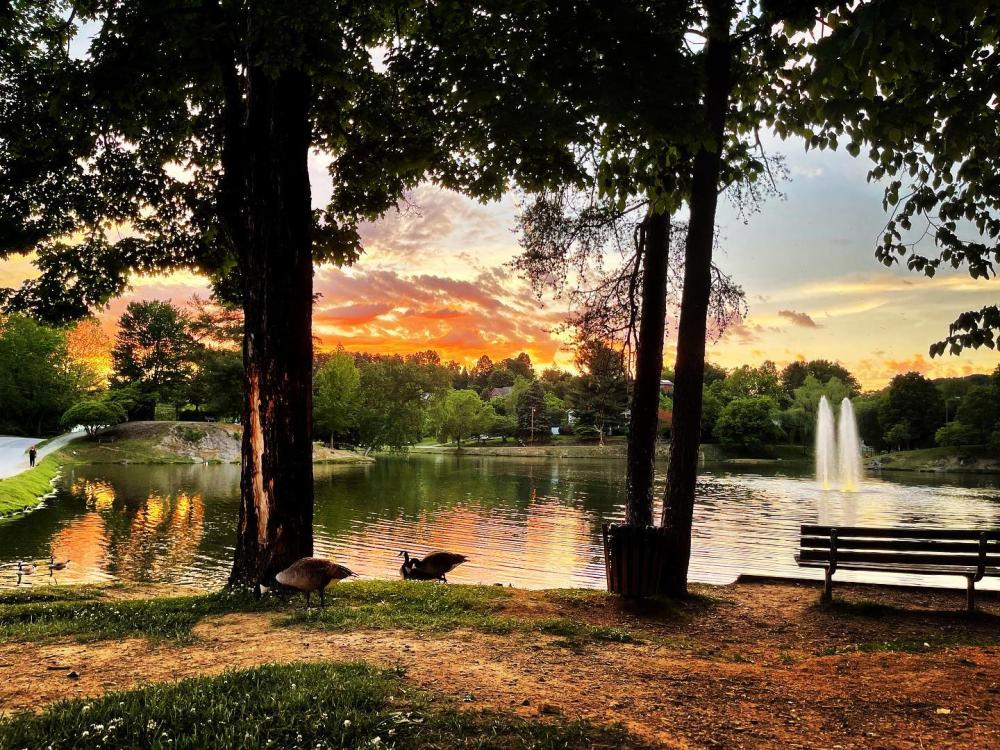 Lake Louise Park is a must visit. This 15.5 acre park features a gorgeous five-acre man-made lake with a paved perimeter perfect for walking or strolling, plenty of spots to have a picnic or to grill out, a fun playground for the kids to play and outdoor exercise equipment to get in some quick cardio. The lake is great for fishing (with a valid fishing license), but if you're looking for a place for the little ones to splash around a bit, you're also in luck at Lake Louise.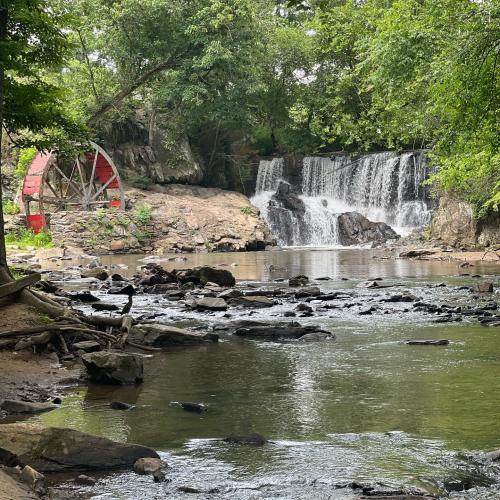 Just a short walk across the street and down a little trail is a dam-created waterfall with an old water wheel and a small creek. Bring your cameras because Lake Louise has an abundance of ducks, geese and turtles, and the water wheel and waterfall are straight out of an old-timey painting.
Address: Lake Louise Drive, Weaverville
Nearby: An up and coming nearby area that is quickly filling in is the quaint town of Weaverville. With great places to stroll nearby like Main Street Nature Park and delicious dessert spots like Well-Bred Bakery in the vicinity, you're sure to fill your day with fun finds!
Photo credit: @dani.b_onelove and @adamasbell
Charles D. Owen Park in Swannanoa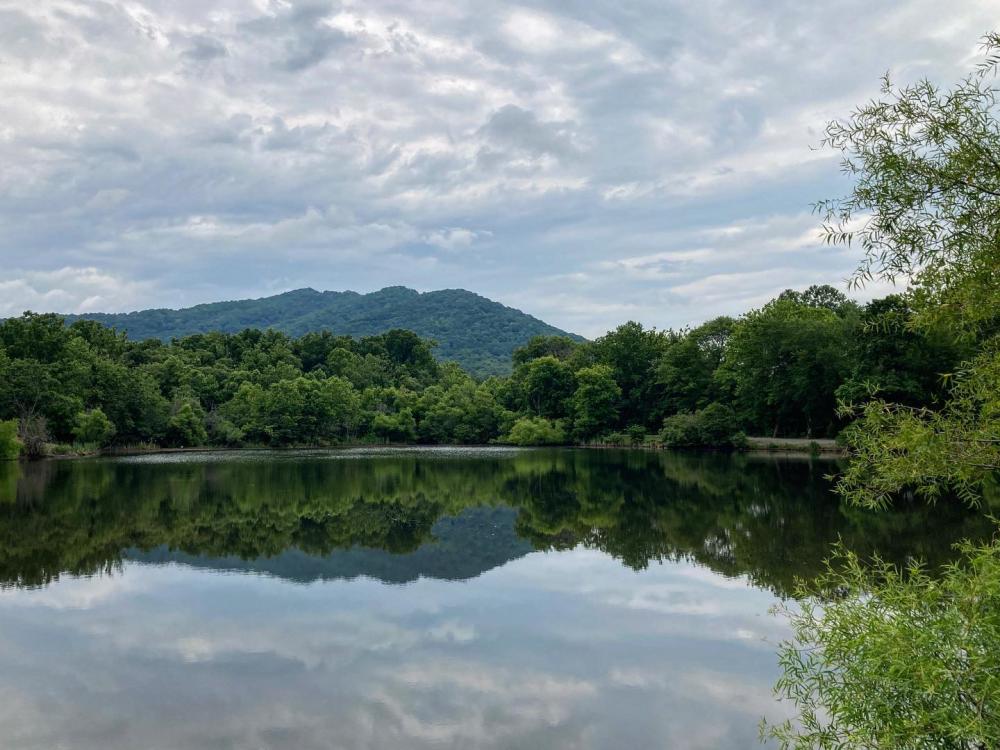 Photo credit: @ourgoldenmoon
This is a lovely park with a mostly shaded one-mile figure 8 walking trail around its two fishing ponds (bring your fishing poles and your permit!), and is set beside the Swannanoa River. It's an ideal spot to walk your dog, scooter, stroll or just enjoy the beautiful view and tranquil sounds of nature. Additional amenities at Charles D. Owen Park include baseball fields, basketball courts, an outdoor fitness course and a relatively new playground that is fun and colorful and features a wheelchair accessible swing.
Be sure to also check out the magical little forest of bamboo that you can walk through! The entrance to the park is behind the National Wiper Alliance building and can be easy to miss, so keep an eye out for the signs.
Address: 875 Warren Wilson Road, Swannanoa
Nearby: Nature again takes front and center in Swannanoa. Two popular trails get their start nearby with Jones Mountain Trail Head and Warren Wilson River Trails both to the west of the park. If you're looking to add some glam to your camping, nearby Everbear Farm advertises a "riverside glamping resort alongside ancient and sustainable agricultural."
There you have it! A look at the top 10 Asheville, NC parks and playgrounds where families and friends can gather and explore free from the pressures of city life. These family friendly Asheville activities provides you with a chance to unwind and relax in the beautiful Blue Ridge Mountains of Western North Carolina. Don't be afraid to try something new and feel free to use this guide as a checklist as each spot's unique properties beg to be experienced at least once. 
Updated August 2, 2022