Adventures on the Third Oldest River in the World
Things to do and see on Asheville's French Broad River
Asheville's vibrant urban scene, gorgeous mountains, and cultural treasures may be what draws so many visitors to the area, but the French Broad River is arguably what allowed all these things to emerge. The river that flows through Asheville helped shape the Appalachian Mountains. The river runs from south to north (a little quirky, just like Asheville!)
It's the third oldest river in the world according to geologists. It's named because there was a French settlement in this region, and broad was a common term for rivers.
"Geography is destiny," explained Karen Cragnolin, Executive Director of RiverLink, a nonprofit dedicated to preserving the French Broad. "This ancient river is a designated drinking water source for more than a million people!"
The river attracted industry and continues to do so—the second and third largest craft brewers in the US are now on the French Broad. These breweries come for many reasons; one is that the water is clean.
"The French Broad River is very clean. Sometimes it looks brown, but that's because the banks are eroded, so when it rains we have a lot of sediment and runoff," explained Cragnolin.
A playground for everyone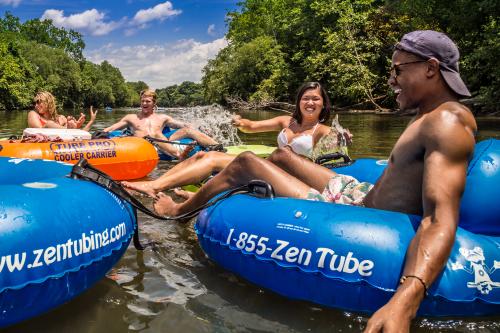 Generations of Western North Carolinians have used the river as a water, food and transportation source. Today it's also a playground for visitors of all ages.
The river is accessible in many ways. Float in a tube (Zen Tubing), kayak, bellyak, canoe, try a stand up paddleboard (SUP), or simply wade along the shores. During colder weather, walk or jog along its banks or sit in a cozy pizza place close to the river (All Soul's Pizza in the River Arts District is excellent).
Float from Hominy Creek to Pearson Bridge
The seven-mile stretch from Hominy Creek to Pearson Bridge is a popular self-guided float trip. The trip begins at the French Broad River Park. Asheville Adventure Rentals is located there—they offer a variety of ways to float this quiet water stretch. You can rent or bring your own and pay a small transfer fee.
This float trip carves through the River Arts District with more than 150 artist studios. Come ashore to watch working artists, including ceramicists, wood workers, and metal workers create beautiful work in their studios. A side trip to the Wedge Brewing Company lets you enjoy a craft beer.
"This stretch is the former industrial section," said Cragnolin. "It's also the heart of the entertainment and cultural district. Even though you're in the middle of industry and the city, you still feel like you are in the country."
Takeout near the Getaway River Bar, a local hangout that sells craft beer and mixed drinks. 
Self-guided float trips from Bent Creek through Biltmore
The French Broad outdoor center Asheville Outdoor Company is located on Amboy Road. The first outdoor center on the river nearly 25 years ago, owner Dave Donnell works closely with nonprofits to keep the river pristine; he also offers rentals and instruction of all kinds of floating craft.
Donnell's company offers a seven-mile float trip on quiet waters that meanders through Biltmore. It's heavily wooded and there are views of the house and sometimes the Inn. This gentle cruising is offered year round, weather dependent. 
Asheville Outdoor Center and other outdoor companies offer standup paddleboarding (SUP) lessons, something Donnell highly recommends.
"Even if you have used SUP in lakes or calm waters, it's different on a moving current, and you have to watch for rocks and submerged stumps," he said.
"My favorite stretch of the French Broad is through Biltmore," said Cragnolin. "There's just something special about the confluence of the French Broad and the Swannanoa."
Wai Mauna SUP Tours offers exciting ways to stand up paddle board on the river with your friends and family. For example, the six-person SUP raft called a "party barge" allows you to have a group experience without renting multiple boards. You can take a guided or self-guided tour on the 17-foot board. Wai Mauna also gives sunrise SUP tours, in addition to the more traditional daytime tours.
A New Way to Explore the Water
Asheville's Adam Masters has created a way to go down the river and it's probably unlike anything you've experienced. Bellyak is essentially a kayak you ride in the prone positions (on your belly), allowing you to connect with the water in a new way. The gear is all designed by Masters and features a special board and webbed gloves for paddling. 
Your Bellyak adventure begins with a quick lesson and an explanation of how to use to your gloves. Then, you're off and ready to "go prone" for four miles on the French Broad Road River. Call ahead to book: 828-708-7682.
Check out Bellyaking in this video:
Fishing and whitewater rafting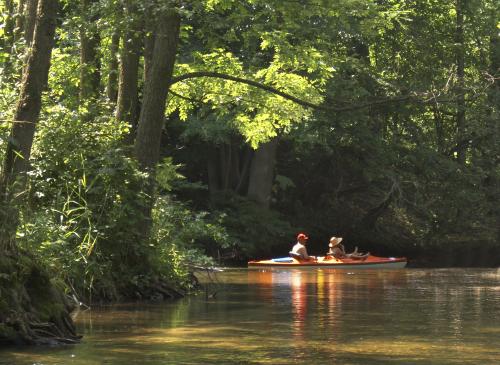 The French Broad offers great fishing; it's a world-class venue for small mouth bass, trout and musky. Curtis Wright Outfitters and others offer fantastic trips to the best spots.
For whitewater rafting junkies, many sections on the river close to Asheville offer all you could want. There are many rafting companies in the area, including Blue Heron Whitewater.
If you're not a huge on-the-water fan, no worries. Asheville Adventure Rentals and other outdoor centers offer bike rentals. Along the French Broad's banks, greenways such as the 4-½ mile Carrier Park paved greenway trail and new Wilma Dykeman Greenway are great for bicyclers, walkers, and joggers. To make biking a little easier, you can rent electric bikes to help ease the uphill parts. For a totally different experience, ride a bike on the Asheville Velodrome (also known as the Melodrome), a resurfaced track that was once Asheville Speedway.
Kayak photo courtesy of RiverLink.
Updated May 22, 2023