Top Holiday Festivals & Events in Asheville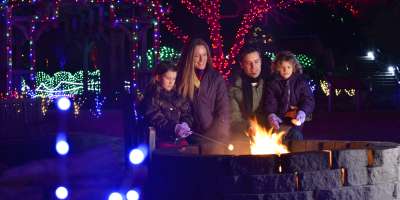 Holiday magic for all ages
Asheville is well known for going all out with its holiday celebrations. The season offers a mix of beloved holiday traditions, special events and pop-up markets. Here's a list of festive celebrations and events happening all season long in the Asheville area.
Continue to check back as we update information throughout the holiday season. 
Top Events for the Holiday Season in Asheville, North Carolina
November 3, 2023 - January 7, 2024
Biltmore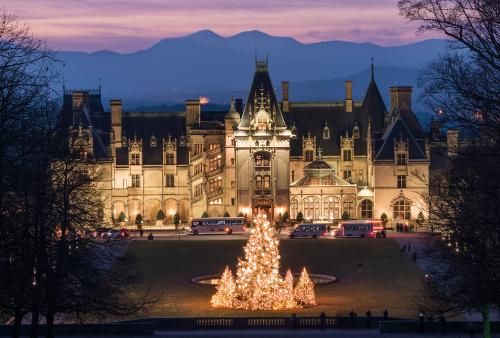 Biltmore has decked the halls in holiday décor with more than 60 trees including a 35-foot Fraser fir. Across the estate you'll see garland, ribbons and festive light displays. Each night through January 7, 2024 they are hosting their popular Candlelight Christmas Evenings. This requires a special ticket to reserve your time and each ticket includes a next-day visit to see the gardens, Antler Hill Village, including the new Leonardo da Vinci exhibit, and the Winery.
November 17 - December 31, 2023
The North Carolina Arboretum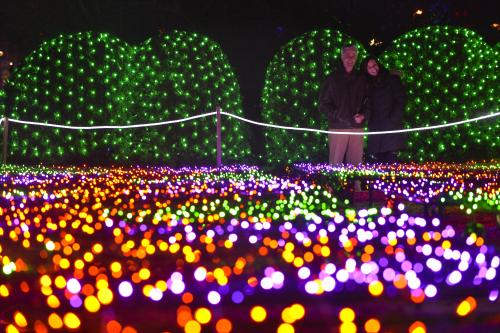 Designed with an artistic aesthetic, Winter Lights is a self-guided walking experience through the Arboretum that features beautifully lit displays and glowing landscapes nestled along the Arboretum's woodland edge and garden areas. Nearly one million lights enhance the natural beauty of the gardens. The lights are on display November 17 - December 31, 2023. Advance tickets are recommended.
Winter Wonderland
November 25 - end of December
Grove Arcade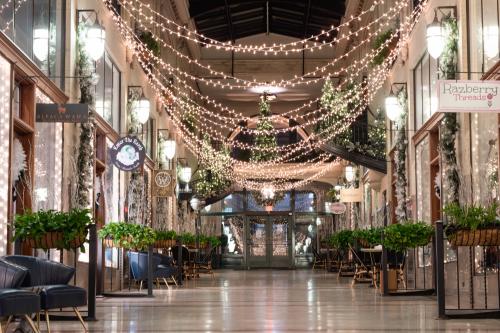 The holiday spirit in Asheville lives at the Grove Arcade. For over 15 years, the merchants and residents of the Grove Arcade have come together to turn their beloved 1920s architecture into a winter paradise! The arcade's Winter Wonderland decorations will be up until the end of December. 
Saturday, November 18, 2023, 2:30 p.m.
Downtown Asheville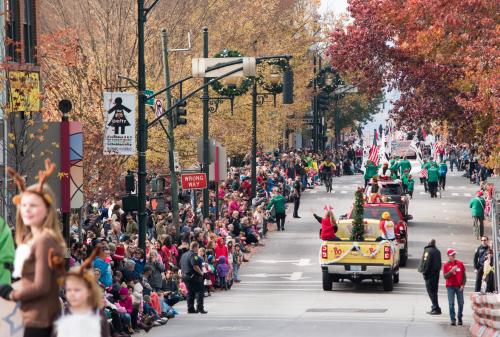 Bring the family out for a parade that will roll, dance, and march through downtown. This year's parade theme is "Winter Wonderland" and will feature more than 100 entries including bands, dance and cheer squads, youth sports, and other organizations. 
November 27, 2023 – January 2, 2024
Omni Grove Park Inn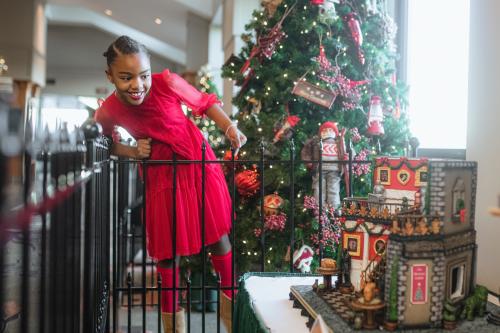 Peruse hundreds of confectionery creations lining the halls of this famed resort, all of which are vying for the top spot in this year's competition. For those not staying at the resort, there are select days you can visit to see the entries. There is a minimum parking fee of $25, and no outside pets are allowed unless you're staying at the Inn.
December 1, 2023 – December 31, 2023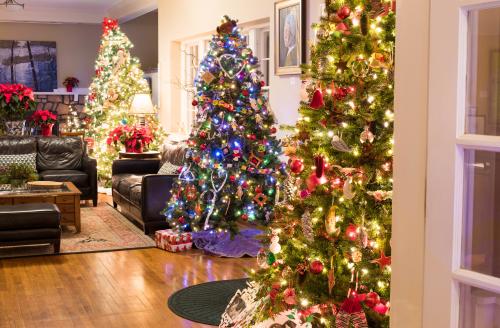 Monte Vista Hotel, Black Mountain
Beautiful and unique hand-decorated Christmas trees in the theme of "Let Heaven and Nature Sing" will bring joy and inspiration to all who visit. The public is invited to view the multitude of adorned trees on display.
TBD
Montgomery Sky Farm
Join Appalachian Santa on the farm for family photo sessions. Kids will have a chance to see Highland cows, mini goats and sheep. Warm beverages and cookies will be available in the barn along with the opportunity to write Santa a letter.
December 3-23, 2023
Lake Julian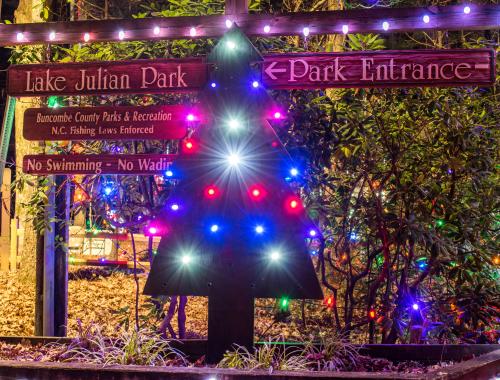 The traditional drive-thru experience will begin on Dec. 3 and shine through December 23. Admission is $5 and tickets for both the walk-thru and drive-thru events must be purchased in advance online.
Jingle Bell Trolley
November 18 - Dec. 31 December 2 - 4, 9 - 11, 16 - 18, 22 - 23
Craggy Mountain Line Railroad
Take a fun and festive train ride with Santa and Mrs. Clause. This event is fun and educational for the family. Tour multiple locomotive, cabooses, and train cars and enjoy cookies and hot chocolate.
December 1-2, 2023
Biltmore Village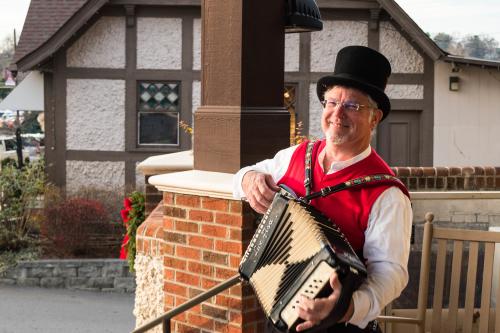 The beautiful, historic district of Biltmore Village transports you back in time to the days of Charles Dickens and A Christmas Carol! The Old World Dickens in the Village Festival is an immersive holiday experience featuring performances by strolling carolers, actors and musicians dressed in costume. This year, the festival will include a Christmas market and kids carnival on Saturday, December 2, from 4 to 7 p.m. followed by another Christmas market on Sunday, December 3, from 1 to 6 p.m.
December 2 & 9, 2023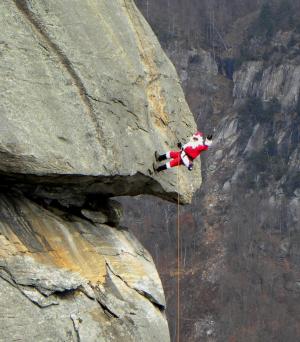 Chimney Rock State Park
Watch Santa practice for the big night on one of the biggest chimneys in the world. On December 2 and 9, 2023, Santa rappels from the top of Chimney Rock at Chimney Rock State Park. Meet him and Mrs. Claus, listen to special music and enjoy family activities.
Dec. 2, 2023
Downtown Black Mountain
Join in the holiday cheer at this annual event in Black Mountain, which features over 50 floats, vehicles and performers, as well as Santa Claus!
Weaverville Christmas Parade
Dec. 2, 2023
Downtown Weaverville
Take part in this annual small town holiday tradition in Weaverville, just north of Asheville. There will be floats, performers, and a visit from Santa Claus.
December 15-16, 27-30, 2023
Adventure Center of Asheville
Celebrate the wonder of winter with a live-action immersive story-walk on an outdoor trail complete with live characters, lights and a blustery guest, Jack Frost. The 3rd annual Winter Wonder Walk follows the pages of the storybook of Winterland - full of holiday magic for all ages! Families can also enjoy a holiday market, a kids' play area and a warm festival tent buzzing with local vendors, tasty concessions, and activities for the family. Don't miss out on the Treetops Adventure Park Glow Trail, which will be available for guests age 4 years or older. Proceeds benefit MANNA Foodbank's Memories Making Meals program.
Holiday Lights at Burton Street
TBD
Burton Street Community Center, West Asheville
The Burton Street Community Center in West Asheville will deck the halls for the holidays. Take a holiday evening walk around the field lit by luminaries, and enjoy hot chocolate and other festive treats.
December 9, 2023
Harrah's Cherokee Center - Asheville
The 32nd annual Christmas Jam is one of the most celebrated and longest-running live concerts in the U.S. The lineup has yet to be announced.
December 16, 9 a.m. - 12 p.m.
Enjoy a family-friendly holiday morning with Santa Claus himself this December hosted by The Farm in Candler. Guests to this very special breakfast will delight in delicious food, crafts, hot cocoa and, of course, Mr. Claus.
Making a list, checking it twice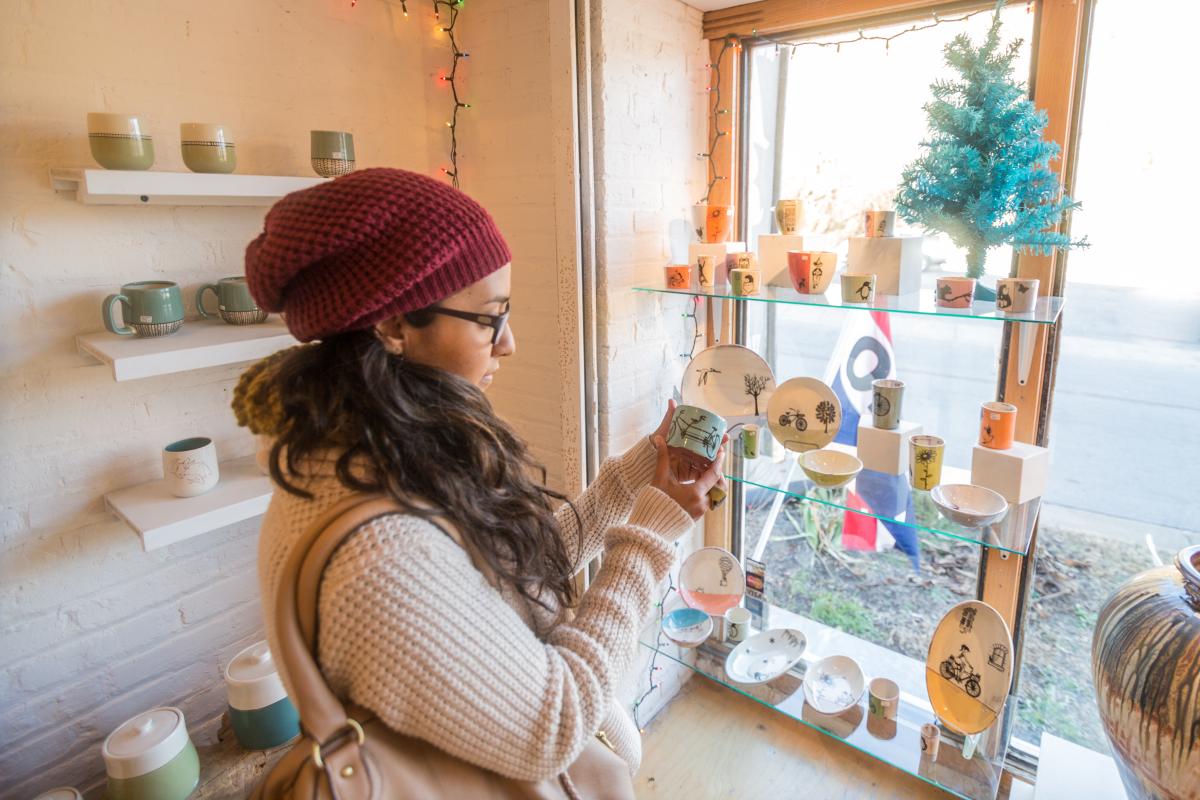 With multiple shopping districts and special pop-up markets, finding that perfect gift is easy in Asheville.
November 1 - December 20, 2023 (Every Wednesday): Weaverville Tailgate Holiday Market at Weaverville Community Center
TBD: East Asheville Holiday Tailgate Market at Groce United Methodist Church, 2:30 - 5:30 p.m.
November 17 - December 31, 2023: A Very Glassy Holiday Market at NC Glass Center, open daily
November 19, 2023: Holiday Pop-Up Market at Open Hearts Art Center, 1 - 6 p.m.
November 19, 2023: Holiday Art Market at Asheville Community Yoga, 10 a.m. - 3 p.m.
November 19, 2023: Sip 'n Shop Pop-up Market at Bold Rock, 12 - 5 p.m.
November 25 – December 24, 2023: Show & Tell Pop Up Shop at the Center for Craft
November 27, 2023: Community Holiday Make & Take at Local Cloth, 10 a.m. - 4 p.m.
November 27, 2023: Arts and Crafts Holiday Market at Purple Crayon, 1 - 3 p.m.
TBD: Hanukkah Shuk at Asheville Jewish Community Center
December 2-3, 2023: The Big Crafty at Harrah's Cherokee Center – Asheville.
December 2 & 9, 2023: Holiday Seconds Sale at the Folk Art Center
December 3, 2023: Fairview Handmade Market at Turgua Brewing, 12 - 4 p.m.
December 8-9, 2023: Holiday Sip and Shop at Grovewood Gallery.
December 9, 2023: Holiday Market at Local Cloth, 10 a.m. - 4 p.m.
December 9-10, 2023: Uncommon Holiday Market at Mission Health/AB Tech Conference Center.
Holiday Musicals & Entertainment Calendar
Get into the holiday spirit at one of the many performing arts events happening around the mountains.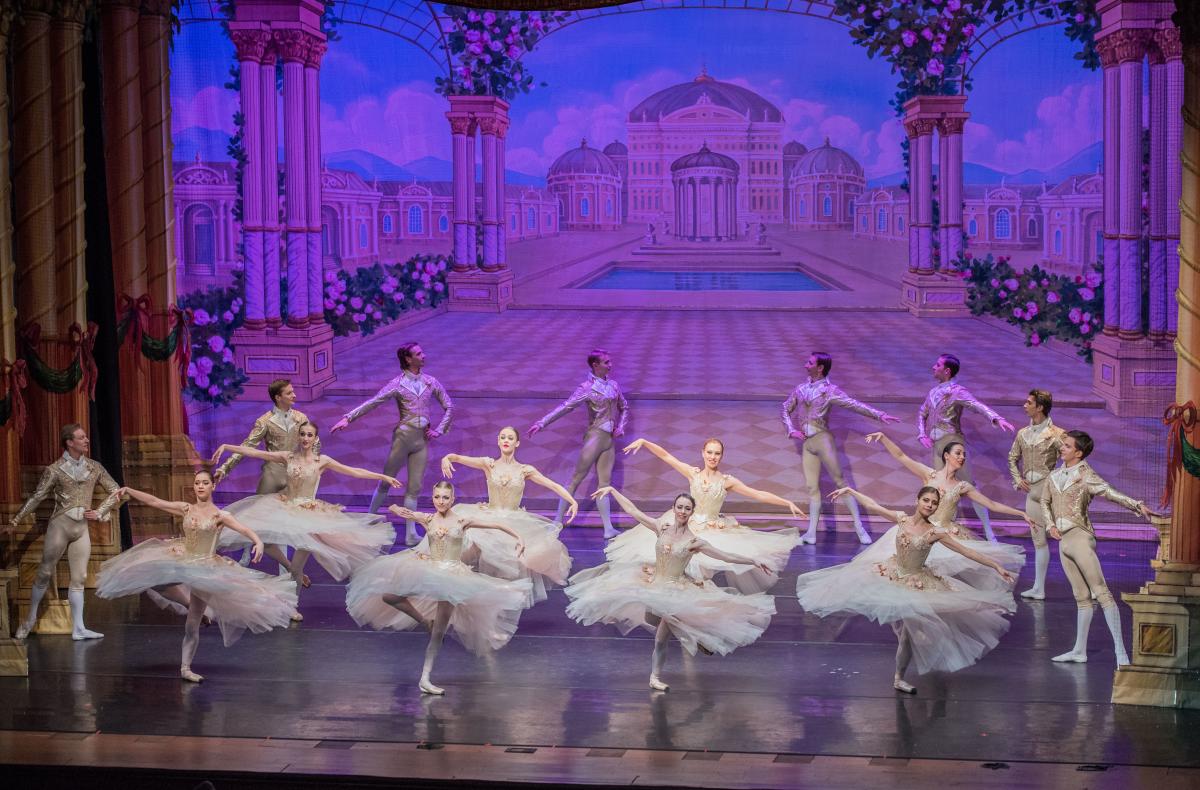 Holiday Pub Crawls and Races
Whether you need to shed a few holiday pounds, or you want to pack some on, there are some festive holiday events to achieve both.
November 23, 2023
Biltmore Park Town Square
Thanksgiving is the largest running holiday with families all over the country! Turkey Trots are a great way to start the day. Enjoy some fresh air and exercise before gathering around the table for your Thanksgiving feast! You'll share miles and smiles with your family and friends as part of this fun, annual tradition.
December 2, 2023
The Riveter
Don your ugliest sweater and lace up your running shoes for this festive 5k/10k event. The Riveter will be serving up plenty of post-race activities (and beverages) this year, so it's sure to become one of your favorite holiday traditions!
December 9, 2023
Daddy Mac's
Get that Goodwill sweater, find those tacky holiday pants, and get ready to jingle bell ROCK! Ticket Includes: Holiday T-shirt handed out at the after party, Ugly Sweater Crawl koozie, Christmas movie live stream trivia during crawl for prizes, registration party to kick off the crawl, themed discounted drink specials at participating bars, DJ's playing holiday music at multiple stops, Ugly Sweater digital crawl map to help guide you bar to bar, and the Ugly Sweater after party.
Updated November 29, 2023