Winter Lights at the North Carolina Arboretum in Asheville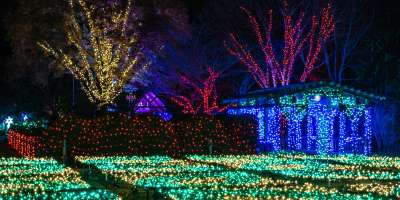 It's called the brightest holiday tradition in Asheville! The North Carolina Arboretum's annual Winter Lights, which began in 2014, features one million bright, energy-efficient LED lights throughout the nationally-known gardens. The lights illuminate the natural beauty and landscapes of the arboretum during the winter season.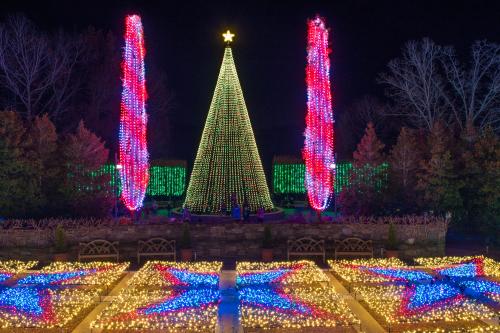 In addition to the lights, enjoy live music performances, hot cocoa, story times, fire pits, and s'mores.
What to Know: Winter Lights at the North Carolina Arboretum 2023
2023 Dates:  November 17 - December 31
The lights are on from 6 p.m. to 10 p.m. every night (incoming gate closes at 9 p.m.)
There are 3 entry times available for each date: 6 p.m., 7 p.m. and 8 p.m. Attendees may enter the show anytime between the time shown on their ticket and 9 p.m.
Tickets are required for entry and can be purchased in advance or at the gate (on non-sell-out nights). Ticket prices range from $30-$75 per individual vehicle. An additional $10 is charged if purchasing at the gate on any given night. Additional fees apply for larger vans and motorcoaches.
This is the largest fundraising effort of the year for the Arboretum. All proceeds generated from Winter Lights will directly support the Arboretum's annual programming.
Reserve your ticket
Ticket prices range from $30-$75 per personal vehicle. Many nights will sell out, especially on weekends. You are encouraged to purchase your tickets as far in advance as possible at ncwinterlights.com. All sales are final unless the Arboretum closes for a weather-related emergency.
Updated October 19, 2023