National Gingerbread House Competition at The Omni Grove Park Inn in Asheville, N.C.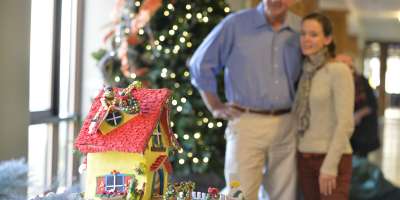 The Entries in the National Gingerbread House Competition Will Go On Virtual Display This Year in Asheville For the Holidays.
2020-2021 National Gingerbread House Competition Viewing: Virtually, throughout the holiday season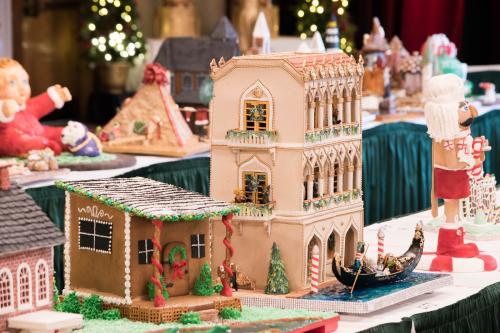 The National Gingerbread House Competition is a favorite Asheville holiday tradition that has taken place for nearly 30 years.
See the nation's most creative and incredible gingerbread creations when the entries in the National Gingerbread House Competition go on virtual display to the public at The Omni Grove Park Inn in Asheville. In 2020, the competition will continue virtually with unique, engaging experiences in place of a physical display.
During 12 Days of Gingerbread, Omni Grove Park Inn will announce one gingerbread house winner per day December 1-12 on the resort's Facebook and Instagram pages. The grand prize winner will be announced on National Gingerbread Day (December 12).
Now available online: Learn how to make gingerbread houses from the gingerbread masters themselves via the new Baking Spirits Bright: Gingerbread Making Class Series, a three-part online class featuring all-star chefs and competition judges, including Chef Carla Hall. FUTURE TRAVEL BONUS: Baking Spirits Bright participants will receive 15% off future stays January through March 2021.
From the whimsical to the elaborate, there are gingerbread houses of every size, shape, complexity and theme. You'll find quaint rustic cabins, gumdrop-adorned castles and sugar spun landscapes that'll likely inspire your own gingerbread traditions. 
Take our 2019 PHOTO TOUR of the winning creations!
Contestants from all over the country will compete for more than $25,000 in prizes. All houses must be built entirely from edible materials and made of at least 75 percent gingerbread. Celebrity chefs, such as Food Network star Carla Hall, judge the entries based on overall appearance, originality/creativity, difficulty, precision and consistency of theme.  
Holiday Lights and Decorations at The Omni Grove Park Inn
As you enjoy the Gingerbread creations, you'll notice The Omni Grove Park Inn and its Great Hall entrance way come alive with gorgeous decorations, music and the smells of evergreen, sugar and spice.
The Great Hall's enormous wreath-adorned stone fire places—large enough accommodate massive 12-foot logs—crackle and glow with welcomed warmth. Giant rocking chairs in front of these fireplaces make for a cozy spot to enjoy the season. Throughout the Inn there are dozens of lighted, decorated trees; the largest resides in the Great Hall.
Take the coziness to another level by purchasing a delicious, made-from-scratch hot cocoa. 
Experience the History of The Omni Grove Park Inn
If only the thick boulder-rock walls of The Omni Grove Park Inn could talk. What stories they would tell about the captains of industry, politicians, prize-winning authors, artists, and sports legends who have walked through its massive oak doors.
In the 21st century, the Inn stands as a prime example of the Arts and Crafts movement in American and to one man's contribution to the "Golden Age of Asheville." Just as in 1913, when the Inn officially opened, today's visitors are drawn to its expansive exterior and breathtaking location, overlooking Asheville and the ancient mountains that surround this vibrant southern city.
From its Arts and Crafts Roycroft furniture and accessories to displays of antique china and caricatures of its many famous guests, The Omni Grove Park Inn is overflowing with history.
If you go: 2020 National Gingerbread House Competition 
2020-2021 PUBLIC VIEWING DATES: Virtually, throughout the holiday season

The display will NOT be open to the public, but will continue virtually with engaging experiences and socially distanced alternatives for fans both on and off the property

HOLIDAY PARKING PROGRAM: Since 2013, The Omni Grove Park Inn has donated half of each parking charge collected to a variety of local non-profit organizations. Due to the competition happening virtually, the Holiday Parking Program will be shifted.
Holiday Packages
The Omni Grove Park Inn regularly offers special packages during the holidays. To learn more, click here.
Gingerbread History: Did you know?
Gingerbread was used by the ancient Greeks and Egyptians for ceremonial purposes.

Gingerbread was brought to Europe in 992 by an Armenian monk, but it wasn't until the 18th century that it was readily available.

Gingerbread is a favorite food in many cultures, with variations appearing in Brazilian, Middle Eastern, European, Russian and American cooking.

Gingerbread comes in many forms ranging from a light spice cake to dense bread. The harder German-style gingerbread is most commonly used to make gingerbread houses.
Updated November 23, 2020