National Gingerbread House Competition at The Omni Grove Park Inn in Asheville, N.C.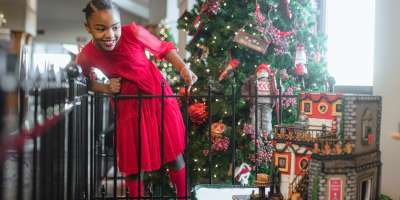 The Entries in the National Gingerbread House Competition Go On Display this Year in Asheville for the Holidays.
2023-2024 National Gingerbread House Competition Viewing: Nov. 27, 2023-Jan. 2, 2024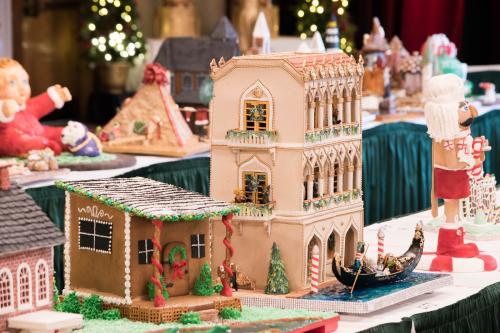 The National Gingerbread House Competition is a favorite Asheville holiday tradition that has taken place for over 30 years.
Held at The Omni Grove Park Inn in Asheville, this nationally-known competition and display features whimsical and elaborate, handmade gingerbread houses of every size, shape, complexity and theme. You'll find quaint rustic cabins, gumdrop-adorned castles and sugar spun landscapes that'll likely inspire your own gingerbread traditions. 
Contestants from all over the country will compete for more than $40,000 in prizes, and includes four age categories - Adult, Teen, Youth and Child. All houses must be built entirely from edible materials and made of at least 75 percent gingerbread. The level of competition attracts the highest quality of design, artistry and pastry expertise across the country, and is complemented by a panel of judges representing nationally renowned food, arts and media professionals. The competition will welcome first-time judge, Yolanda Gampp. Also known as the "Beyonce Of Cakes," Gampp is a celebrity cake artist, judge on Fox's Crime Scene Kitchen, two-time bestselling cookbook author, and a co-Founder of How To Cake It, the #1 online baking education company in the world. The entire judging panel will recognize top ten in all age divisions and six entries with the esteemed Chef Nicholas Lodge awards, introduced last year.
Even if you can't make it to Asheville this holiday season to see the entries in person, you'll have the opportunity to take part in the fun from home. The Omni Grove Park Inn will continue, "The 12 Days of Gingerbread," by releasing an image of one of the Top 12 finalists each day on its Facebook and Instagram channels (Dec. 1-12).   

Holiday Lights and Decorations at The Omni Grove Park Inn
As you enjoy the Gingerbread creations, you'll notice The Omni Grove Park Inn and its Great Hall entrance way come alive with gorgeous decorations, music and the smells of evergreen, sugar and spice.
Make sure to see the The Great Gingerbread House, a life-sized Gingerbread House modeled after the historic hotel.
The Great Hall's enormous wreath-adorned stone fire places—large enough accommodate massive 12-foot logs—crackle and glow with welcomed warmth. Giant rocking chairs in front of these fireplaces make for a cozy spot to enjoy the season. Throughout the Inn there are dozens of lighted, decorated trees; the largest resides in the Great Hall.
Take the coziness to another level by purchasing a delicious house-made hot chocolate, a specialty craft brew in partnership with Highland Brewing, and sweet treats.
Experience the History of The Omni Grove Park Inn
If only the thick boulder-rock walls of The Omni Grove Park Inn could talk. What stories they would tell about the captains of industry, politicians, prize-winning authors, artists, and sports legends who have walked through its massive oak doors.
In the 21st century, the Inn stands as a prime example of the Arts and Crafts movement in America and to one man's contribution to the "Golden Age of Asheville." Just as in 1913, when the Inn officially opened, today's visitors are drawn to its expansive exterior and breathtaking location overlooking Asheville and the ancient mountains that surround this vibrant southern city.
From its Arts and Crafts Roycroft furniture and accessories to displays of antique china and caricatures of its many famous guests, The Omni Grove Park Inn is overflowing with history.
If you go: 2023-2024 National Gingerbread House Competition 
PUBLIC VIEWING DATES: November 27, 2023-January 2, 2024

During the time frame above, the Omni Grove Park Inn invites non-guests to view the display Monday through Thursday or after 4 p.m. Sundays (based on parking availability). On the following dates, the display will not be open to the public: December 23 - 25 and December 30 - January 1.

Only Registered Resort Pets are permitted. No outside pets are allowed at the display.

HOLIDAY PARKING PROGRAM: There is a $25 parking charge per vehicle for all drive-on, day guests. Since 2013, The Omni Grove Park Inn has donated a portion of each parking charge collected to a variety of local non-profit organizations. Total donations now exceed $680,000.

INFORMATION HOTLINE: To reach the Gingerbread Hotline for the latest on all things Gingerbread, call (800) 438-5800.
Holiday Packages
The Omni Grove Park Inn regularly offers special packages during the holidays. Travelers interested in viewing the show-stopping holiday designs and planning a festive retreat can book the the Gingerbread Holiday Package for stays through Sunday, Dec. 30. The package includes luxurious accommodations, the breakfast buffet in the Blue Ridge Restaurant per registered guest, one Gingerbread cookie per registered guest and overnight valet or self-parking (one vehicle per room). Guests can also pay it forward this season via Omni Hotels & Resorts' Say Goodnight to Hunger program, which includes a donation to Feeding America for every stay at the resort.
Gingerbread History: Did you know?
Gingerbread was used by the ancient Greeks and Egyptians for ceremonial purposes.

Gingerbread was brought to Europe in 992 by an Armenian monk, but it wasn't until the 18th century that it was readily available.

Gingerbread is a favorite food in many cultures, with variations appearing in Brazilian, Middle Eastern, European, Russian and American cooking.

Gingerbread comes in many forms ranging from a light spice cake to dense bread. The harder German-style gingerbread is most commonly used to make gingerbread houses.
Updated October 19, 2023