Christmas at Biltmore Estate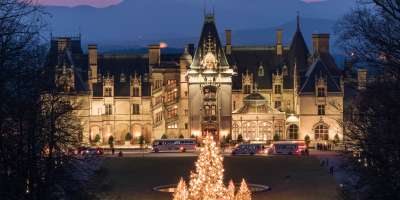 America's largest home transforms each holiday season for an awe-inspiring tradition in Asheville, N.C. that dates back more than 120 years.
2021-2022 Christmas at Biltmore Dates: Nov. 5, 2021-Jan. 9, 2022
Welcome the holiday season in style with Christmas at Biltmore -- a two-month holiday celebration featuring incredible decorations, live music and special candlelight evening experiences.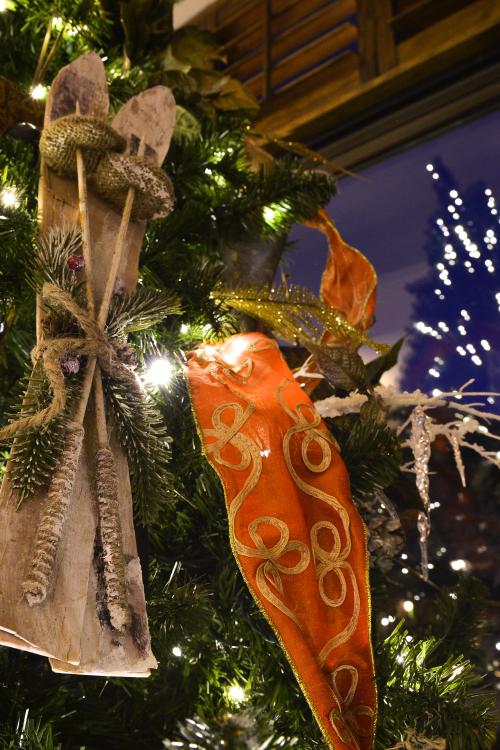 More than 100 hand-decorated Christmas trees adorn the home and the estate, the centerpiece being a 35-foot Fraser fir. The 35-foot tree is brought by Santa on horse-drawn carriage and lifted into place in the grand Banquet Hall during the annual tree raising. The more than 25,000 ornaments and 100,000 holiday lights twinkling throughout the Estate provide a magical ambiance. And, the 1,200 live poinsettias and 6,000 feet of fresh evergreen garland give the estate an aroma that completes this feast for the senses.
For a sense of what to expect, take our online PHOTO TOUR of the decorations from a past season in Biltmore's most iconic rooms!
The Christmas at Biltmore celebration is spread across the estate with everything from holiday blooms in the gardens to an illumination display at Antler Hill Village to commemorative Christmas wine at the Winery.
Each year, Christmas at Biltmore has a different theme and different color scheme, ensuring that every holiday season at Biltmore is unique.
Adding to the excitement in 2021, Christmas at Biltmore coincides with the Van Gogh Alive exhibition on the Estate. Van Gogh Alive is an immersive experience that brings to life the works and life of the famous artist. There are a variety of ticket options, including tickets that include both the Christmas at Biltmore experience and Van Gogh Alive.
The holiday season kicks off each year with the Christmas tree-raising ceremony. A 35-foot, locally-grown tree is brought in by horse-drawn carriage. A team of Biltmore employees help lift the tree into place in the 7-story grand Banquet Hall. Check out this behind-the-scenes look at the 2021 tree-raising!
How to Experience Christmas at Biltmore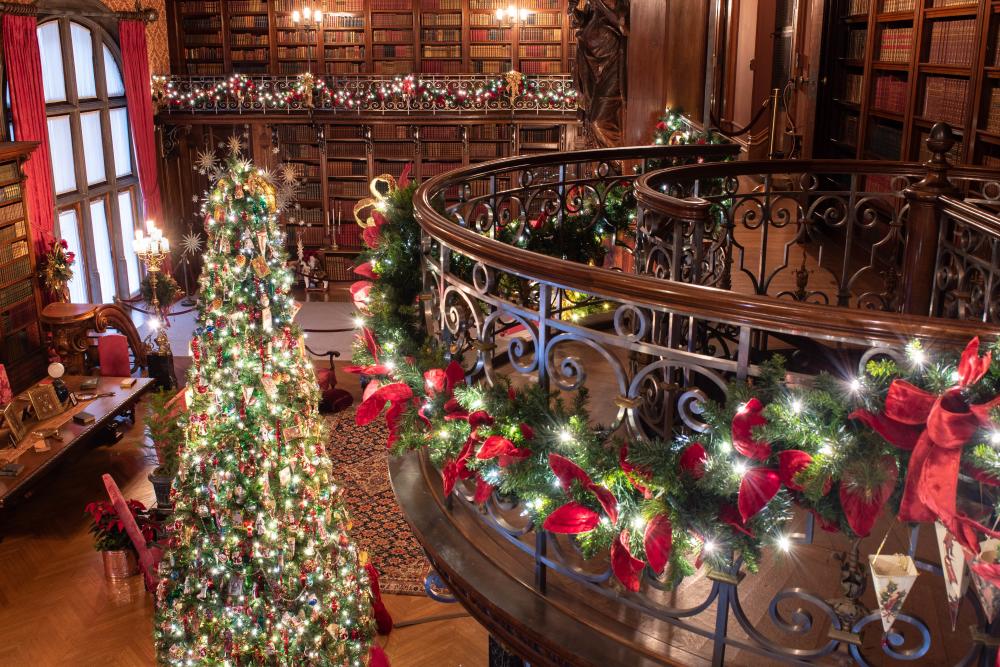 Enjoy the Christmas at Biltmore celebration during the day as part of your admission to the Estate. Make sure to plan ahead and book your date and time in advance. Your experience is a self-guided tour.
During the day, in addition to exploring Biltmore House, you can also discover the gardens and trails. Inside the Conservatory next to the Walled Garden, there are daily complimentary seminars that provide tips for making your own holiday décor. Stroll through seasonal blooms and an array of tropical plants. 
Don't forget to stop at Antler Hill Village where you can enjoy a free wine tasting at the Winery. The winery will feature a special 125th Anniversary Sparkling Wine which commemorates the opening of Biltmore House on Christmas Eve 1895. An elaborate model train display featuring replicas of the country's most unique train stations will be decorated for the holidays. On the weekends, visit with Santa Claus at the Antler Hill Village bandstand.
Candlelight Christmas Evenings at Biltmore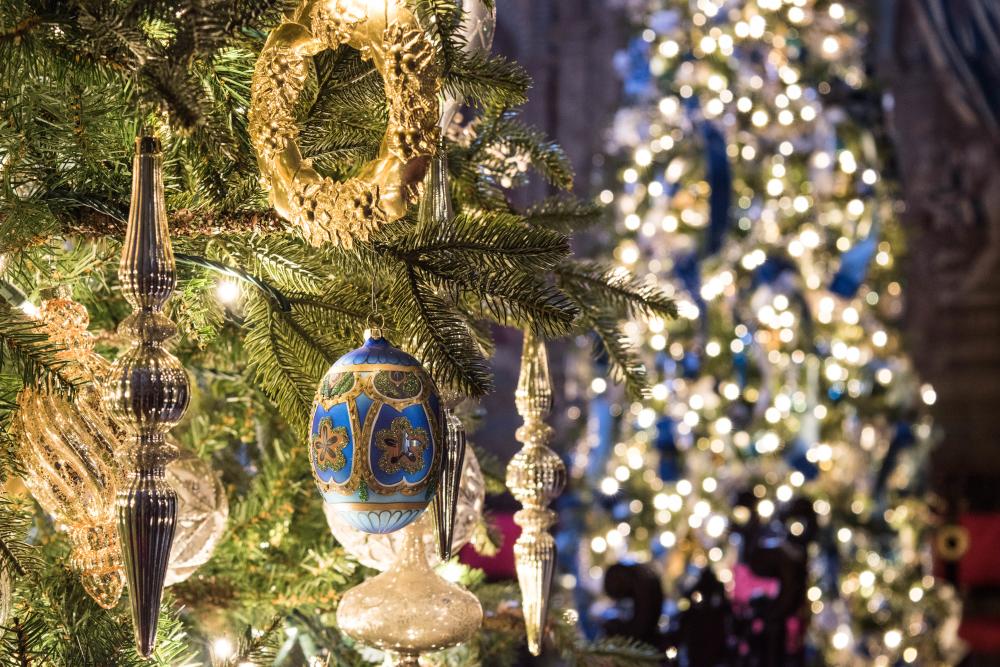 Biltmore glows in the evening with candlelight and firelight, giving you the opportunity to experience Christmas at Biltmore in a different light. Candlelight Christmas Evenings give you the chance to experience Christmas at the Estate much the way the Vanderbilt's did on Christmas Eve 1895 when Biltmore welcomed its first guests.
Musicians throughout the house will perform seasonal favorites as you stroll on a self-guided tour of the rooms of Biltmore House. Feel the warmth and glow of the dozens of lighted fireplaces. Before you even enter the House, you'll be greeted by a 55-foot Norway spruce tree sparkling in the center of the front lawn. That tall tree will be surrounded by 36 illuminated evergreens and shrubs.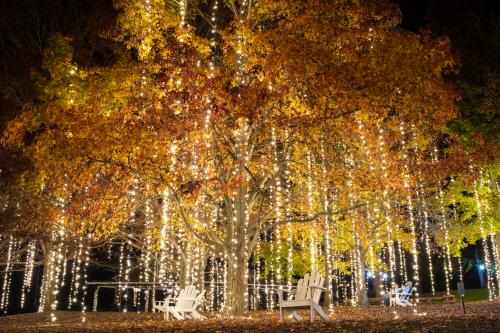 At night in Antler Hill Village and the Winery, a constellation of holiday lights illuminates trees, buildings and paths. The lights here have quickly become a must-see.
Candlelight Christmas Evenings do require a separate admission and are by reservation only.    
How to Taste Holiday Flavors at Biltmore
Throughout the Christmas at Biltmore Celebration, savor a festive meal at one of the Estate's many restaurants including: The Bistro, Deerpark Restaurant, Stable Café, Cedric's Tavern or The Dining Room at The Inn on Biltmore Estate. These restaurants will offer favorite seasonal dishes and craft cocktails.
For a special treat, the Inn on Biltmore offers an afternoon tea. Modeled after the English high tea tradition, Biltmore's tea includes an assortment of savory sandwiches, delicate scones served with whipped cream and lemon curd and hand-made pastries and sweets. Reservations are required.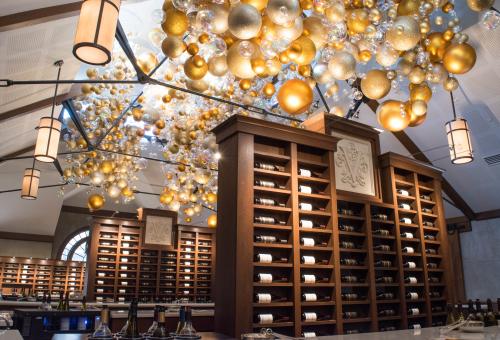 Wondering what wine to serve or to give as a gift? You'll find the answer at Biltmore Estate Winery. From food pairing to sampling the delicious combination of red wine and dark chocolates, the staff at Biltmore Winery can help you find just the right wine for your holiday celebrations.
How the Christmas at Biltmore Tradition Began
On Christmas Eve 1895, George Vanderbilt opened Biltmore House to family and friends for the first time. Estate records show no detail was overlooked to ensure the holiday would be a memorable experience for guests. Vanderbilt also had a special grand celebration with gifts just for the Estate's employees, a tradition family descendants still carry on today.
What to Know: 2021-2022 Christmas at Biltmore
Christmas Tree Raising: Early November 2021 (Virtual)
Christmas at Biltmore Daytime Celebration: November 5, 2021 through January 9, 2022
Candlelight Christmas Evenings at Biltmore: November 5, 2021 through January 8, 2022
Candlelight Christmas Evenings require a separate ticket for entry from daytime admission and are available by reservation only. The ticket includes an evening self-guided candlelight tour of Biltmore House, same day or next day visit to the gardens, Antler Hill Village and Biltmore Estate Winery.
Van Gogh Alive is taking place at the same time as Christmas at Biltmore. Exhibition (not inside Biltmore House) runs November 5, 2021-March 2021.
For ticket information, please visit Biltmore's website.
Social Distancing Guidelines and COVID-19 Precautions: "Understanding that holiday travel is different this year, the health and safety of our guests and employees remains top priority. Biltmore is following CDC guidelines and the state of North Carolina's recommendations for preventing the spread of COVID-19. This includes limited capacity of guests inside Biltmore House and other buildings, reservations for house tours, and mandatory face coverings. For complete information on the estate's safety protocols, please click here."
Photo credits: All photos by Jason Tarr of ExploreAsheville.com.
Updated November 16, 2021