Christmas at Biltmore Estate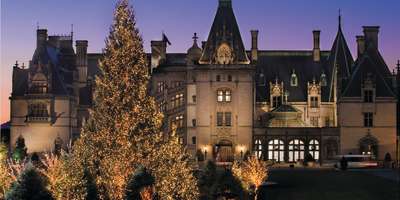 Holiday Traditions at America's Largest Home
Christmas Eve 1895, and Biltmore House was bustling with activity. In just a few hours, George Vanderbilt would officially open his new home in Asheville, N.C., to family and friends with a lavish party.
From the kitchen came rich smells of holiday food. Among the palms in the Winter Garden were bright exotic botanical poinsettias, and the faint smell of evergreen filled the grand house. Then as now, it was Christmas at Biltmore.
Vanderbilt's descendants carry on their great grandfather's tradition of holiday hospitality with decorations, music, food and gifts that make Christmas at Biltmore one of the Southeast's most beloved holiday traditions.
Christmas Decorations on a Grand Scale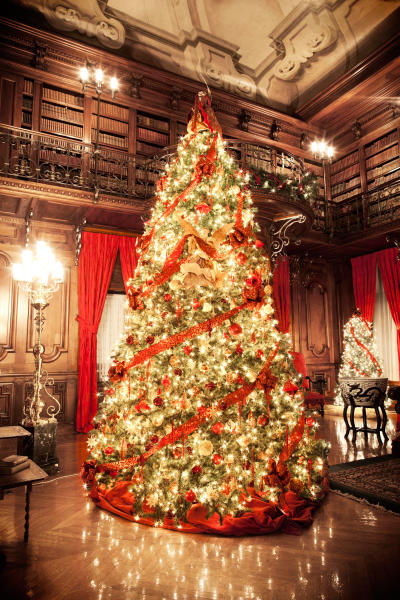 How do you decorate America's largest private home for Christmas? It takes months of planning, dozens of Fraser fir trees, miles of ribbon, red and white poinsettias by the truckload, thousands of ornaments and an abundance of imagination.
The holiday season at Biltmore officially begins November 1, 2017, with the arrival of a jaw-dropping 35-foot Fraser fir tree in the Banquet Hall. More than one hundred Christmas trees -- each hand-decorated and styled -- grace the home and estate. The branches glisten with small, colorfully-wrapped packages, recalling the days when Vanderbilt and his family hosted estate employees and their families for a Christmas celebration, and each child received a gift off the tree.
Today, you can find a wide assortment of Estate-themed holiday gifts at the many shops that dot the estate.
Victorian Christmas Traditions Come Alive
We can thank the Victorians many of modern-day celebrations, from kissing under the mistletoe to Santa Claus, and ornately decorated Christmas trees. With Christmas trees sprinkled throughout the house, surprises are around every corner.
Nowhere is the feeling of a Victorian Christmas more beautifully interpreted than at Biltmore Estate. Christmas at Biltmore during the daytime includes tours of Biltmore House, the gardens and Antler Hill Village.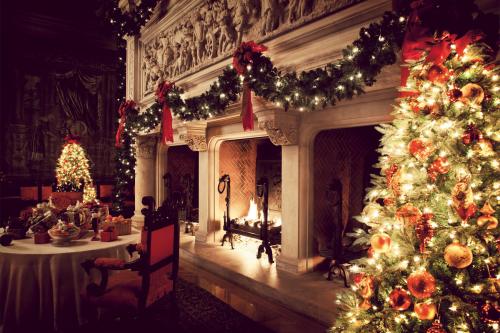 Where is Santa? You'll find him at Antler Hill Village weekend afternoons, making a list of who's naughty and nice. Antler Hill Village is enhanced with even more sparking lights. Buildings are outlined in lights, the fountain lit with special visual effects and illuminated trees and ornaments are abundant.
From the Village it is an easy walk to the Winery, where visitors may take a guided tour and enjoy a complimentary tasting of Biltmore's award-winning wines. Biltmore Winery is decorated with 7,000 globe-shaped ornaments hanging from the ceiling -- giving guests the feeling of being inside a bottle of sparkling wine.
Biltmore By Carriage
See the Estate from the warmth of a cozy, horse drawn carriage ride. Blankets are provided. It's yet another way to experience the grandeur of Biltmore Estate the way George Vanderbilt and his guests did.
Candlelight Christmas Evenings
When night falls behind the ancient Blue Ridge Mountains, Biltmore glows with the light of candles and flickering fireplaces. Music of the season performed by choirs and musicians provides a fitting accompaniment, and Biltmore House assumes the homey warmth that George Vanderbilt and his guests enjoyed every night. This is what makes Candlelight Christmas Evenings at Biltmore House so special. Guests attending Candlelight Christmas Evenings may also visit Antler Hill Village.
Savoring the Holiday Flavors of Biltmore
Holiday hospitality extends throughout the entire Estate to its many restaurants. Enjoy a festive meal at The Bistro, Deerpark Restaurant, Stable Café, Cedric's Tavern or The Dining Room at Inn on Biltmore Estate.
Afternoon Tea at the Inn on Biltmore
For a special treat, try afternoon tea at The Inn. Modeled after the English high tea tradition, Biltmore's tea includes an assortment of savory sandwiches, delicate scones served with whipped cream and lemon curd, and hand-made pastries and sweets. Reservations are required.
At Biltmore Winery
Wondering what wine to serve or to give as a hostess gift? You'll find the answer and much more at Biltmore Estate Winery. From food pairing to sampling the delicious combination of red wine and dark chocolates, the staff at Biltmore Winery can help you find just the right wine for your holiday celebrations.
If You Go: 2018-2019 Event Details
Christmas Tree Raising: November 1, 2018
Christmas at Biltmore runs from November 3, 2018 through January 6, 2019.
Candlelight Christmas Evenings require a separate ticket for entry from daytime admission and are available by reservation only. The ticket includes an evening self-guided candlelight tour of Biltmore House, same day or next day visit to the gardens, Antler Hill Village and Biltmore Estate Winery.
See 7,000 globe-shaped ornaments hanging from the ceiling of the stately Biltmore Winery.
Look for Santa Claus at Antler Hill Village on weekends in November and December.
Biltmore-inspired holiday decoration classes are held daily at A Gardener's Place below the Conservatory.
August 27, 2015