Bearwallow Mountain Trail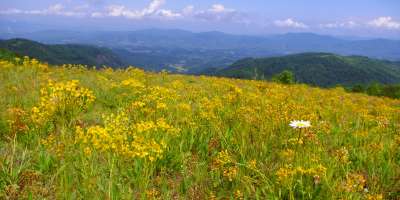 Bearwallow Mountain Trail Details
Difficulty:
Moderate
Length: 1-mile trail to the meadow; 0.7-mile gravel access road
Region: Henderson County
Duration of hike: About 25-30 minutes each way
Elevation gain: 611 feet
Type: Out & Back
Blazes: No
Facilities & Parking: Parking is on the side of the road; no facilities
Features:
Pet Friendly,
Mountain Bald,
Views
Panoramic views make this the perfect picnic hike
Pack a lunch and pile in the car: Bearwallow Mountain is the perfect picnic hike from Asheville, close enough so that you can be back to town in time for other afternoon activities. With two trail options—a gravel access road and a switchback trail—getting to the top and back is easy enough for the whole family.
What To Expect
A open mountain meadow, Bearwallow Mountain is perfectly picturesque and ideal for picnicking. There are wildflowers in the spring, grazing cows in the summer, dazzling colors in the fall, and long-range views in the winter.
When you get to the metal gate at the base of the trail, there's a trail map provided by the Carolina Mountain Land Conservancy, the owners of this property. You have two options. You can take the 1-mile trail that starts to the right and has a number of steep switchbacks at the start. You can also take the gravel access road to the left, which is slightly shorter and climbs more gently. If you take the trail, you'll find a few sections that are quite steep as well as a few rock steps. Even so, this will not be too strenuous for most kids or reasonably fit hikers. Some hikers opt to take the trail up and access road back or vice versa for a 1.7-mile loop.
Although it's off-limits, there's a fire tower on the peak as well as weather-monitoring instruments and cell phone transmitters,and a few rusty, abandoned pieces of equipment. The remains of an apple orchard can also be seen on the west side of the meadow. Even if you don't see the grazing cows, watch where you step: there are cow patties on the west side of the meadow.
This is a carry in, carry out trail: there are no garbage cans or other facilities.
Directions
From downtown Asheville, take I-240 to US-74 Alt East toward Bat Cave. Stay on US-74 Alt for about 12.5 miles. When you reach the town of Gerton (after a series of curves in the road), turn right onto Bearwallow Mountain Road, which is a residential area at the bottom. Continue for 2.1 miles up this road, which will turn to gravel and become steeper as you climb. When you reach the top, you'll see a metal gate on the left, which is at the entrance to the trail. The road is paved again at the top and you can park on the left or right side of the road.
GPS Coordinates
N35.4607, W82.3681