The Ultimate Guide to Late Night Asheville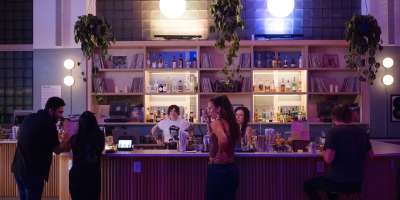 The perfect day in Asheville doesn't have to stop when the sun goes down. There are a myriad of late night adventures in Asheville: dance parties, drag shows, dive bars, karaoke, live music, craft cocktails and delicious eats that can be experienced after dark.
Here's your ultimate guide for an unforgettable night in a city that never sleeps. Or, at least likes to stay up late...
Weekly Late Night Events
There's something new going on in Asheville every night, and many local venues and bars have at least one weekly late-night event that you can count on.
Getaway River Bar: How about a little poker to start the week? The Getaway River Bar hosts a weekly poker game on Monday night from 7 p.m. to 11 p.m.
The One Stop at Asheville Music Hall: Looking for some midweek gyration? The One Stop at Asheville Music Hall hosts a weekly Tuesday Night Funk Jam from 10 p.m. to 1 a.m. with a suggested donation of only $5 to $10. This is a great place to get your boogie on and also score some late night eats from the kitchen.
The Golden Pineapple: Known for their incredible late night menu, The Golden Pineapple also plays host to a weekly Saturday night dance party from 9 p.m. to 2 a.m. Get ready to shake your booty to an ever-changing set list brought together by talented local DJs.
O. Henry's: Check out one of Asheville's premier weekly Drag Shows every Saturday night, starting at 11:30 p.m. Prepare to be impressed by the talent and the bar itself. In 2022, O. Henry's made Esquire magazine's list of "The 32 Best Gay Bars in America."
Scandals Night Club: Another scintillating weekly Drag Show is at Scandals Night Club on Friday and Saturday's starting at 12:30 a.m. Showtimes usually run about an hour for a performance that has been put on since 1982!
Banks Ave: Tuck it up buttercup! Banks Ave hosts its weekly Drag Show at 11:30 p.m. on Friday's that includes no cover. The party don't stop until 2 a.m.!
The Double Crown: A West Asheville institution, the Double Crown hosts Western Wednesday's and Gospel shows on Thursday's. It's a great place for an intimate evening of dancing, drinks and fun, especially if you love a good dive bar.
AVL Beauty Academy: Head to the AVL Beauty Academy every Friday night for a raucous dance party that starts at 10 p.m. and ends at 2 a.m. You can also join DJ Nato for a night of throwback 80's music on the third Saturday of every month or check out the classy "Cosmo" party on the last Saturday of the month.
Citizen Vinyl: During the month of September, Citizen Vinyl will host an evening of Cumbia music and dancing from 9 p.m. to midnight on Friday and Saturday nights. Tacos will be on sale with music spun by DJS Malinalli and Mtn Vibez.

Late Night Eats + Cocktails
Some of Asheville's best food can be found after hours. We won't make you wait. Here are some late night food haunts to hit:
Rankin Vault Lounge: Get your 2 a.m. chili cheese hot dog fix at Rankin with its late night menu served from 11 p.m. to 2 a.m. on Friday and Saturday. There are plenty of other great food options, including a Vietnamese Hoagie made with either pork belly or tempeh. Pair that with the Vault's specialty cucumber martini or a signature cocktail like the Ashevillian Love Affair: a combination of whiskey, blood orange puree and champagne. 
Desoto Lounge: The kitchen may close at 10 p.m. Monday though Thursday, but on the weekend, it stays open until midnight, offering homemade starters and entrees that includes nachos, meatloaf sandwich, the popular Desoto Club and a host of vegetarian options.
Ben's Tune Up: Offering delicious Asian fusion dishes like wonton nachos, fried tofu and edamame dumplings, Ben's Tune Up's kitchen stays open until 11 p.m. Sunday-Thursday (closed on Tuesday) and until midnight Friday and Saturday. Come for the food and stay for the late dancing and fresh sake. 
Storm Rhum Bar: This cozy establishment offers a late-night menu from 10:30 p.m. to 1 a.m. every day that includes a mouth-watering smash burger on a constantly changing menu. Rhum Bar drink favorite include its Perfect Storm Mojito and a mistadobalina. Yes, it's hard to pronounce but delicious to drink. 
The Med: This late night option comes with a convenient walk-up window for diners to pick up delicious food from 9 p.m. to 2 a.m. Tuesday-Sunday. Try the Gyro burger, the loaded fries or any one of its other delectable offerings.
The Odditorium: The kitchen rarely closes at The Odditorium, serving a full range of food alongside its famous signature cocktails until early morning. Try the Cuban sandwich, or, for vegan eaters, a house-made Sloppy Joe and Bahn Mi made with tempeh.
The One Stop: Pair some great music with freshly baked pizzas or wings (veggie/vegan options available for both). The kitchen serves food from 5 p.m. to 1 a.m. most days and until 2 a.m. on Friday and Saturday.
Village Pub: A new staple in Biltmore Village, the Village Pub kitchen stays open until 11:30 p.m. on Friday and Saturday, offering classic bar fare at an affordable price. We recommend the High Country Onion Burger and the Asheville, NC Dog fixed with coleslaw, chili, red onion and Firewalker hot sauce. Also a great place to grab a beer and watch some football. 
Off The Beaten Draft
Everyone knows about our tremendous craft beer scene, but there are some great dive bars that can slip under the radar. Here's some places to check out if you're looking to try something a little more local.
Like to shoot pool or throw darts? Check out Charlotte Street Pub, The Social, Westville Pub, Frazier's Tavern, The Bier Garden, Barley's Taproom or Olde London Road English Pool.
Want to mix it up with the locals? Try Tiger Mountain, Cascade Longue, Desoto Longue, Fleetwood's, Double Crown or the Yacht Club. Go to the Burger Bar for a true dive bar experience, but don't expect any burgers – it's a drinks only establishment.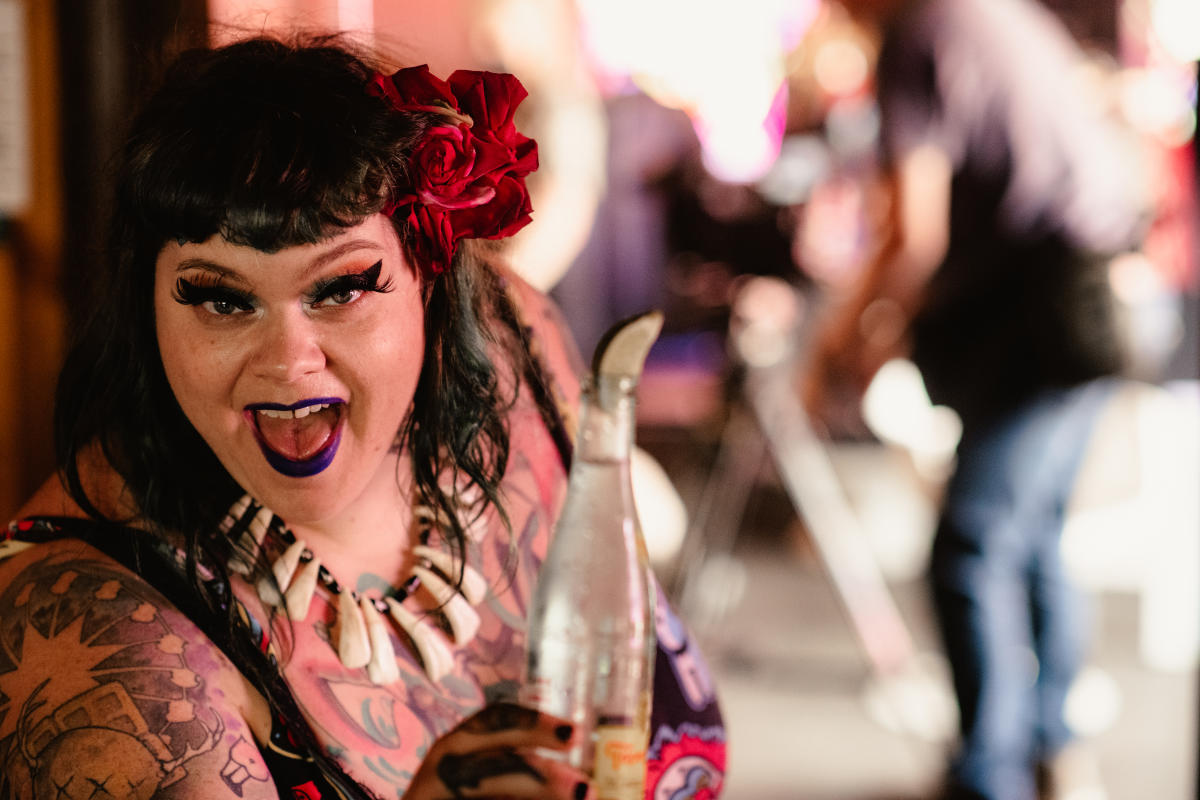 Where Can I Karaoke?
Don't listen to the haters. You're a star. The world needs to hear your voice. Here's where you can sing some late-night Karaoke in and around Asheville!
27 Club: Monday, 9 p.m.-2 a.m.
The Social: Mon, Wed, Sat, Sun – 9 p.m.-Midnight
Silverados: Tuesday, Thursday, 8-11 p.m.
AVL Beauty Academy: Tuesday, 9 p.m.-2 a.m.
Alley Cat Social Club: Wednesday, 9 p.m.-2 a.m.
Handlebar & Grill: Wednesday, 7-9 p.m.
O'Henrys: Wednesday, 8 p.m.-Midnight
Fleetwood's: Thursday, 6 p.m.
Twin Leaf Brewery: Thursday, 8 p.m.-10 p.m.
Getaway River Bar: Thursday, 9 p.m.-1 a.m.
Melting Pot Social: Friday, 9 p.m.-Midnight
Burger Bar: Friday, (time changes)
Banks Ave.: Sunday 9 p.m.-Midnight
Updated August 30, 2023