Asheville's Food Truck Guide: Culinary Delights on Four Wheels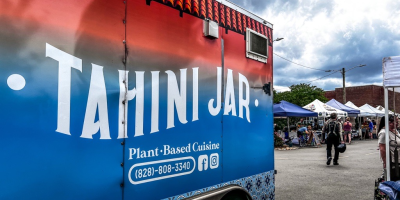 Asheville, tucked away in the nourishing atmosphere of the Blue Ridge Mountains, is renowned for its vibrant culinary scene. But beyond its thriving restaurants and eateries, there's a hidden treasure trove of flavors rolling through the city streets: food trucks. These mobile kitchens offer a delectable array of culinary creations that range from savory to sweet, traditional to exotic. Join us on a foodie's journey as we explore some of Asheville's top food trucks, each dishing out mouthwatering delights.
Smashville
Locally-sourced, delicious burgers are what you'll find when you pull up to the Smashville Food Truck. A simple, but no less tasty, menu offers bites like their signature Smashville burger (double patty with white American cheese and dill pickles) and can't-miss hand-cut fries. Go here for their schedule, and check out their chicken sandwich or vegan burger for alt-options, too. 
Tahini Jar
Tahini Jar brings the flavors of the Mediterranean straight to Asheville, serving up dishes bursting with freshness and zest. This Middle Eastern fusion food truck offers signature favorites like falafel and shawarma with an Appalachian twist. Check out their schedule here and be sure to taste test as many menu items as possible! 
The Tin Can Pizzeria
There's something magical about a pizza baked in a wood-fired oven, and The Tin Can Pizzeria does it to perfection. These hand-tossed pies are pizza perfection. Not only can you find them around town, but you can also have them cater your wedding! Check their schedule here. 
Queen's Island Cuisine
Queenie's Cuisine brings a taste of the islands to Asheville, and every bite is a burst of Caribbean sunshine. Our favorite dish is the jerk chicken, full of flavor with every delicious bite. Menu items change, but keep an eye out for the pesci platter, which has red snapper fish and shrimp curry as a side. See their schedule on Instagram. 
The Smokin' Onion 
For those among us who are vegan (or who just love delicious food), check out the Smokin' Onion. This food truck opened in 2021 and has been blowing us away every day since. If you're an appetizer lover, order their buffalo cauliflower bites or the fried pickles and then follow it up with a buffalo cauliflower wrap. Find their schedule here. 
Sabora Food Truck 
Some of the best meals are simple classics like burgers and sandwiches, and Sabora has it down to a perfect science. Roll up to the Sabora food truck and order a delicious classic burger infused with some Southern flavor, or try out something a little different with this truck's The Ghost Maker. The Ghost Maker boasts a tasty sandwich made with Ghost Pepper Jack cheese, chipotle mayo, lettuce, bacon all on top of a Southern favorite, fried green tomatoes. You can find Sabora at Turgua Brewing in Fairview every Wednesday, but check their rotating schedule here. 
Foothills
Foothills Meats is a local staple that began more than 20 years ago when it was a farm selling to local restaurants. In 2013, Foothills Meats debuted as a butcher shop with small lunch service. Today, Foothills has expanded its delicious efforts and offers food truck service in River Arts District and Biltmore Village at Hi-Wire Brewing. When you go, try something new like their house-smoked BBQ over a buttermilk cornbread waffle or their Carolina-style hotdog topped with pool hall chili, coleslaw, diced sweet onion, and, of course, yellow mustard. Check out the schedule for Biltmore Village and the River Arts District.
Bun Intended 
Delicious food (and a cute name to boot) can be found at the Bun Intended food truck. The menu boasts Thai-inspired street food with a specialty in steamed buns, curry bowls and more. Their veggie bao, made with seasonal vegetables, soy ginger sauce, cucumbers and more is a dish that you can't miss! The truck can often be found at New Belgium, and if you can't make it to the food truck, Bun Intended expanded into a location at the S&W Market in downtown Asheville. 
Cooking With Comedy 
Star power, personality and delicious food have combined in Cooking With Comedy. Chef Clarence Robinson began catering under the moniker in 2011 and has expanded to include food truck service, as well. Like any true creative, Robinson has a fluid menu but features Southern classics like fried chicken sandwiches and more. You can find Cooking With Comedy at Sound Space. Check the food truck locator here. 
Note: Please check the food trucks' schedules and locations on their websites or social media pages before planning your visit, as their availability and locations may vary.
Updated August 29, 2023