How to Spend a Day in Asheville's River Arts District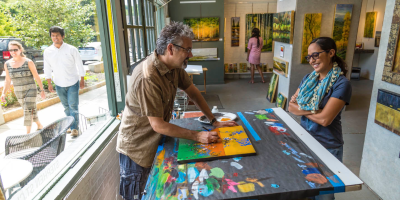 Living and Learning with the Artists
Asheville's River Arts District (RAD) is a destination that grew out of necessity. Artists needed cheap rent and large spaces. An industrial zone east of the railroad tracks had a glut of aging and empty warehouses. The area was ripe for change, and over two decades blossomed into a convergence of art, creativity, commerce, and entertainment fueled by the dynamism of its inhabitants — those same artists and visionaries.
Up and Coming
Today the RAD has become easily navigable with maps, full-on color guide — categorized by medium and artist — and a snazzy website. One can visit artists at work, take a class, acquire an object d'art from its maker, and grab a bite and a beer. On a weekend each year in fall, the River Arts District hosts an annual Studio Stroll to allow visitors to check out as many studios in one day as possible, aided by free trolley rides between the 22 buildings spanning the two square miles or so that compose the district.
Multiple studios are housed under one roof in a former tannery, a cotton mill and other manufacturing and agricultural facilities (sometimes so-noted with faded signs still clinging to their brick exteriors),making exploring and experiencing the work of more than 180 artists an accessible adventure.
Art Trekking
For your own personal trek about the district, wear light clothing (or in cooler months bring a sweater) and good walking shoes, since the RAD studio locations are spread out.
Ultra Coffeebar, the first eatery in the RAD, features ceramics on display by the nearby Odyssey Center for Ceramic Arts. Fortify yourself early with the Thunderbird smoked turkey panini and spicy swipe of local Lusty Monk Mustard, paired with a bracing cup of organic Counter Culture coffee.
If you're feeling creative, experience a drop-in class at Odyssey. The clay center also hosts lectures and exhibitions with opening receptions in its co-cop gallery where one can meet the artist, or sign up for a week-long workshop. Also experiential is Roberts Street's North Carolina Glass Center, offering free glassblowing demonstrations, but also walk-in sessions to create an ornament, paperweight or cup in only a few hours!
The Wedge Studios — three stories of painters, illustrators, sculptors, folks artists, narrative cartoonists — sit atop the Wedge Brewing Company. Abstract and encaustic (wax) artist Mark Bettis maintains a sleek gallery and studio adjacent, and similarly Michael Hofman Studios features a showroom of delicate lace-imprinted glazed porcelain ware. In between, find Clayworks and Broken Road Studio for ceramics and paintings, respectively.
Respites Along the Way
Following north, the Phil Mechanic Studios showcase the Asheville Darkroom among several floors of studios and rustic galleries. Here, one can sign up for membership if in the area for a while, and make use of their darkrooms for actual photographic creativity, the old-fashioned way.
Down a few blocks, the Hatchery showcases jewelry and ceramic studios. Take a quick drive to the Asheville Cotton Mill Studios to explore the six artist studios/galleries under one roof there, including illustrator Andy Herod, visual artist Kathryn "Ka" June Amorastreya and photographer Erin Adams. Cotton Mill Studios also houses a music venue known as the Asheville Guitar Bar.
Continuing along the river the Curve and Warehouse Studios come next, home to the grand dame and one of the visionaries of the River Arts District Pattiy Torno who first purchased her building here in the 1980s. Her hand-made clothing and modern quilts are a true Asheville find. The landscaped garden is lush and lovely, and in these studios you'll also find the Silver River Center for Chair Caning, hearkening back to a more traditional and quite exquisite craft.
Continue the great art quest by traveling down to Riverview Station, where you'll find a crowded antique shop that navigates like a rabbit warren full of discoveries. You never know what you'll find at Antiques at Riverview Station. The labyrinth of studios on the upper floors, ranging from handmade furniture to fine art and jewelry, deserve exploring as well. Artists such as Barbara Zaretsky (textiles) and Akira Satake (ceramics) have studios there. The colofrul Jonas Gerard Gallery and Studio is also here.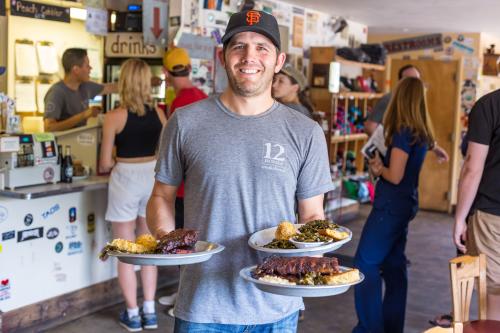 Just a block behind the Jonas Gerard Gallery, you'll find 12 Bones Smokehouse, which is now in the Foundation building. 12 Bones has served lunch to the likes of President Obama (he liked it so much he went back on a second visit to Asheville.) Pulled pork, blueberry chipotle BBQ sauce and jalapeno cornbread are touchstones here, all served on rustic tin plates. The Foundation Building also houses one of the RAD's two Wedge Brewing locations. There's a great outdoor patio surrounded by public art.
Classic Endings
Swing back around Depot Street to the Studio 375 Depot for photography, pottery, and basketry, the elegant NorthLight or modern LIFT studios and the 352 Depot Street Studios of painters featuring genres from expressionism to classical realism, landscapes, portraiture and abstracts.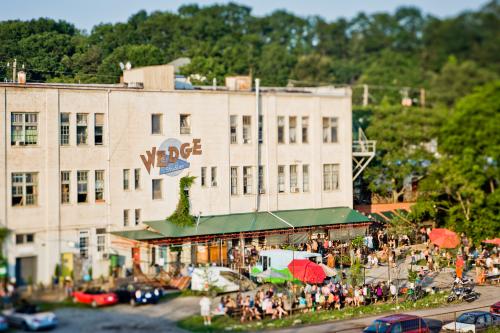 Between those studios and Pink Dog Creative, a catacomb of more studios and, interestingly, a runner's gear shop, you'll find a relatively new restaurant and bar called Vivian, where European meets Southern cuisine. For a rather substantial dinner based on classical old world cooking, the Bull and Beggar tucked away next to the Wedge Brewing brings haute cuisine to the RAD.
And that brings a day of art-trekking full circle and to a satisfying close.
Updated February 4, 2021