Budget-Friendly Tips for a Midweek Trip to Asheville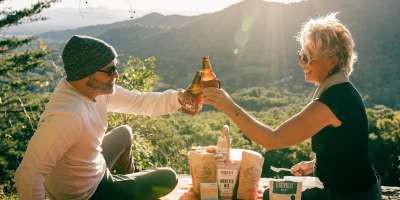 Asheville has become a premier destination for weekend tourists, but after they return home, the locals come out to play during the week. It's the perfect time for the savvy traveler to find the best deals and discover an Asheville that locals enjoy year around. Hotels and flights are cheaper, the restaurants and hiking trails are less crowded and the nightlife bustles with regional music and excitement.
Here are some tips that will help you make the most of your midweek trip to Asheville and keep you within that vacation budget.
Find cheap, delicious midweek meals
No one goes on vacation to cook, but eating out every meal can get expensive. You're in luck, midweek traveler! Asheville restaurants have an abundance of great deals that will fill your stomach and leave money in your wallet.
Monday
The Golden Pineapple offers a smash burger, chopped cheeseburger and fries for $10 at the West Asheville restaurant and bar. The kitchen is open from 5 p.m. with last call at 11:30 p.m.
The Madness offers $2 off all burgers, half-priced sake on Tuesday and 25% off all wines by the glass or bottle on Wednesday.
The Bull and Beggar offers oysters at half the cost on Monday.
Isa's Bistro offers delicious PEI Mussels all day Monday and Tuesday for a discounted price and half-priced bottles of wine on Thursday.
Tuesday
The S&W Market and its wide array of gourmet vendors offers deals for guests of all ages on Family and Friends Night eachTuesday in downtown Asheville. Certain dishes, drinks and desserts – from Highland Brewing beer to grass-fed all-beef hot dogs from Farm Dogs to ice cream from The Hop -- are offered for $5 or less at this intimate cafeteria. Kid-sized portions are also offered like the nuggets and fries combo from Buxton Chicken Palace or tacos with chips and salsa from Peace Love Tacos.
Bottle Riot in the River Arts District offers a more adult-friendly evening with half off select wines and an array of cocktail specials. A light dining menu is also available as well as a live music during Turntable Tuesday with DJ Lil Meow Meow.
Sunny Point Café offers Burger and Beer Night with $3 draft brews and budget-friendly burger specials.
Wednesday
South of Philly may be known for its famous Philly Cheesesteak, but Wednesday night is all about the wings. Traditional or boneless wings are priced at 85 cents each with 18 flavors and ranging heat levels available. The restaurant also offers daily Phillies and hoagie specials that begin with turkey and cheese on Monday and ends with an Italian style on Sunday.  
Thursday
Vinnie's Neighborhood Italian offers a Chef's Pasta Special for $18 that varies at its North and South Asheville locations. Vinnie's also has half-priced bottles of wine on Monday and house-made gnocchi on Wednesdays.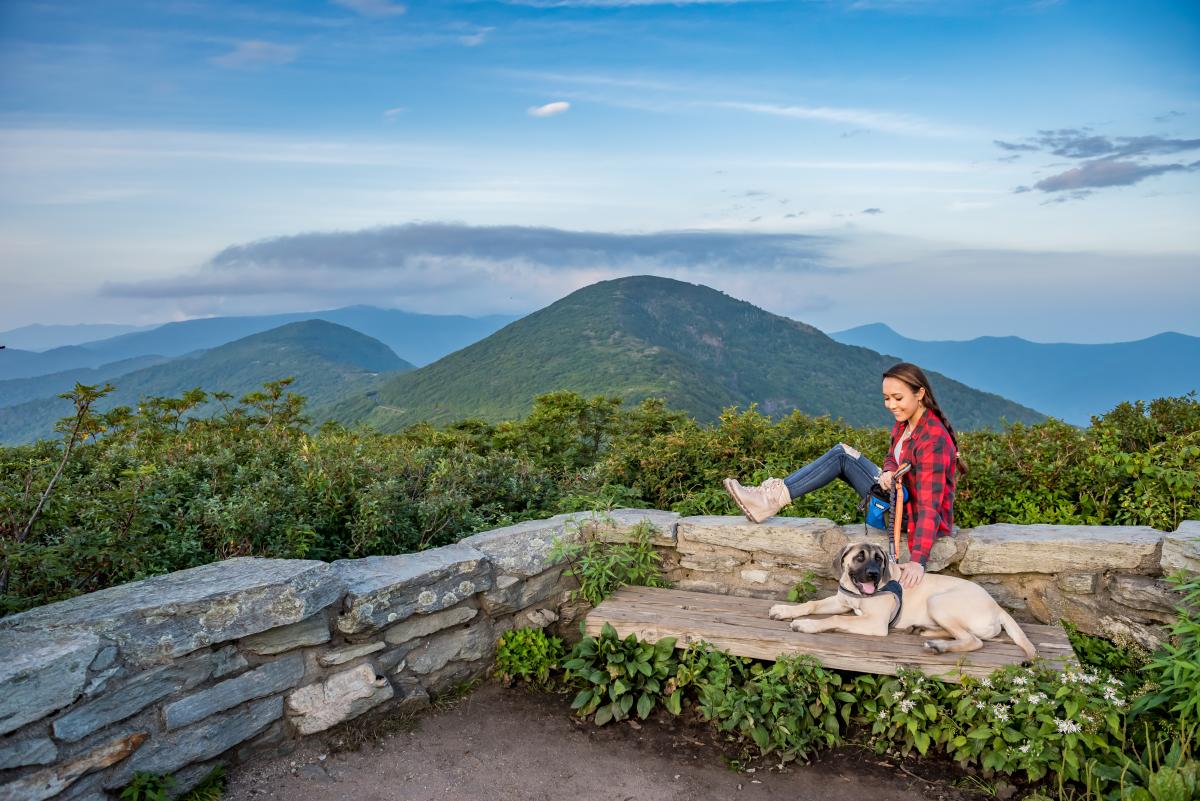 Midweek hiking = Empty trails
We all love making friends on the expansive hiking trails in and around Asheville, but sometimes, solitude in nature is what we seek. That kind of peaceful reflection is much easier to find during the middle of the week. Choose your own hiking adventure with our immersive hiking guide or our Beginner's Guide to Asheville's Great Outdoors.
Looking for a trail less traveled? Here are some terrific options for any day of the week.
Midweek music
It is no secret that Asheville is a vibrant city for music.
Whether you're tapping your feet to a street busker or dancing along to world-class musicians in lively venues like the Grey Eagle, The Orange Peel, Salvation Station, Jack of the Wood and Asheville Music Hall, Asheville has long been a mecca for awesome music – particularly bluegrass.
Here's some places to listen to bluegrass music in Asheville in the middle of the week.
Midweek fun for the whole family
There's nothing wrong with traveling alone, but the more the merrier! If you're bringing the family along on your midweek adventure to Asheville, here are some great options that won't break the bank and keep everyone smiling throughout the day.
The North Carolina Arboretum has over 400 acres of deciduous forest and ten miles of hiking/biking trails. Plan to learn a ton of new tree and plant names as you spend time on self-guided botanical tours that highlight the complex biodiversity in Southern Appalachia. There is also a beautiful bonsai tree exhibit and an on-site bistro and gift shop. It's open every day from 8 a.m. to 7 p.m. from November to March, and 8 a.m. to 9 p.m. from April to October. There's only a single parking fee ($20), so pile in the van and enjoy! 
The French Broad River is the heart of Western North Carolina's watershed. And with the right planning and gear, anything from a quick afternoon escape to a multi-day adventure is possible. SUP, kayak, canoe and tube rentals are available from spring through fall at the French Broad Outfitters. A classic first-time experience is putting in at Bent Creek River Park and taking out at Amboy Road River Park. This 3-4 hour float takes you past the Biltmore and ends right before the River Arts District (RAD). To plan out your adventures, check the French Broad Paddle Trail, which has great itineraries and options for riverside camping. 
The Blue Ridge Parkway offers unique and easy access to memorable outdoor adventures with your family. You can build simple itineraries based on the Parkway's mileposts with stops at overlooks (bring a picnic lunch!), easy hikes and a bit of history and culture along the way. Pro tip: Check the Blue Ridge Parkway road conditions before you head out to see if weather closures have affected specific sections. 
What's better than a hot dog, cold beverage and baseball in the summer? Check out Asheville's very own minor league baseball team, the Asheville Tourists, a staple of the community that play its games at legendary McCormick Field, located in the shadow of downtown. Don't miss Thirsty Thursdays for $1 beer night.
Check out Splasheville, Asheville's only public splash pad located in Pack Square Park in downtown Asheville. The aptly named Splasheville opens at 10 a.m. daily and has plenty of shade and benches nearby to relax and watch the kids play while you sip on a coffee from nearby PennyCup. While we're at it, here's a great list of Asheville's best local coffee shops!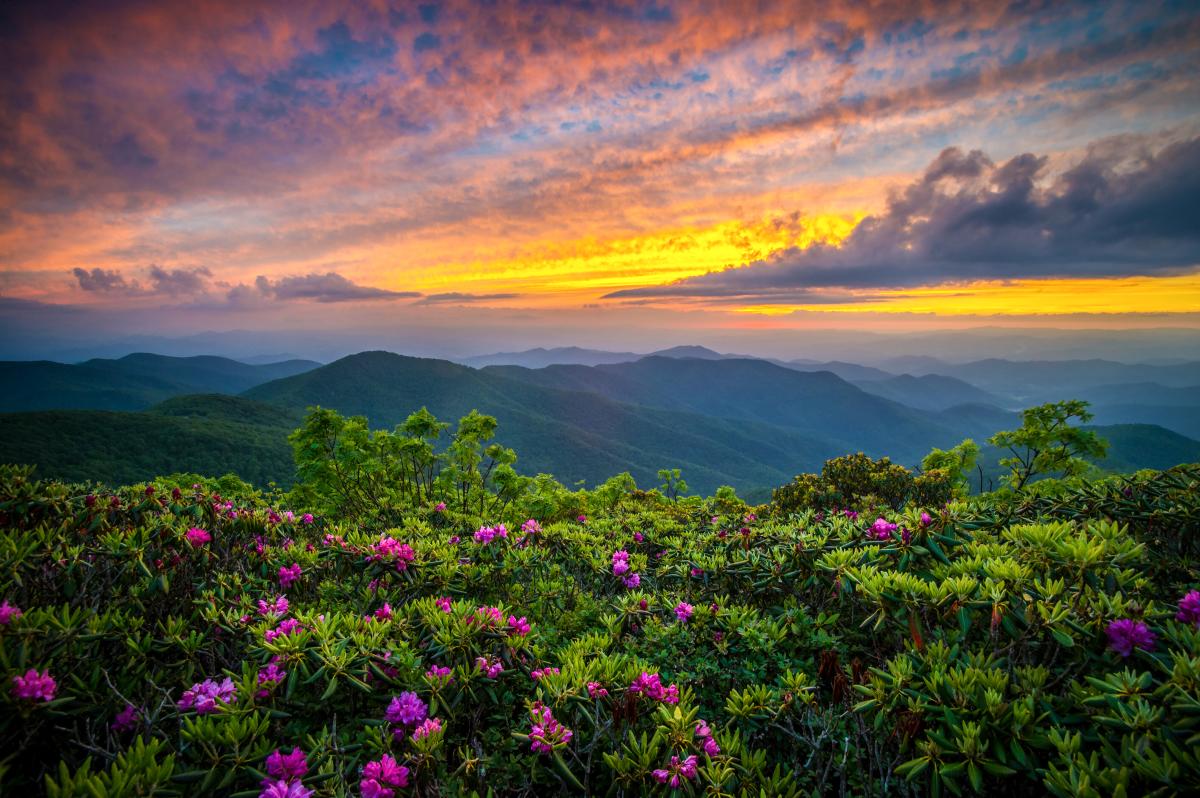 Best Sunset Spots in Asheville
A beautiful sunset is priceless and happens every day in Asheville. The Blue Ridge Mountains offer some of the best vantage points to watch the sun drop below the peaks in a splash of color. People travel from all over the world to see the nightly show.
Here's a list of the top sunset spots in Asheville.
Free, Free, Free
Ah, that magical four-letter word that's the cornerstone to any great budget-friendly guide. Looking for a couple free activities around Asheville? Well, here's 36! 
Updated June 14, 2023