Top Family-Friendly Summer Activities in Asheville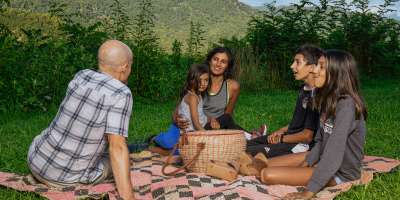 Summer is an incredible time to experience the Asheville area, particularly families looking for a memorable getaway together. The warm mountain air greets the season with loads of festivals, family-friendly activities and adventures that will be remembered forever.
Pack your hiking boots, a swimsuit and a smile … summer in Asheville awaits!
One of the best ways for families to experience summer in Asheville is through the great outdoors. There are great options for all ages and so many ways to see the natural beauty of the Blue Ridge Mountains. 
Asheville's festival scene heats up in the summer with sizzling musical acts, lively performances, arts gatherings and cultural celebrations that span across the season. You and your family can connect with Asheville's creative community at some of the Western North Carolina's best summer festivals.
Downtown After 5 | April 21, May 19, June 16, July 21, August 18 & September 15, 2023 – Put on your dancing shoes and head downtown for an immersive experience that includes free musical performances featuring local and regional jazz, classic soul, country rock, funk and blues artists. 
Asheville Art in the Park | June 3, 10 & 24, 2023 – Take the kiddos to explore and purchase artwork from some of the finest artists in the region. Asheville Art in the Park takes place on three Saturdays in downtown Asheville in June and October. 
Hola Asheville | June 10, 2023 – Downtown Asheville comes alive with the sights, sounds, music, pageantry, colorful costumes and extraordinary talent of Latin America. Don't miss the delicious food vendors and shopping.
Shindig on the Green | July 1, 8, 15, 22, Aug. 12, 19, 26, 2023 – Shindig on the Green is a free, outdoor mountain bluegrass music and dance festival that takes place throughout the summer months in the heart of downtown Asheville at Pack Square Park. The Shindigs are on most Saturdays from late June through early September each year. The performances begin at about 7 p.m. or "along about sundown," as folks around here like to say, and generally ends about 10 p.m.
The Carolina Mountain Club Centennial | July 16, 2023 – The Carolina Mountain Club will celebrate its 100th year with a free, family-friendly party on Sunday, July 16, at the North Carolina Arboretum from 1 to 5 p.m. The celebration will include guided hikes, live music, food and ice cream trucks, kid activities and 20-plus booths featuring local non-profit vendors. 
Mountain Dance and Folk Festival | August 3 - 5, 2023 – Hailed as the nation's longest running folk festival, this is the preeminent event for old-time and bluegrass music. Ballad singers, banjo players and cloggers converge to tell stories of a by-gone era through their music and dance, and by doing so they continue to preserve our classic Southern Appalachian culture.
AVL Fest | August 3 - 6, 2023 – Asheville welcomes a new music-filled festival this year, AVL Fest! This multi-day music and arts festival kicks off in August and will be a celebration of Asheville's thriving arts and culture scene. Asheville's many local concert halls, clubs and outdoor venues will be featuring amazing lineups of local, regional and national talent. 

Family-friendly Summer Attractions
A Day at the Ballpark – What's better than a hot dog, cold beverage and baseball in the summer? Check out Asheville's very own minor league baseball team, the Asheville Tourists, a staple of the community that play its games at legendary McCormick Field, located in the shadow of downtown. Don't miss the Friday night postgame fireworks show or a chance to munch on $1 hot dogs. 
Splasheville – Check out Asheville's only public splash pad located in Pack Square Park in downtown Asheville. The aptly named Splashville opens at 10 a.m. daily and has plenty of shade and benches nearby to relax and watch the kids play while you sip on a coffee from nearby PennyCup. 
Find a Swimming Pool – Looking for a great place to cool off? Check out one of Asheville's public pools. It's only $3 per person for the entire day and gives you time to relax as you plan the next part of your Asheville adventure. Recreation Pool Park is located right above the Swannanoa River in East Asheville while Malvern Hills Pool in right off Patton Avenue. Grab a bite to eat at Rocky's Hot Chicken Shack after your swim! 
Montford Park Players – Watch live theatrical reimagining's of Shakespeare's greatest works under the stars every Friday, Saturday and Sunday at 7:30 p.m. at Montford Park. Shows are free to the public with a suggested donation of $10-15 per person. 
The North Carolina Arboretum – Located just 15 minutes from downtown, the NC Arboretum provides families with a variety of ways to explore nature. Pick up a free TRACK Trail guide and let the little ones walk on the Natural Garden Trail as they encounter natural wonders and stunning fall foliage along the way. Plus, their giant Quilt Garden serves a great spot to capture family photos.
Asheville Museum of Science – Families can incorporate a bit of science and discovery while on their vacation at the Asheville Museum of Science (AMOS). Located in downtown Asheville, children can transform into geologists, manipulate topography in real time, dig for fossils and say hello to their Teratophoneus dinosaur skeleton. On Saturdays, AMOS opens up its STEAM Lab with experiments and projects that correlate with the museum's monthly themes. 
LaZoom Tours – Take a ride on Asheville's "Big Purple Bus!" This iconic bus tour combines history, comedy (and a few nuns) for an immersive experience throughout downtown Asheville. Every Saturday during the summer, LaZoom offers its special Lil Boogers: Kids Comedy Tour – a history comedy ride geared specifically toward a younger crowd. 
The Highland Meadow – Let the kids run free in the meadow at Highland Brewing Company as you sip on a cold beer and listen to free music on Friday evening. There's also a meadow market from 1 p.m. to 6 p.m. on Sunday's where you can peruse goods and gifts from local makers and artisans. 
Whistle Hop Brewing Company – If your kids love trains and you love a good brewery, head to Whistle Hop Brewing Company. Located in Fairview, NC, this kid-friendly brewery near Asheville is only a 15-minute drive from downtown. And it makes for the perfect stop after hiking on the kid-favorite Bearwallow Mountain Trail. Explore a caboose or boxcar, play a round of mini golf, go mini bowling or try your hand at Disc Golf Connect 4. You'll also find tons of outdoor seating, bocce ball, soccer, a culvert slide, shuffleboard and occasional live music. Plan on a daily food truck, excellent beer and a fun time for the entire family!
Summer Eats & Treats
Start your day (and bellies) off right with a delicious breakfast at Biscuit Head in West Asheville or Biltmore Village. Dig into their famous cathead biscuits and cover it with one of their gravies or lather it with their homemade sweet potato chai jam. If you're looking for something sweeter, grab some specialty doughnuts at Vortex downtown or Hole in West Asheville. 
Head over to the WNC Farmer's Market to get a full summer experience. Families can purchase local produce as well as specialty jellies, jams and honey. Inside their vendor markets, local artisans sell handmade artwork, jewelry and heirlooms. Afterwards, grab a bite at the Moose Cafe for a true Southern farm-to-table dining experience.  
In the afternoon, treat your kiddos to some of Asheville's best ice cream. In the summer, The Hop (located in North Asheville, West Asheville, Black Mountain and downtown) offers kid-friendly seasonal options as well as delicious vegan selections. Grab a handcrafted ice cream sandwich from Sunshine Sammies downtown where you can pair fresh-baked homemade cookies with creamy, mouth-watering ice cream. 
Here's a list of all the places to get ice cream in Asheville!
Round out your evening with some homemade pizza – and catch a movie, too! Asheville Pizza & Brewing's North Asheville location offers pizza, sandwiches, salads and of course, craft beer. Asheville Brewing is one of Asheville's top family-friendly spots. Families can also grab a bite and catch a flick at their dine-in movie theatre. If you need a larger space for the kids to run, check out Creekside Taphouse in East Asheville. This family-friendly local restaurant has a volleyball court, a kids play area, outdoor seating and shallow creek that runs along the property. 
As Asheville's only food hall, The S&W Market is such a fun place to eat with kids. Not only can your family choose from a variety of food options, but there are a ton of fun places to sit, including community tables and high tops on the main level, outside and upstairs by the Highland Brewing taproom. 
Your kids will love the novelty of a cafeteria-style food hall, but don't expect boring cafeteria food at S&W. This is Asheville, after all! Crowd favorites include steamed buns from Bun Intended, wildly delicious chicken sandwiches from Buxton Chicken Palace, empanadas from Mikasa Criolla and gourmet hot dogs from Farm Dogs.
Updated May 18, 2023