Black Balsam Hike on Art Loeb Trail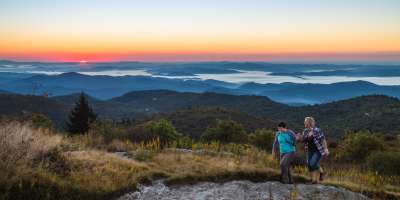 Black Balsam Hike on Art Loeb Trail Details
Difficulty:
Easy Moderate
Length: 2 miles round trip to Black Balsam (with options to add on to create a longer hike or loop).
Region: Blue Ridge Parkway
Duration of hike: 1 Hour
Elevation gain: 400 feet
Type: Out & Back
Blazes: White
Facilities & Parking: Marked parking spaces on the shoulder of Black Balsam Knob Road.
Features:
Kid Friendly,
Pet Friendly,
Views,
Wildflowers
A Blue Ridge Parkway classic, this is a local favorite
When you think of views from the Blue Ridge Parkway, chances are these are the kinds of views that come to mind: the unimpeded, long-range vistas from Black Balsam Knob. Surrounded by wilderness, this tree-free 'bald' is an easy, family-friendly hike, ideal for picnicking or blueberry picking.
Appalachian "balds" such as Black Balsam and nearby Sam Knob and Tennent Mountain are unique in that they are covered with grass and low-growing vegetation rather than alpine forests, which would be more common at such a high altitude (Black Balsam is at an elevation of 6,214 feet).

LEAVE NO TRACE TIP
The Black Balsam area is popular for camping. However, bring a camp stove with you -- no campfires are allowed within the boundaries of the Shining Rock Wilderness. If you camp, remember to be at least 1,000 feet away from the trail.
What To Expect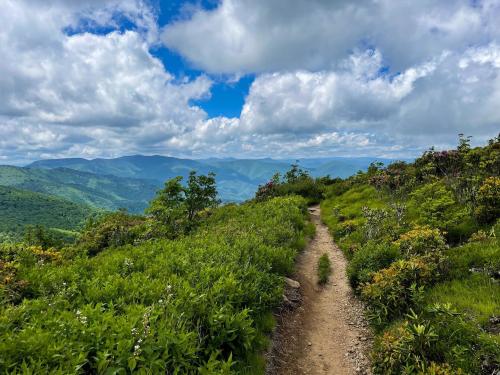 When you arrive, you'll see cars parked along the shoulder of Black Balsam Knob road (this area is about 0.7 miles off the Blue Ridge Parkway. This is the parking area for the Art Loeb Trail, which you'll take to get to Black Balsam Knob. 
Photo credit: @aspiring_nomad.99
After a brief walk through a wooded area and somewhat rocky terrain, you'll enter an open meadow with incredible 360-degree views. Here, you'll pass through areas of exposed rock and low-growing bushes (including blueberries). The trail ascends gently to the top of Black Balsam Knob.
From the trailhead to the knob, the hike is only 1 mile. You can get to the next bald you see, Tennant Mountain, by taking the Art Loeb Trail for another easy 1.5 miles. From here, you can continue on the Art Loeb Trail until it meets the Ivestor Gap Trail, which will loop back to Black Balsam Knob Road (a little north of where you parked) for a 5-mile total hike.  
This trail is extremely popular, especially in summer during the height of blueberry season (mid to late August) and fall. Hike on a weekday to avoid the heavier trail traffic of the weekend. If the weekend is your only option, arrive early if you can.
Directions
From downtown, take I-240 West to I-26 East. Take Exit 33 (marked Blue Ridge Parkway-Brevard Road-Hwy 191). Turn left (south) onto Highway 191 and go 2.1 miles, passing brown signs for Blue Ridge Parkway and NC Arboretum. Turn right at the entrance to The North Carolina Arboretum and follow signs for the Blue Ridge Parkway. Turn south on the parkway and drive to Milepost 420.2, Black Balsam. Turn right onto Black Balsam Road. After about .7 mile, you'll see cars parked on the shoulder of the road near the entrance to the Art Loeb trail. Park where you can here and enter the trail on the right.
Know Before You Go
The temperature at Black Balsam is sometimes as much as 20 degrees cooler than in Asheville. It can get very windy and there's little shade, so plan for the weather. Camping is allowed anywhere as long as you're 500 feet off the trail.
GPS Coordinates
35.320609, -82.876243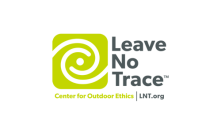 We all love the Blue Ridge Mountains! By working together, we can keep these incredible outdoor spaces beautiful and pristine for years to come. Make it your nature to Leave No Trace: Leave what you find, pack out what you pack in, stay on designated trails and plan ahead. To learn more about the 7 Principles of Leave No Trace, CLICK HERE >>.