Pickin' and A-Grinnin': Where to Find Bluegrass Jams in Asheville, NC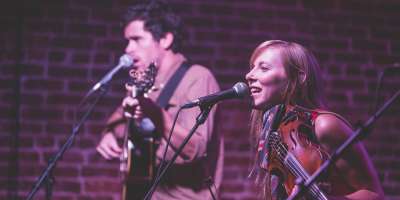 It is no secret that Asheville, North Carolina continues to be a vibrant city for music.
Whether its street buskers or in lively venues like the Grey Eagle, The Orange Peel, Salvation Station, Jack of the Wood and Asheville Music Hall, Asheville has long been a mecca for musicians – particularly bluegrass.
There's a reason Asheville and the surrounding areas play host to such festivals as the Shindig on the Green and the Mountain Dance and Folk Festival, but what about the Bluegrass jams going on around Asheville almost every week? Come to listen or bring an instrument and join in! Here's some places to listen weekly to bluegrass music in Asheville: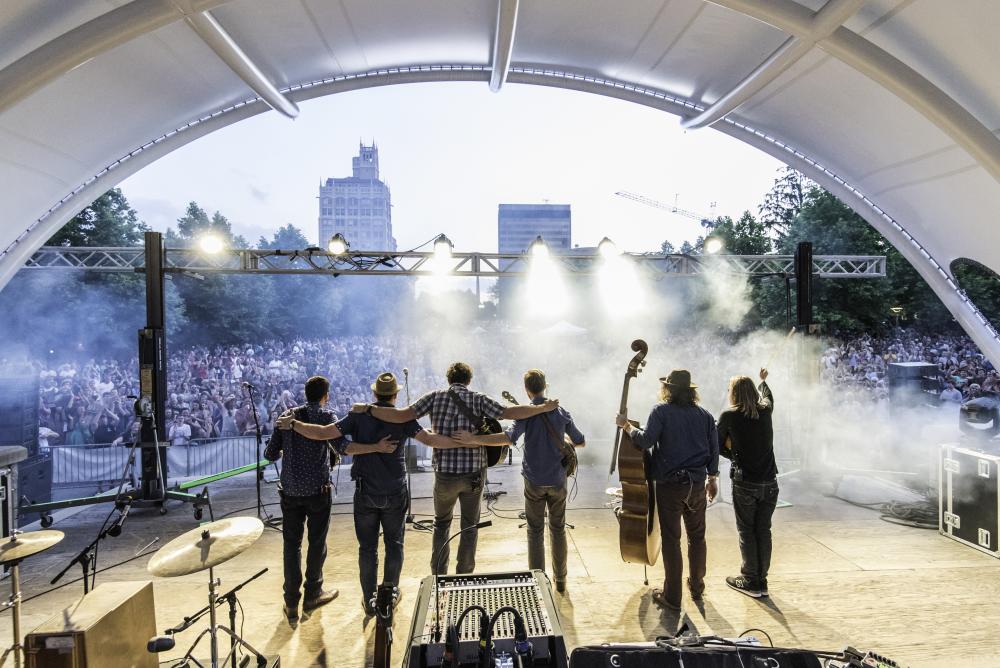 The Amazing Bands of Asheville
Whether you hear them on Spotify or in person, Asheville is home to many incredible bluegrass and Americana bands and musicians.
Steep Canyon Rangers: Perennial Billboard chart-toppers and frequent collaborators of Steve Martin, the Steep Canyon Rangers embody the bluegrass sound of Western North Carolina.
Town Mountain: Mixing rock with honky-tonk and a Springsteen vibe, Town Mountain is helping to reshape bluegrass for the next generation of listeners.
Tellico: With a vivid blend of storytelling and musicianship, Tellico create an innovative sound that's becoming popular in today's bluegrass music.
River Whyless: An emerging folk-rock band with powerful vocals and inventive song writing, River Whyless' haunting songs are infused with bluegrass history with an eye toward an exciting musical future.
Brushfire Stankgrass: With a heavy dose of "modern mountain fusion," Brushfire Stankgrass offers listeners a variety of bluegrass/newgrass and a nod to jam rock.
Zoe & Cloyd: A husband a wife duo, Zoe & Cloyd are a force of nature in the bluegrass scene with their soaring harmonies and heartfelt songwriting.
Unspoken Tradition: With chart-topping bluegrass singles and an unflinching sound, Unspoken Tradition represents the best of Western North Carolina and its ever-changing music scene that continues to evolve.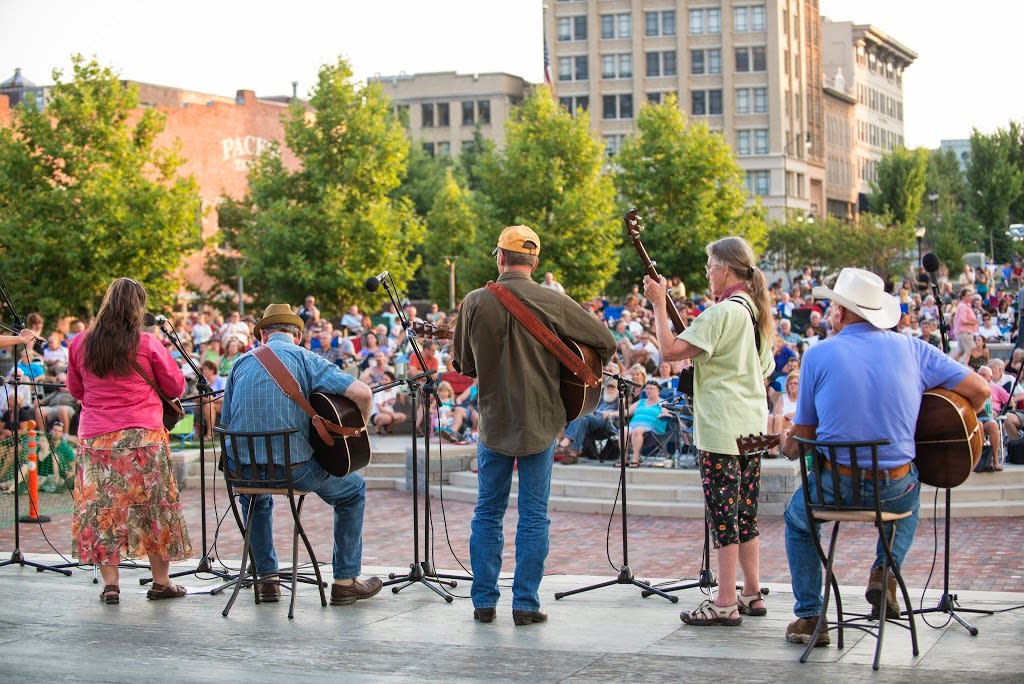 The Fantastic Festivals of Asheville
Looking for all kinds of music on your visit to Asheville? We've got you covered. There's a myriad of jam-packed festivals to attend while sipping cold beer in the warm sunshine.
Visitors and music lovers can enjoy live music across all genres with new festivals such as the inaugural AVL Fest (Aug 3-6). AVL Fest hosts a full weekend of performances at more than 20 venues across town. The lineup features local and national acts including River Whyless, Tall Tall Trees and Toubab Krewe.
Returning for the fourth year and celebrating the many shades of Americana: From bluegrass, jazz and classical to pop, rock and folk, is Asheville Amadeus (May 11-20). This 10-day festival orchestrated by the Asheville Symphony brings together the region's most talented musicians, artists and brewers for a multi-dimensional series of performances, collaborations and events. This year's headlining performer is 15-time Grammy award-winning virtuoso, Béla Fleck.
Another popular returning event is GRINDFest (May 26-28), which includes a weekend of live music, carnival rides, food trucks, poetry slam and opportunities to connect with Asheville's Black-owned businesses.
Music On Main (June 10) is an annual single-day concert and one of Weaverville's signature summer events. Held outside of City Hall, three bands take the stage as folks dance, sip local brews and browse sidewalk vendors on Weaverville's Main Street.
Mountain Dance and Folk Festival (Aug. 3-5) is the longest continuously running festival in the nation, boasting hundreds of musicians, dancers and storytellers over three days at UNC Asheville's Lipinsky Hall.
Updated March 29, 2023