Shindig on the Green Music and Dance Festival in Asheville, N.C.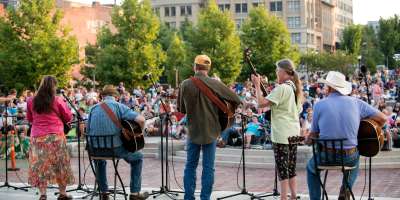 A celebration of the traditional mountain music and dance of the Southern Appalachian Mountains.
Shindig on the Green is a free, outdoor mountain bluegrass music and dance festival that takes place throughout the summer months in the heart of downtown Asheville at Pack Square Park. The Shindigs are on most Saturdays from late June through late August each year.
The performances begin at about 7 p.m. or "along about sundown," as folks around here like to say. Shindig generally ends about 10 p.m.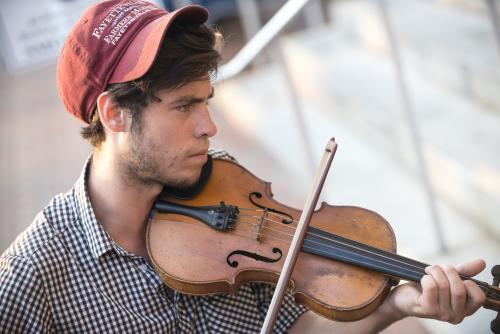 In addition to the scheduled stage show each evening, Shindig on the Green features informal performances and jam sessions on the stage and around the park. They encourage you to bring your instruments and dancing shoes so you can join in the fun.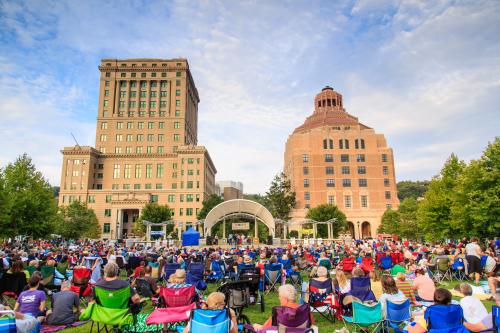 If you'd rather sit back and watch the show, bring a picnic, a blanket and a lawn chair. That's a great way to relax and experience the bluegrass and old time string band performances and the mountain clog dancing.
Performers can sign up to take the stage and volunteers often roam the green listening to musicians and dancers, searching for those they can call on for an impromptu on-stage performance. Each performer gets just two music numbers to help provide opportunities for many musicians and dancers to showcase a range of talents throughout the evening. "From young children perfecting their square dancing to great-grandmothers singing ballads passed down through generations," you never know what you will hear or see!
The Folk Heritage Committee puts on Shindig on the Green and its sister event, the Mountain Dance and Folk Festival, to support the preservation of traditional music, dance and storytelling heritage of the Southern Appalachian Mountains.
Shindig began more than 50 years ago as an unorganized "after party" of sorts that would follow the Mountain Dance and Folk Festival Festival – which, is in its ninth decade – is the longest running festival of its kind in the nation. The Mountain Dance and Folk Festival differs from Shindig on the Green in that it is a more formal event in a concert setting that occurs during consecutive days in August each year.
2023 Shindig on the Green Information and Tips
Schedule: July 1, 8, 15, 22 and August 12, 19, 26
Time: Shindig on the Green generally begins at about 7 p.m. and ends around 10 p.m.
Parking: Parking is available at marked and metered spaces throughout downtown Asheville (free after 6 p.m.). There are also several city parking garages throughout the downtown area that are within walking distance.
Pet Policy: Pets are not allowed at Pack Square Park during Shindig on the Green. Please leave your pets at home unless the pet is a registered service animal.
Alcohol: Alcohol is not permitted in Pack Square Park during Shindig on the Green.
Updated May 9, 2023