10 Family-Friendly Outdoor Adventures Close to Asheville, North Carolina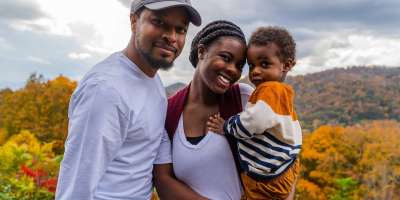 With so many family-friendly outdoor adventures near Asheville, North Carolina, it can be hard to know where to start. But excitement, discovery, endless trails, waterfalls and camping options are never  far away with the Blue Ridge Parkway — part of the National Park system — and the Pisgah National Forest within driving distance. 
Looking for outdoor activities that both parents and young kids will love? This is the list for you.
Before you head out, make sure you consult the Beginner's Guide to Asheville's Great Outdoors which has great tips on planning, gear, pets and Leave No Trace outdoor adventure principles.  
1.  Blue Ridge Parkway's Folk Art Center 
The Blue Ridge Parkway offers unique and easy access to memorable outdoor adventures with your family. You can build simple itineraries based on the Parkway's mileposts with stops at overlooks (bring a picnic lunch!), easy hikes and a bit of history and culture along the way. Pro tip: Check the Blue Ridge Parkway road conditions before you head out to see if weather closures have affected specific sections. 
A must-stop visit is the Folk Art Center (milepost 382). The center houses a museum as well as the oldest craft shop in America, serving the Southern Highland Craft Guild: a historic collective of artists and craftspeople from Southern Appalachia. Watch artists work on spectacular furniture, musical instruments, pottery and textiles while viewing art galleries and crafts dating back to 1000 AD. You'll find easy hiking trails that connect to the Mountains to Sea Trail from the parking lot, including access to the scenic Lunch Rocks Trail.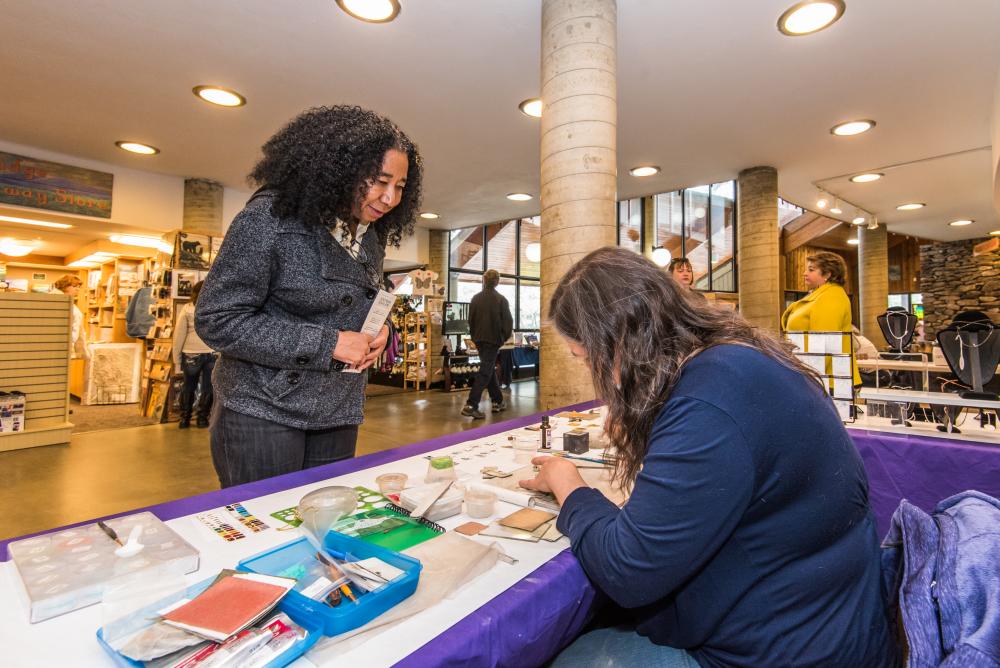 2. Blue Ridge Parkway's Visitor Center 
The Blue Ridge Parkway Visitor Center (milepost 384) features a kid-friendly TRACK trail (with downloadable maps and self-guided adventures), and a great Junior Ranger program for school-age kids with nature-focused activity sheets to complete and earn badges. The center also has ADA-accessible exhibits.
3. Bent Creek Gap Road + Explorer Loop + Mountains to Sea Trail
If you're looking for an easy way to either stroll (or roll!) through the woods with the family, this "secret" dirt road is accessed via a set of unmarked pull-offs found around milepost 400 on the Blue Ridge Parkway. To the south, the road winds down to the North Mills River National Recreation Area (which we'll talk about below). To the north, it connects to Lake Powhatan. 
Parking just off the road on the north side, you can start walking the gravel road through beautiful groves of rhododendron and hardwood forest. This road is usually empty except for the occasional mountain biker. If you continue driving north another 2.5 miles, you'll reach the Explorer Loop Trailhead, a well-maintained branch of the Bent Creek trail system.  Any of these options are great for families wanting to get out and walk in the woods and as an introduction to mountain biking.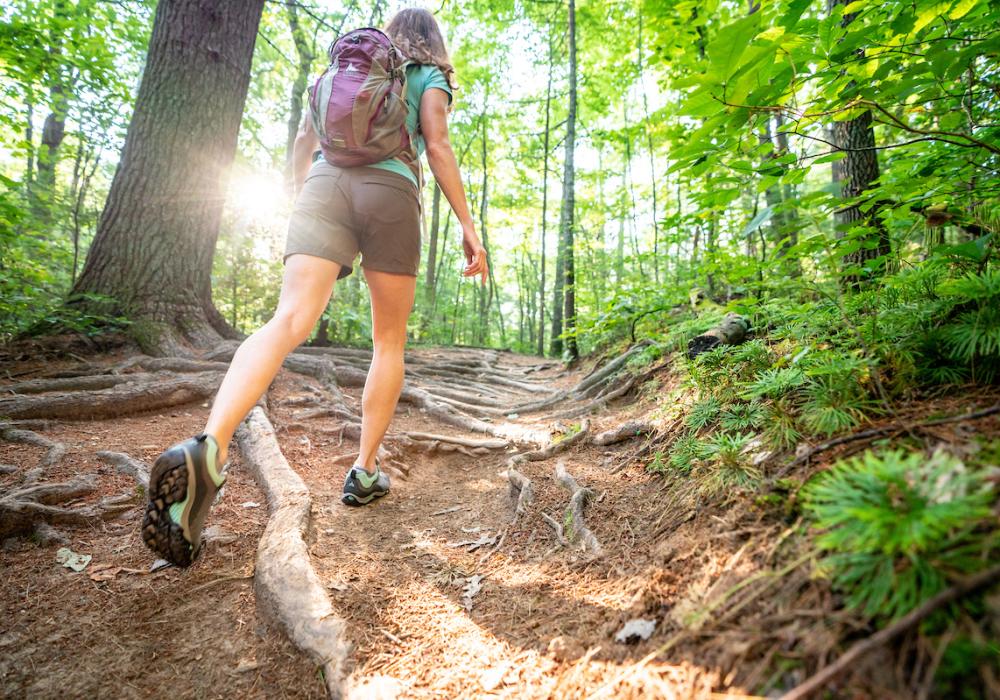 4. North Mills River National Recreation Area
How about a beautiful tubing, fishing and hiking area you can reach from Asheville without ever having to get on the interstate? Take Brevard Road (Hwy 191) from West Asheville to North Mills River Road and you'll reach a beautiful trout stream with dense tulip tree forests and easy family hiking trails. 
North Mills River has a National Recreation Area with great fishing, as well as one of the nicest campgrounds near Asheville. The sites are well-shaded and offer a lot more privacy and space than you'll find at most campgrounds. It's perfect for a first-time family campout and is open year-round (with limited services in winter).  
5. Shope Creek Area - Pisgah National Forest, NC
Perhaps your family is ready for more secluded hikes? The Shope Creek Watershed offers deep access into the Craggy Mountains of the Pisgah National Forest. There are dramatically varied terrain features including high knobs, old clearings, dense forests, cliffs and creeks. An interactive map with downloadable GPS data is available here.  
6. Family Float on the French Broad + French Broad Paddle Trail 
Flowing right through Asheville, the French Broad River is the heart of Western North Carolina's  watershed. And with the right planning and gear, anything from a quick afternoon escape to a multi-day adventure is possible. SUP, kayak, canoe and tube rentals are available from spring through fall at the French Broad Outfitters. 
A classic first-time experience is putting in at Bent Creek River Park and taking out at Amboy Road River Park. This 3-4 hour float takes you past the Biltmore and ends right before the River Arts District (RAD). To plan out your adventures, check the French Broad Paddle Trail, which has great itineraries and options for riverside camping.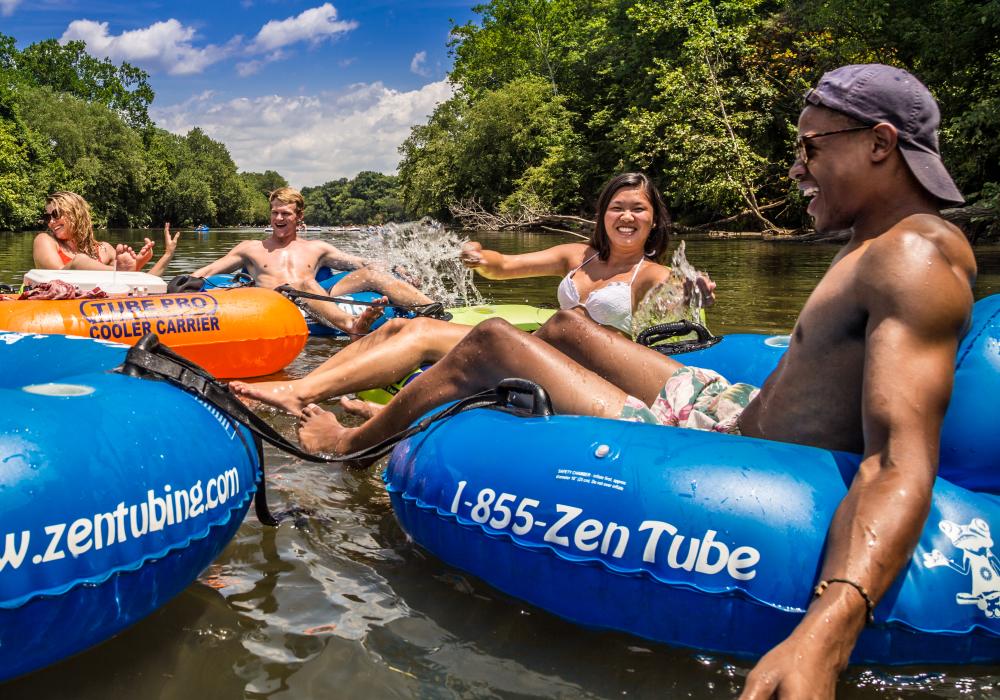 7. Wilma Dykeman Greenway + French Broad River Greenway + Carrier Park
The takeout mentioned above (Amboy Road River Park) is also a great access point to Asheville's awesome greenway system. From here you can walk/bike upstream along the French Broad River Greenway from Hominy Park in West Asheville through Carrier Park, or downstream along the French Broad River to the French Broad River Park/dog park. 
From the dog park, the greenway continues to the River Link Bridge at New Belgium Brewery, connecting to the Wilma Dykeman Greenway through the River Arts District. On this side of the river, you'll find paved bike lanes perfect for skating/biking and stopping at the River Arts District's breweries, galleries and restaurants. 
This will be a huge hit with the family! Unlike a traditional zoo, the WNC Nature Center has a conservation mission and education focus with more than 60 species native to the region. Easy trails meander along the hillsides above the Swannanoa River with playground structures and biodiverse habitats for the local residents such as black bears, mountain lions, bobcats, red wolves and everyone's favorite, the river otters. 
Finally, the WNC Nature Center is an excellent last-minute plan. It's open seven days a week and quick and easy to find.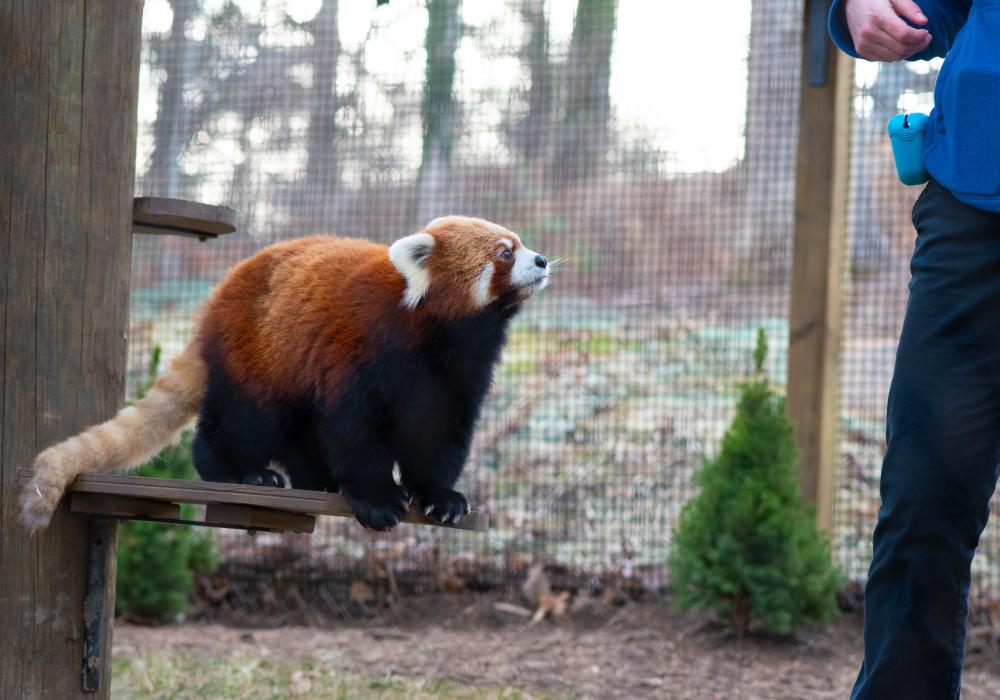 9. Elk Viewing (and Skiing) Cataloochee Valley, Great Smoky Mountains National Park
How about seeing native elk in the wild? Since the National Park Service reintroduced native elk to the Great Smoky Mountains National Park, the herd has thrived and can be seen in the Cataloochee Valley. Come with binoculars and look for local volunteers from the Elk Bugle Corps who can share information about the elk. While you're in Cataloochee Valley, plan on great hiking like the Little Cataloochee Trail, and in winter, Cataloochee has some of the best skiing in North Carolina. 
10. North Carolina Arboretum
Last on our list, the North Carolina Arboretum has over 400 acres of deciduous forest and ten miles of hiking/biking trails. Plan to learn a ton of new tree and plant names as you spend time on self-guided botanical tours of the complex biodiversity in Southern Appalachia. There is also a beautiful bonsai tree exhibit and an on-site bistro and gift shop. It's open every day from 8 a.m. to 7 p.m. from November to March and 8 a.m. to 9 p.m. from April to October. There's only a single parking fee ($20), so pile in the van and enjoy! 
Updated April 4, 2023