Lunch Rocks Trail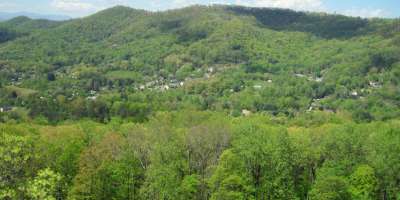 Lunch Rocks Trail Details
Difficulty:
Moderate
Length: 4.9 miles round trip
Region: Blue Ridge Parkway
Duration of hike: About 2-3 hours
Elevation gain: 900 feet
Type: Out & Back
Blazes: White
Facilities & Parking: Parking lot (Folk Art Center)
Features:
Pet Friendly,
Views
Pack a lunch for this moderate trail off the Blue Ridge Parkway
What to Expect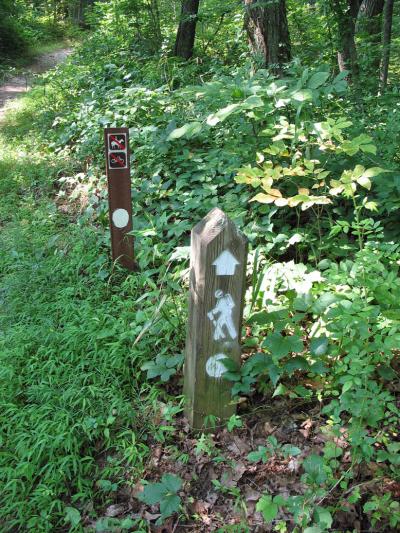 This section of the Mountains-to-Sea Trail (MST) leads from the Folk Art Center to a beautiful view of the Haw Creek valley at Lunch Rocks. After your hike, be sure to stop into the Folk Art Center to discover art and handicrafts made by local artists.
Park in the Folk Art Center parking lot. Follow the white circle of the MST, which goes in front of the building. This section of the MST on a graveled nature trail is lined with interpretive signboards, highlighting native trees and their traditional applications.
At 0.2 mile, the MST and the nature trail split. Take a right to stay on the MST. The trail crosses Riceville Road on a bridge on the left side of the Blue Ridge Parkway. Though you are now fully in the woods, you'll pass a bench at 0.4 mile and another one soon after. At 0.9 mile, a side trail shoots off to the left. Stay on the MST, which parallels the Parkway. 
At 1.1 miles, cross the Blue Ridge Parkway and look for an MST post showing you the way. The trail starts climbing above the Parkway. It passes a blue dot trail on the left, which you should ignore.
Reach a side trail to the left at 2.4 miles. The tree on the right side of the MST might have a small red dot along with a white circle. Take a left and go down a little to Lunch Rocks/Haw Creek Overlook. You're on a large rock outcropping with a shelf convenient for sitting, surrounded by pitch pines and blueberry bushes looking west on the Haw Creek Valley and the Parkway at Haw Creek Valley Overlook at MP 380.  Return the same way on the MST.
Having trouble viewing on mobile? Click here to see the Google Street View version.
Directions
From downtown Asheville, take Tunnel Road east about 5.4 miles to the Blue Ridge Parkway.  Travel north on the Blue Ridge Parkway about a mile to the Folk Art Center at MP 382.
GPS Coordinates
N35.5927945, W82.4819549
Photos by Danny Bernstein.