11 Places to Eat Ice Cream in Asheville, NC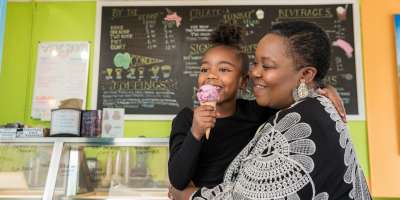 In a town known for its incredible dining scene, it's no wonder you'll find an array of ice cream shops, creameries and chocolate shops offering up delicious sweet treats sure to cleanse the palate. Imagine how refreshing it would be after a day of Asheville adventure to savor a scoop (or two, or three, or more) of housemade ice cream.
In Asheville, you have many options when in search of that perfect scoop. Craving ice cream sandwiches? You'll find it here. Is it frozen custard you're after? Asheville has you covered. Love gelato? You're in for a treat.
Here are 11 great places to eat ice cream in Asheville!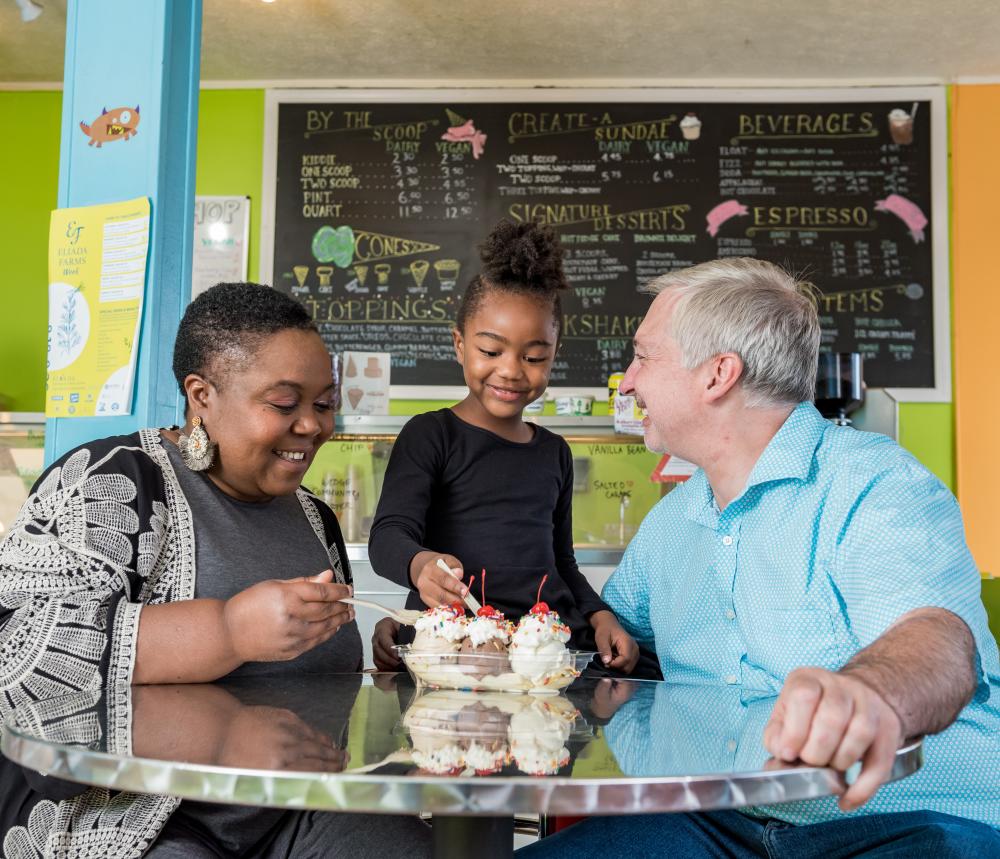 The Hop is an institution in Asheville — it's one of the oldest ice cream shops in town. The Hop opened in 1978 in a converted former gas station on Merrimon Avenue. Its modern era began in 2008 when University of North Carolina Asheville alumni couple Greg and Ashley Garrison bought the shop. This local favorite has now grown to include three locations (west Asheville, north Asheville and Black Mountain). And, the shop features numerous made-from-scratch vegan ice cream options. You'll also find fair trade coffee and delicious desserts.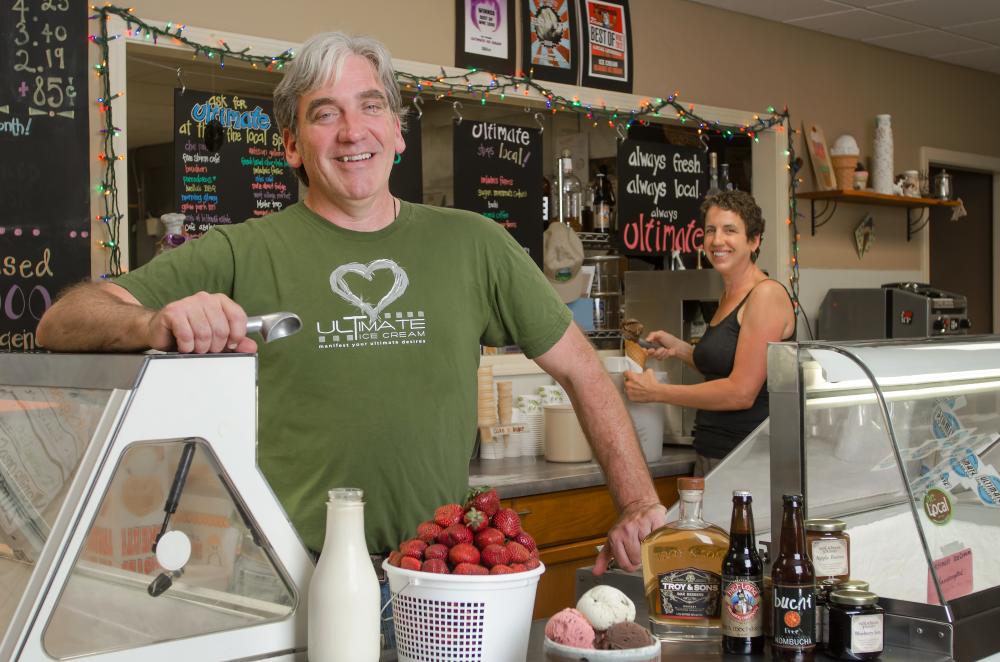 Two Asheville social workers started Ultimate Ice Cream as a way to spread happiness in the community. Owners Kevin and Lucia Barnes have kept philanthropy in mind with programs such as the Flavor of the Month program in which a portion of sales benefits a different area non-profit organization each month. They are also known for their "Random Acts of Ice Cream" when they show up seemingly out of nowhere to serve free ice cream to people in the community. You can find Ultimate Ice Cream in north Asheville and in east Asheville.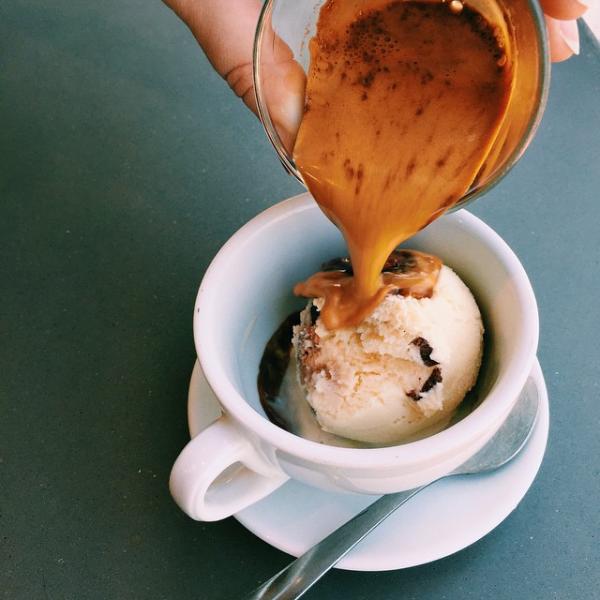 French Broad Chocolates has become a fan favorite for sweet treats in Asheville. While their known for their delicious chocolate, you'll find the ice cream at French Broad Chocolates is just as loved and popular. French Broad Chocolates recently opened the Cookies and Creamery in the South Slope District, just a couple blocks south of downtown Asheville. The shop is dedicated to serving housemade ice cream, cookies, brownies and comfort desserts. You'll also find ice cream at the iconic French Broad Chocolate Lounge location in the heart of downtown Asheville at Pack Square. For a special treat, try drizzling the liquid chocolate truffle over your ice cream.
Sunshine Sammies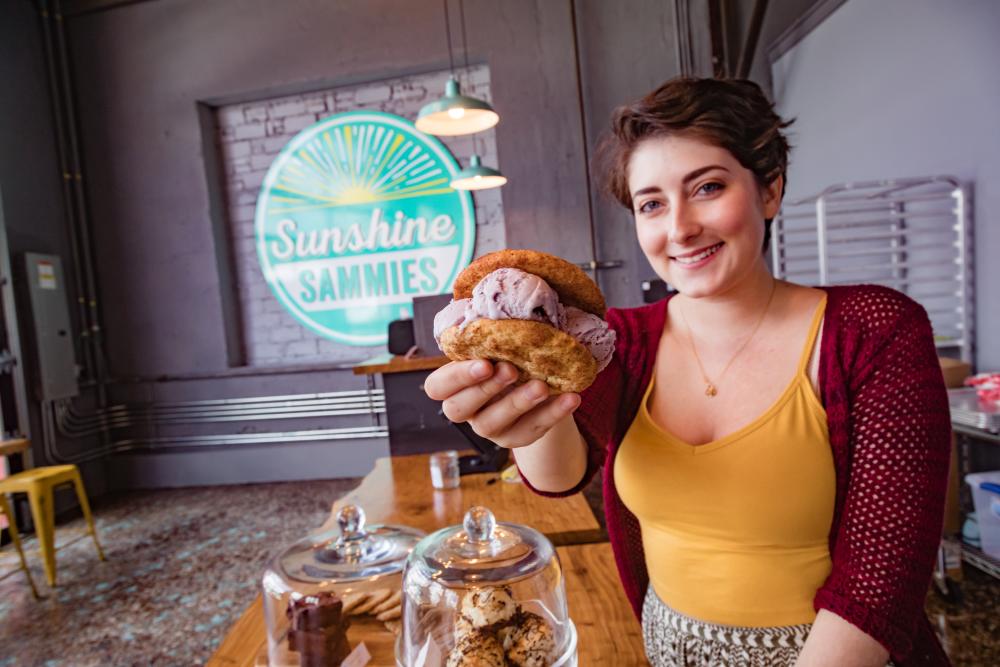 Started with a handbuilt solar power pushcart in 2013, Sunshine Sammies quickly made a name for itself in Asheville. Today, the ice cream sandwich maker has a beautiful storefront downtown. Sunshine Sammies is known for its house made ice cream (with an endless variety of flavors) paired with fresh baked cookies. The shop, built in the 1920s, is an Instagrammers dream.
It's hard to miss Kilwins when walking in downtown Asheville or downtown Black Mountain. The aroma of treats and ice cream, mixed with the ability to see through the glass window as delicious praline pecans come out of the copper kettle, will likely be plenty to draw you in the door. While part of a chain of shops, Kilwins is locally-owned and makes its treats right in store.
It's not hard to work up an appetite for something cool and sweet as you stroll Biltmore, America's Largest Home, especially when visiting on a warm day. Thankfully, Biltmore has you covered. The Creamery is located in Antler Hill Village, right where the Estate's dairy barns used to stand. Choose from ice cream, sundaes, pastries, cupcakes and desserts.
Whit's Frozen Custard
The frozen custard at Whit's is still made with the same pure ingredients as custard was centuries ago: cream, eggs and sugar. Frozen custard is considered thick, smooth and creamy. Whit's makes it daily in store. Each week, choose from three flavors: Vanilla, Chocolate and a special rotating weekly flavor (which Whit's posts on its web site and social media pages). With a north and south location, it's a convenient stop between many Asheville adventures.
10th Muse Comfort Foods (Formerly Frostbite Ice Cream)
10th Muse Comfort Foods (formerly Frostbite Ice Cream) is a popular spot for the locals who flock to the store on Patton Avenue in West Asheville for the soft-serve and house-made treats. 
YoLo Frozen Yogurt
If it's frozen yogurt you are after, check out YoLo on Merrimon Ave in north Asheville. The premium self-serve frozen yogurt, tart and sorbets are all made in house with locally sourced ingredients. Ten flavors change weekly and you can choose from more than 40 fresh toppings. Vegan and sugar free options are also available.
Asheville Chocolate
After a day of exploring downtown Asheville, savor the house-made gelatos and sorbettos at Asheville Chocolate in downtown. The shop serves classic Italian flavors such as Stracciatella Gelato and Lemon Sorbetto alongside its own creations such as Smore's Gelato and Blueberry Lavender Sorbetto. And, as the name suggests, there are plenty of chocolate treats to enjoy while you're there including truffles and hot chocolate.
Regional/National Flavors
While in Asheville, you can also enjoy your favorite regional or national chain. Ben and Jerry's has a location in downtown Asheville, as does Marble Slab Creamery. In south Asheville/Arden, you'll find a Coldstone location and a Culver's, which specializes in frozen custard.
Photo credits: The Hop photos by Emily Chaplin. Ultimate Ice Cream photo by Ian Curcio. Sunshine Sammies photo by Jared Kay.
Updated November 4, 2020