Where to Eat Brunch in Asheville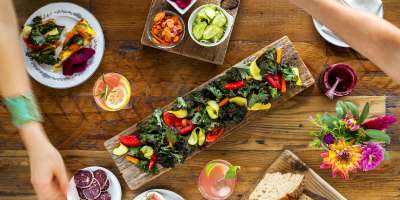 A Guide to Weekend Mornings in Foodtopia
Brunch. That magical, (mostly) morning meal that permits diners to mix pancakes and sandwiches, eggs and entrees--perhaps with a little hair of the dog to boot.
For weekend travelers, brunch also offers another opportunity to sample the local flavor. And in Asheville, N.C.--also known as Foodtopia--there is no shortage of choices. An article in the Mountain Xpress, a local arts and entertainment newspaper, even billed Asheville as "brunch city."
In Asheville, there's no one way to do brunch, and it would be difficult to sum up the entire brunch scene in a single list. Nevertheless, in an attempt to tackle some of Asheville's possibilities, here are some ideas for your next brunch outing:
Best at Breakfast
According to our Facebook fans, many of the most popular spots for brunch are restaurants that serve breakfast all week long. Longtime favorites like the sweet potato pancakes at Tupelo Honey Cafe, the huevos rancheros at Sunny Point Cafe, the creative benedict dishes at Early Girl Eatery and the enormous biscuits at Biscuit Head all topped the list. Other a.m. choices such as Moose Cafe and City Bakery are beloved brunch stops at as well.
A word to the wise: All of these restaurants get quite busy on Saturday and Sunday mornings--and for good reason! Go on a more leisurely day when you have some time in your schedule, or visit on a weekday for a shorter wait time.
James Beard Brunch
Three of Asheville's James Beard Award-recognized chefs are cooking up something a little different for the weekends. At Curate, chef Katie Button puts a morning spin on her authentic Spanish cuisine. And look for breakfast and lunch dishes filled with local fruits, veggies and meats at John Fleer's Rhubarb, or for delicious pastries, head next door to The Rhu.
A Little Something Unexpected
There's another group of restaurants that are perhaps better known for something else but which offer a scrumptious brunch that shouldn't be overlooked.
Three prime dinner time hotspots--Limones, Chestnut and The Market Place--offer fresh and affordable brunch plates as well. And Posana, famous for its delicious, you-would-never-guess-it gluten-free menu, makes waves at a meal so often dominated by toast.
Looking North
For some more fresh choices, head north of downtown. In addition to their mouthwatering barbecue and sides, Luella's Bar-B-Que injects brunch-ier specials and entertainment on Sunday mornings. And in nearby Weaverville, the eclectic menu of Stoney Knob Cafe adds creative french toasts and pancakes to its world cuisine.
Brunch & a Show
Get mesmerized by the beauty of the legendary Ida Carolina and the talent of her Queendom on the first and third Sunday at Asheville Beauty Academy's "Life's A Drag" drag brunch party.