Top Breakfast Spots in Asheville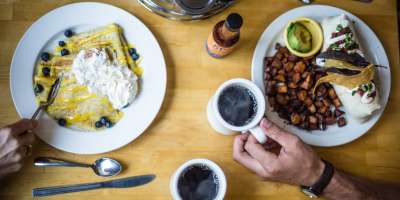 Which Restaurants Received the Highest Votes in Our Online Poll?
These are the top breakfast restaurants in Asheville according to the visitors and locals who voted in our social media poll. Here they are in descending order:
Green Sage has three locations in Asheville. The popular cafe is known for its commitment to serving food that promotes health and supports a vibrant community. The food on the menu is "nutrient-rich, chemical-free, 95% organic, and thoughtfully-sourced." Most of the menu is easily modified for vegetarians and those with dietary restrictions.
What to order: The Pura Vida Bowl is a classic with two sunnyside up eggs, black beans, sautéed kale/onions, root hash, brown rice, guacamole, pico de gallo and salsa verde. Other breakfast favorites include the Everything Avocado Toast, Breakfast Burrito and Appalachian Trail plate. 
With the Western North Carolina Farmer's Market right next door, it's no wonder Moose Cafe features fresh, local vegetables daily. Their menu of home-cooked, southern-style comfort food has earned them a reputation as a place where the locals go to eat. Their popularity has even earned them a feature in Southern Living Magazine. And, Miranda Lambert dined here during a visit to Asheville in early 2021. Expect to be greeted with hot homemade biscuits and made-from-scratch apple butter at every meal. Not only is the food delicious, but the mountains views from the dining room will also hit the spot.
What to order: Pick a southern favorite -- you can't really go wrong. fried chicken, meatloaf, mac and cheese, and collard greens have all received high marks.     
Tupelo Honey is among the restaurants that have helped put Asheville's culinary scene on the map. This popular eatery has received acclaim from the New York Times, Frommer's, Rachel Ray, Garden & Gun and so many more. Known for it's new south flair, the downtown hotspot has branched out, now with two locations in Asheville and other locations from Georgia to Colorado. Make plans to get here early as the line forms the moment the doors open.
What to order: Whatever you do, make sure to share an order of their Fried Green Tomatoes appetizers with the table. The tomatoes are served over goat cheese grits with fresh basil. Amazing! Wash it down with their signature rosemary-peach house-made lemonade.
You know it's good when "Made from Scratch" is a restaurant's motto. This farm-to-table restaurant in downtown Asheville cool cobblestone Wall Street serves up southern comfort food and better yet, breakfast is on the menu all day long. Rachel Ray highlighted Early Girl on her popular "$40 a Day" series which aired on Food Network.
What to order: Go big or go home! Their Porky Breakfast Bowl comes complete with homefries, BBQ pork, scrambled eggs and farmstead cheese smothered in Benton's smoky bacon gravy.
This West Asheville eatery has received a lot of national attention in past years. Everyone from Fodor's to Southern Living have touted the amazing breakfast this place serves up. Their food is so good that people will gladly stand outside in the rain while waiting for a table.
What to order: Their Huevos Rancheros was a finalist in Good Morning America's Best Breakfast in America competition. It comes with savory black bean cakes, Snow Creek chorizo sausage, feta cheese, roasted tomatillo salsa, and herb tossed red skin spuds topped with two free range eggs any style, cilantro crema, and crisp tortilla strips. Yum!
Topping our list is fan favorite Biscuit Head, a restaurant which aims to put some "south in your mouth" with their fresh take on southern home cooking. With two locations in Asheville (west Asheville and downtown), Biscuit Head is a convenient way to start a day of exploring the city. The premise of a breakfast here is simple: begin with huge, fluffy cat-head biscuits, then add on everything from traditional eggs and bacon to the more adventurous pairings such as the pulled pork with an egg on top. You'll also have a wide variety of homemade jams and jellies to choose from to sweeten the deal. 
What to order: Given the location in Beer City, you have to try the "gravy flight." Pick three savory gravies and a warm, fluffy cat-head biscuit. Yes, it's as good as it sounds!
Honorable Mentions
Our Facebook fans agreed on one thing: the options are seemingly endless when it comes to breakfast in Asheville. While the eight restaurants above rose to the top in our poll, these two also received their fair share of love: Mayfel's and Posana.