Fall Itineraries for Asheville Neighborhoods + Nearby Towns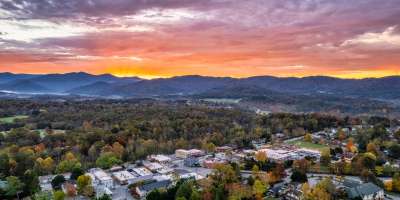 How to Experience Fall in Asheville and Surrounding Neighborhoods
Wind your way through Asheville's many neighborhoods this fall and enjoy the season with this family-friendly guide. From an electric tour of downtown to the vibrancy of the River Arts District to the laidback atmosphere of Fairview, there are plenty of ways to make the most out of your visit here in the Blue Ridge Mountains.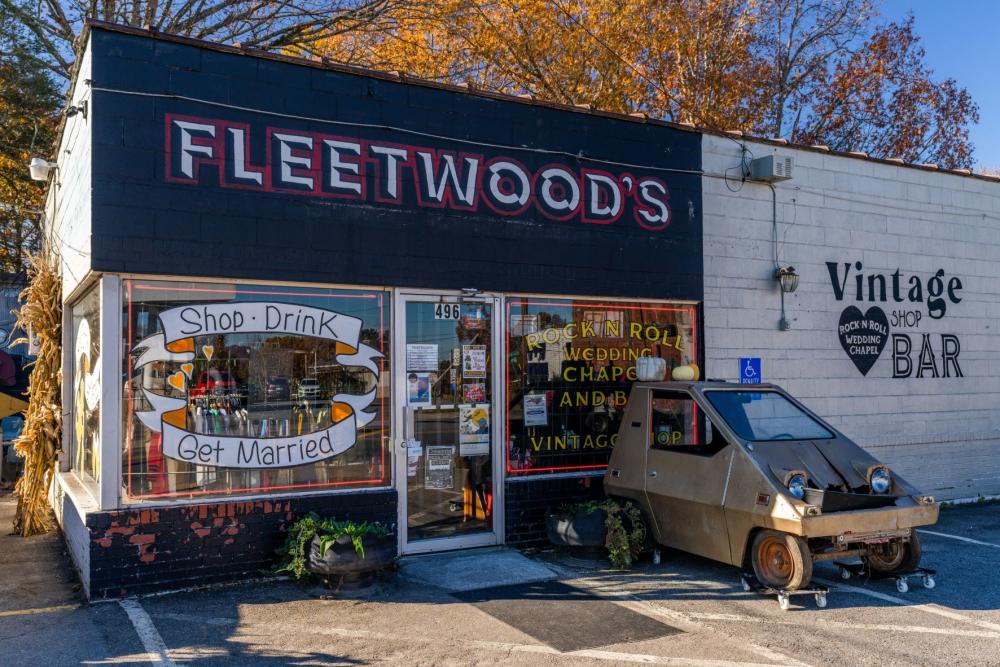 One of Asheville's most up-and-coming neighborhoods, West Asheville is full of hip, eclectic shops, restaurants and local hangouts. Hop across the French Broad River and head over to some delicious breakfast spots on the West Side like Sunny Point Café and Biscuit Head then make a pit stop at some of the best coffee shops in the city, like Odd's or Bean Werks  Perfect for families, West Asheville is home to Carrier Park, the city's largest park, which has trails, picnic space, a velodrome and sports facilities, and is surrounded by maples, oaks and other trees that make for a perfect fall backdrop. Nearby, West Asheville features the "adventure corridor" along the French Broad River, including the Outdoor Adventure Center, Cultivate Climbing and the new eco-friendly lodging spot Wrong Way River Lodge & Cabins. For dinner, Jargon, Haywood Common and The Admiral all offer innovative dining experiences that focus on fresh, seasonal ingredients, with reservations highly recommended. Don't forget to check out some seasonal fall-flavored beverages at The Whale, Urban Orchard, One World Brewing and Archetype Brewing West. You can wrap up your time with a visit to Fleetwood's Chapel, a bar, wedding chapel and vintage shop, or The Odd, where you can enjoy a drag show or Halloween-inspired performances and more. Pop over to end your night of fun at Asheville Retrocade, which offers 5,000 classic arcade games!
Just because you're in the city doesn't mean you're not going to see color when you're in Asheville! Downtown is full of fall fun and local color. Start your day in downtown with a walk along Asheville's Urban Trail. This self-guided tour takes visitors on a "scavenger hunt" to discover the history behind some of Asheville's most iconic places. This 1.7 mile walk takes you to 30 places, marked by art and a bronze plaque. For lunch, experience one of the best views in downtown with a stop at Hemingway's Cuba. This Cuban-inspired restaurant was voted among the nation's Best Rooftop Restaurants by Food Network and makes for the perfect fall foliage spot. Immerse yourself in the artistic experience of Asheville after your lunch break by following along the South Slope Mural trail. Another self-guided tour (which means you can take some brewery breaks), this 2-mile trek explores the history of Asheville's Southside along iconic murals. The trail takes you to multiple businesses, including Hi-Wire Brewing, so make sure to stop in and enjoy some drinks!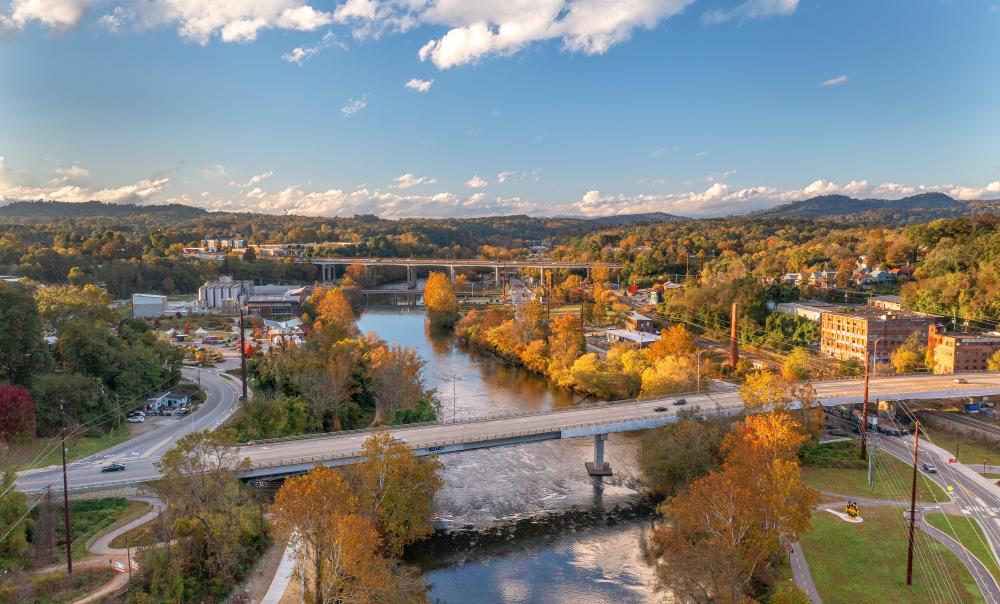 Artsy and vibrant, a tour of Asheville's River Arts District is the perfect place to experience a fall day in the Blue Ridge Mountains. This colorful neighborhood, once an industrial and manufacturing hub, is home to nearly 300 artists, creative cuisine and easy access to the French Broad River. Start the day off with a trip to GRIND, Asheville's first Black-owned coffee shop, or Ultra Coffee, the River Arts District's first coffee shop. Next to Ultra is the Odyssey Center for Ceramic Arts, featuring local art and offering in-person pottery classes for visitors. Or, visit the "Pumpkin Patch" at the North Carolina Glass Center and purchase a custom made pumpkin-themed glass sculpture. Wedge Studios houses three stories of painters, illustrators, sculptors, folk artists and cartoonists and is on top of Wedge Brewing Company. Stop for lunch at 12 Bones Smokehouse (famous for its food and a visit from former President Obama) or grab a snack and coffee at Summit Coffee before heading to the Asheville Cotton Mill, home to multiple studios/galleries along with the Asheville Guitar Bar. End the day with a trip to Bottle Riot, an eclectic wine bar with an extensive wine list from all over the world, along with beers, cocktails and outdoor seating. 
Biltmore Village, once home to employees of George Vanderbilt, now offers exceptional cuisine, fine art, boutiques and European-inspired architecture. The village is nestled between Asheville's downtown and the Biltmore Estate, making it the perfect day excursion away from the hustle and bustle. The quaint tree-lined streets are home to plenty of restaurants, breweries, shops and more. Start the day out here with a coffee and sweet treat at Well-Bred Bakery. Take your time strolling through shops like Nest Boutique, featuring a curated selection of stylish apparel and accessories, and The Compleat Naturalist, a shop that's perfect for prepping to hike in the Blue Ridge Mountains. Down the road from the Village, check out the newly-opened 7 Clans Brewing, a woman- and indigenous-owned taproom featuring locally-made beers and specialty wines and ciders. A trip to Biltmore Village wouldn't be complete without a visit to Biltmore Estate. America's largest private home, Biltmore's sprawling acreage is a wonderful way to experience the fall foliage and estate gardens.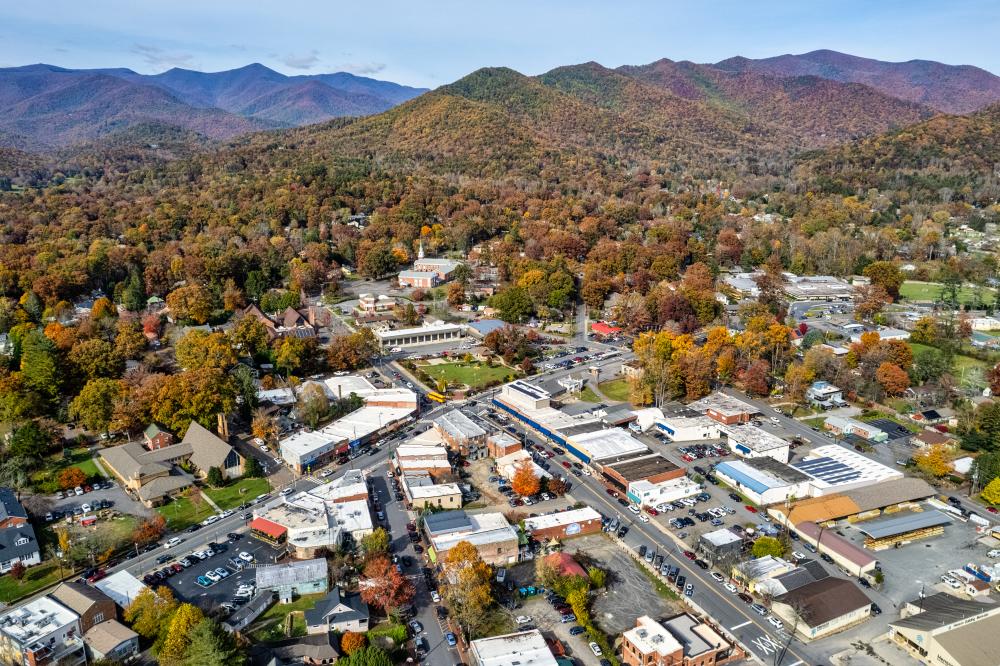 Just a short drive from downtown Asheville is Black Mountain. This quintessential small town is overflowing with charm, delicious restaurants, breweries and unique shopping opportunities. This unobtrusive town was once home to the iconic Black Mountain College, one of the country's best art colleges. It continues to be a mecca of cultural history, art and outdoor retreats. Start off your day with a stop at the Dripolater, a cozy coffeehouse in the downtown. Hop over to the Swannanoa Valley Museum and History Center where a quick tour will give some special insight into the history of the town before walking next door to the Black Mountain Center for the Arts. Black Mountain is home to plenty of incredible hiking trails, such as the Graybeard Trail and Lookout Trail. Both are perfect for experiencing fall color, and because they're both a little challenging, coming back to town for dinner will be a treat! My Father's Pizza is a popular spot with locals, and Que Sera mixes local ingredients with recipes from the coast. Top off the day with a visit to Oak and Grist, one of the only grain-to-glass distilleries in the Southeast. 
Outside of downtown Asheville lies Fairview, a picturesque farming community surrounded by rolling pastoral hills, serene mountaintops and a strong community of creators, farmers and growing entrepreneurs. The pastoral hills of area are buoyed by the strength and ingenuity of the creators and farmers who live there. From breweries like Whistle Hop--tapped as the best brewery in North Carolina by Yelp--to experiences at local farms, a fall tour of this community is an enjoyable, family-friendly adventure. Start your day off with a tour at Hickory Nut Gap Farm. This 100-year-old family-founded farm provides many local restaurants with resources and is also a great place to learn about sustainability, farm animals and an understanding of the local foods. Families can then check out the WNC Cheese Trail, where they can learn about cheese-making and also partake in some cheese tasting. Take a break to take in your surroundings and grab some delicious comfort food at The Local Joint before ending your trip with a stop at Turgua Brewing, where all the drinks are named after birds!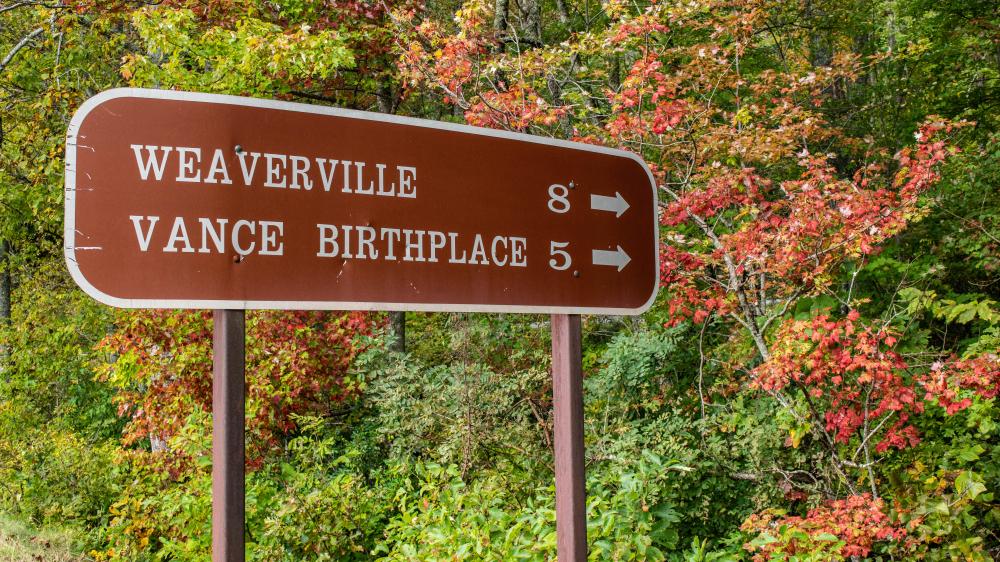 About 15 minutes north of downtown Asheville is the charming, small town of Weaverville. With easy access to the Blue Ridge Parkway, a delightful park and plenty of restaurants and businesses, Weaverville has plenty to do in the fall, both indoors and out. Grab a coffee in the morning at the LGBTQ-owned Yellow Mug Coffee Shop on Main Street before spending your afternoon shopping around at spots like Mangum Pottery, a family-owned pottery shop run by second-generation potters, or pop over to Crucible Glassworks for a demonstration of glassworking and to purchase a unique pumpkin glass piece. If you want an outdoor adventure, there's no shortage of them in Weaverville, from Lake Louise Park, where you'll experience lovely fall colors, to fishing trips with Curtis Wright Outfitters, you'll embrace the fall weather and color in this neighborhood. There are plenty of wonderful restaurants, like Blue Mountain Pizza and Stoney Knob. Choose one and then head over to Vintage Kava for a unique twist to a bar night to finish out your day! 
More Fall Inspiration