Explore the Western North Carolina Cheese Trail Near Asheville, NC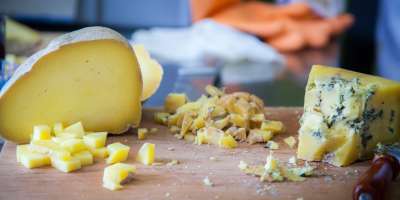 Taste Southern Cheese
The Western NC Cheese Trail covers the hills and dales of the Appalachians and foothills. Exploring it is a great way to soak up some rural mountain beauty and sample some of the best handmade cheese made in the South. Connect with cheesemakers, see how and where these delicious dairy products are crafted, and buy your favorites straight from the producers.
A visit to these award-winning cheesemakers takes you to the heart of the artisan cheese movement. They use both goat and cow milk and run the gamut from new operations to decades of experience crafting artisan.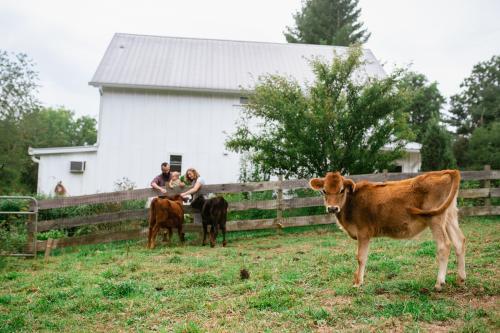 The 28-acre Round Mountain Creamery in Black Mountain is North Carolina's only "Grade A" goat dairy and farmstead creamery. Round Mountain's 200 Alpine and LaMancha goats are responsible for 12 delicious varieties of farmstead soft and seasonal aged cheeses, including the award-winning Amber Moon. Farm visits and tastings are by appointment only.
Victor Chiarizia spent 33 years blowing glass before turning his artistry to making European-style cheeses at his Blue Ridge Mountain Creamery in Fairview. Victor starts his luscious products with the raw milk of Jersey cows raised in local pastures, then ages them to unique perfection in a cave he built specially for the task. Make an appointment to visit the creamery and sample the hand-crafted varieties of blue cheeses or meet Victor most Saturday mornings at the City Farmers' Market downtown.
Other Stops Along the Trail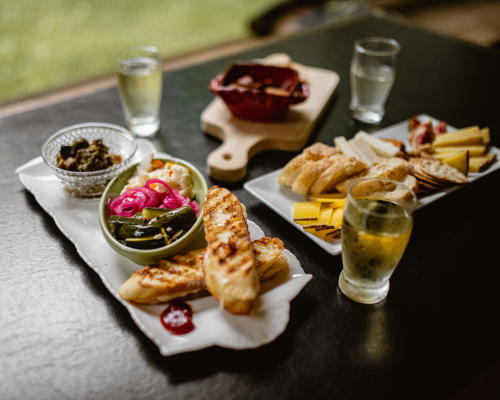 Looking for more ways to celebrate artisan cheese and rural mountain farm life in the Asheville area? 
Stop by Hickory Nut Gap Farm to experience farm-to-table first hand. Nestled in the scenic foothills of the Blue Ridge Mountains in Fairview, this fifth generation family-owned farm offers family-friendly activities, including a play area, a history barn and tours, as well as opportunities to purchase freshly butchered meats, including 100% grassfed beef, pasture raised pork and pasture raised chicken. Also check out the Farm Store to purchase local cheeses, meads, beers, handmade soaps, jewelry, pottery and barbecue/hot sauces. 
Raise a glass to local cheese and tasty cider at Barn Door Ciderworks. Tucked away in quaint neighborhood in Fairview, this establishment is full of big flavor. Barn Door Ciderworks is also a member of the WNC Cheese Trail and offers a variety of small bite food items and charcuterie boards using locally sourced meats and cheeses, as well as aged hard cider sourced with local apples. 
Updated December 22, 2022