Lookout Trail Hike in Montreat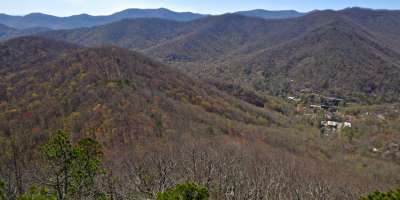 Lookout Trail Hike in Montreat Details
Difficulty:
Moderate
Length: 1.4 miles round trip (with the option of adding other trails for a longer hike)
Region: Montreat
Duration of hike: 1 Hour
Elevation gain: 623 Feet
Type: Out & Back
Blazes: Yellow
Facilities & Parking: Gravel parking area at trailhead
Features:
Pet Friendly,
Views
Popular, easily accessible trail with picnic potential
If traveling from downtown Asheville, you can be stepping on the Lookout Trail in Montreat in about 25 minutes and, after a brisk hike, stepping off it under an hour later. Rock outcroppings near the peak make for perfect picnicking, and the horizon is dotted with the peaks of the Seven Sisters of the Black Mountains.
Fall color is spectacular here, but the views are impressive any time of year. The trail is steep and includes a few scrambles at the top, but the views are well worth the effort.
What to Expect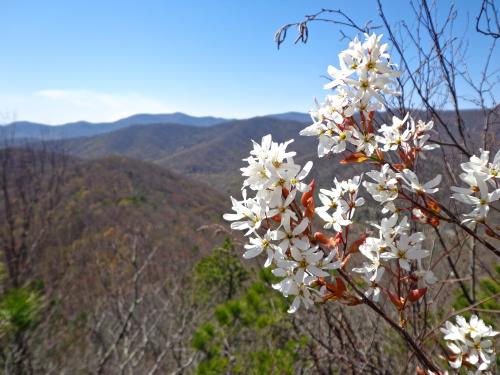 The trailhead is marked by a wooden sign that features an area map and other information. The trail is relatively steep but does begin with gentle slopes. Once you pass this section, you'll cross over the wide, flat Old Trestle Road. Keep going straight up rather than turning left or right on the road. On the upper part of the trail, you'll encounter some rough and rooty sections, steep wooden steps and, a few scrambles up rocks. From here, you reach the impressive views of the surrounding peaks of the Seven Sisters that can be seen from the rock outcroppings.
Lookout Rock is the official end of trail, but you can scramble up a little further to the top of the ridge on Lookout Mountain. From here, you can go back down the way you came or connect to one of the other trails to extend your hike (the brief Hickory Ridge Trail starts on the ridge top and connects to several other trails).
Know Before You Go
A free paper map of the other trails is available at the Montreat Store at the Moore Center at the intersection of Assembly Drive and Lookout Road on your way in.
Lookout Trail is well trafficked at every time of year, often by conference-goers or large family groups who are staying at the assembly.
Directions
From downtown Asheville, take I-240 east to I-40 east (in the direction of Statesville). Take exit 64 Black Mountain (Route 9). Turn left off the ramp and enter the town of Black Mountain. Stay on Route 9 all the way into Montreat (entered by a stone gate). Continue on this road (now called Assembly Drive) to Lake Susan. At the lake, take a left onto Lookout Road. Continue on Lookout Road, going straight through the four-way stop. After .5 miles, you'll see the parking area and entrance to the trailhead on your right. Parking is limited: make sure you don't block other cars or block gates.
GPS Coordinates
35.64269, -82.29094
Photos by Jason Tarr of ExploreAsheville.com.