The Ultimate Guide to a Girlfriends Getaway in Asheville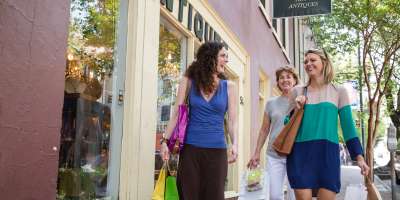 A Three-Day Itinerary for a Fun-Filled Trip to Asheville
Mastering the perfect girlfriends getaway is a bit of an art. A mix of personalities means that the ideal destination needs to have a range of activities and dining options for everyone.  Lucky for you, Asheville has it all! From world-class dining and shopping to outdoor adventures and spas that make you say "ahhhh", here's the perfect long weekend itinerary for a trip with the girls.
Day 1
Ease into day one by hitting the shops and boutiques in downtown Asheville. Start at the Kress Emporium which hosts fine art, jewelry, stunning photography and other handmade items from local artisans, to snag a memento from your trip. Afterward, head to fashionable Lexington Avenue and visit Minx and Virtue, two boutiques specializing in eclectic dresses, tops, jewelry and scarves.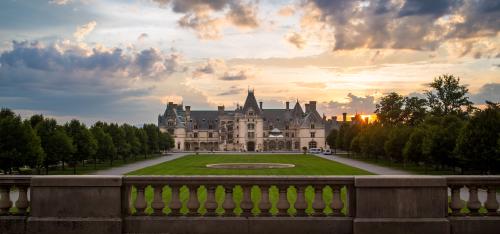 After scoring some great fashion finds, take in the crown jewel of Asheville with a self-guided tour of the Biltmore Estate. Pretend to be ladies of the Gilded Age as you appreciate the architecture and artwork of America's largest home. Included in the Biltmore House tour ticket is a tasting and tour of Antler Hill Village and Winery to sample Merlot, Chardonnay, Cabernet Sauvignon and other varietals from the Biltmore collection.
In the evening, you all can don your new threads and take in a concert at The Orange Peel, named one of the "Top Five Rock Clubs in the Country" by Rolling Stone magazine.
Day 2
Grab workout gear and head out early to explore Asheville's beautiful natural surroundings with a mid-morning SUP – that's stand up paddleboarding – class on the French Broad River with Wai Mauna Asheville SUP Tours. Or, try a wellness experience with Asheville Wellness Tours or Namaste in Nature.
After working a sweat, fuel up for an active afternoon with lunch at Rosetta's Kitchen which specializes in organic vegan and vegetarian comfort food.
For the afternoon, lace up your hiking boots and hike the 2.4 mile Max Patch bald, a short, scenic hike along the Appalachian Trail boasting 360-degrees views.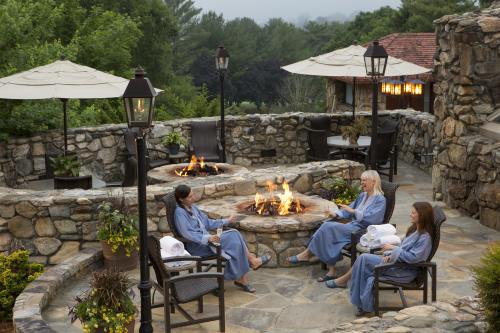 After all that physical activity, ease tired muscles by pampering yourselves at The Spa at Grove Park Inn – an 43,000-square-foot subterranean spa where you can take a swim in two therapeutic waterfall pools or indulge in an outdoor massage overlooking the Blue Ridge Mountains. Wrap up the evening in luxurious spa robes with a glass of champagne over great conversation around the spa's fire pits.
Day 3
For your final day in Asheville head out to the River Arts District for a stroll through the art galleries and studios in former factories and historic buildings. If you can, time your visit for the Second Saturday of the month between May and December, a day of special events. No matter when you visit the River Arts District, you'll be able to watch artists at work and maybe even create your own piece of art.
For lunch, since its so hard to choose where to eat in Asheville, grab a ticket for an Eating Asheville food tour so you and your ladies can sample appetizers and drinks from six of Asheville's best restaurants.
Although you'll be stuffed, Asheville is known as Beer City, USA so it wouldn't be right to leave without tasting some of the city's most distinctive brews. Round out the evening with a trip to the Funkatorium, a tasting room from the brewers at Wicked Weed, to try unique beers like the Black Angel Cherry Sour or the hoppy Freak of Nature Double IPA.
As you sip these special brews, make sure to toast your friendship and a fabulous girl's getaway in Asheville. 
Updated December 13, 2021