Max Patch Trail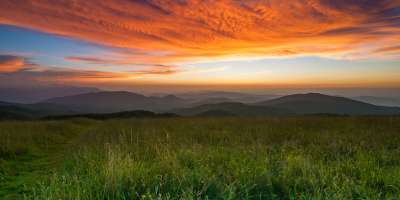 Max Patch Trail Details
Difficulty:
Easy Moderate
Length: 1.5 miles
Region: Near Hot Springs, Madison County
Duration of hike: About 20 minutes to the summit
Elevation gain: About 430 feet, from 4,300 to 4,630 feet
Type: Loop
Blazes: Appalachian Trail Markers
Facilities & Parking: Gravel parking lot; no facilities
Features:
Mountain Bald,
Pet Friendly,
Wildflowers,
Views
Play, picnic or practice yoga on this Appalachian bald
Max Patch is a "bald," the Southern Appalachian name for a hilltop without a single tree.  While this mountain isn't naturally bald (it was cleared for grazing in the nineteenth century), it's certainly naturally beautiful. Some call it "the crown jewel of the Appalachian Trail," the famous footpath which crosses it at the top. Bring a picnic, a Frisbee or a kite and plan on practicing yoga in the idyllic scenery here near Hot Springs.

LEAVE NO TRACE TIP
Did you know? Max Patch's high-elevation bald is home to certain plant and animal life only found in this kind of environment. Help preserve the rare flora and fauna by hiking only on the designated loop trail. It may be tempting to take user-created shortcuts, but these have been blocked off to help protect the sensitive ecosystem here.
What To Expect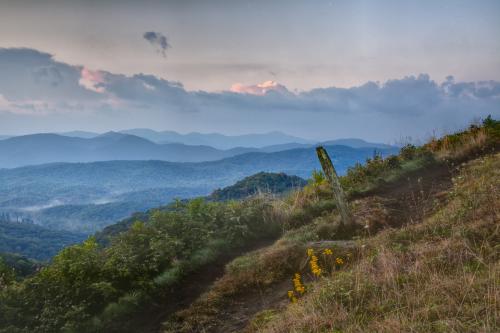 The hike to the Max Patch summit begins at an information kiosk at a gravel parking area. If there is no parking in the gravel lot, you may park along the gravel road, however, please make sure your vehicle is not impeding traffic.
From the gravel parking area, start on the 1.5-mile loop to the Max Patch summit. Most people start to the left. This is a gradual climb. As you begin, you'll be in an open area, with views that only get better as you climb higher. Eventually, you will enter the lush green forest for a short stretch before emerging once again on the bald. 
You'll reach a trail intersection where the Appalachian Trail goes left and right. Take the right-hand turn to make the final ascent up to the top of Max Patch. At the top, there are plenty of places for picnicking, Frisbee and kite flying.
With unimpeded views for miles around, you can see Mount Mitchell in the east and the Great Smokies in the west.
Leave No Trace: Things to Know Before You Visit
Max Patch is a mountain bald with rare flora and fauna. Help protect this incredible place for generations to come by following the principles of Leave No Trace. Here are a few important things to know before visiting Max Patch:
Overnight camping and fires are not permitted.
The area closes one hour after sundown and reopens one hour before sunrise.
Group size is limited to 10 people.
Dogs and other animals must be on a leash that is no longer than six feet.
Stay on the designated loop trail -- do not take user generated side trails that trample sensitive plant and wildlife. 
Max Patch is along a bumpy forest service road. Please make sure the roads are passable with your vehicle, especially during the winter.
Max Patch is an exposed mountain bald, where temperatures can often be 10-20 degrees cooler than in Asheville. There is no shelter from inclement weather such as lightning. Check the weather conditions before you drive to the area to avoid putting yourself and others in danger.
Having trouble viewing on mobile? Click here to see the Google Street View version.
Directions
From downtown Asheville, take US 19 N/U.S. 23 N/U.S. 70 W/I- 26 toward Weaverville/Woodfin. Continue onto I-26 W/US-19 N/US-23 N/US-70 W for 8 miles. Take exit 19 A to merge onto US-25 N/US-70 W toward Marshall. Stay on this road for 17.7 miles into Hot Springs. From Hot Springs, take Highway 209 for 7.3 miles to Meadow Fork Road (State Road 1175). There is a sign here and at all the other junctions to direct you to Max Patch. Go 5.3 miles then turn left on Little Creek Road (State Road 1181). Follow Little Creek Road (1181) for 3.5 miles (even after it turns to gravel) to the intersection with Max Patch Road (State Road 1182). Turn right onto Max Patch Road and go for 1.6 winding miles to the Max Patch parking lot.
GPS Coordinates
N35.797045, W82.956811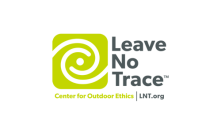 We all love the Blue Ridge Mountains! By working together, we can keep these incredible outdoor spaces beautiful and pristine for years to come. Make it your nature to Leave No Trace: Leave what you find, pack out what you pack in, stay on designated trails and plan ahead. To learn more about the 7 Principles of Leave No Trace, CLICK HERE >>.