Max Patch Trail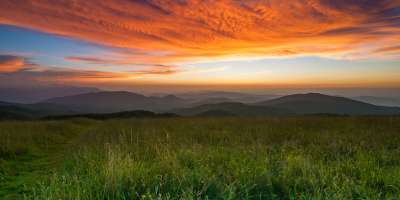 Max Patch Trail Details
Difficulty:
Easy Moderate
Length: 1.4 or 2.4 mile round trip on each trail
Region: Near Hot Springs, Madison County
Duration of hike: About 20 minutes to the top by the short trail, 25-30 on the longer loop
Elevation gain: About 430 feet, from 4,300 to 4,630 feet
Type: Loop
Blazes: Appalachian Trail Markers
Facilities & Parking: Gravel parking lot; no facilities
Features:
Mountain Bald,
Pet Friendly,
Wildflowers,
Views
Play, picnic or practice yoga on this Appalachian bald
Max Patch is a "bald," the Southern Appalachian name for a hilltop without a single tree.  While this mountain isn't naturally bald (it was cleared for grazing in the nineteenth century), it's certainly naturally beautiful. Some call it "the crown jewel of the Appalachian Trail," the famous footpath which crosses it at the top. Bring a picnic, a Frisbee or a kite and plan on practicing yoga in the idyllic scenery here near Hot Springs.
What To Expect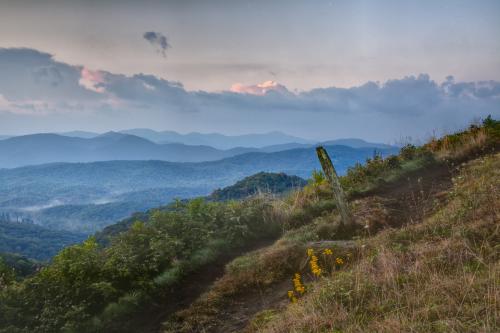 From the gravel parking lot, you've got two choices for getting to the top of Max Patch: the 1.4 direct-to-the-top trail or the 2.4-mile loop. The direct hike to the top is a gentle climb on a narrow dirt path. It's easy enough for even small kids. The longer loop goes through some wooded areas and is a little rockier, but gives you a break from the wind that often whips across the top of the bald. The Appalachian Trail crosses this loop and continues across the open bald.
At the top, there are plenty of places for picnicking, Frisbee and kite flying.
With unimpeded views for miles around, you can see Mount Mitchell in the east and the Great Smokies in the west.
You can camp along the longer 2.4-mile loop trail, but not on the summit. Max Patch is popular for winter hikes, but don't attempt one without being sure that the roads are passable in your vehicle.
The temperature can be a good 10-15 degrees cooler than in Asheville on this windy hilltop, so bring a windbreaker in addition to your camera. Be aware of the weather before you plan your hike. It's very exposed and if you are caught in weather there's no shelter. The bald has been known to get lightening strikes (one of which was fatal to a hiker). Finally, combine your trip with a stop in Hot Springs to refresh at one of the spa's outdoor hot tubs.
Having trouble viewing on mobile? Click here to see the Google Street View version.
Directions
From downtown Asheville, take US 19 N/U.S. 23 N/U.S. 70 W/I- 26 toward Weaverville/Woodfin. Continue onto I-26 W/US-19 N/US-23 N/US-70 W for 8 miles. Take exit 19 A to merge onto US-25 N/US-70 W toward Marshall. Stay on this road for 17.7 miles into Hot Springs. From Hot Springs, take Highway 209 for 7.3 miles to Meadow Fork Road (State Road 1175). There is a sign here and at all the other junctions to direct you to Max Patch. Go 5.3 miles then turn left on Little Creek Road (State Road 1181). Follow Little Creek Road (1181) for 3.5 miles (even after it turns to gravel) to the intersection with Max Patch Road (State Road 1182). Turn right onto Max Patch Road and go for 1.6 winding miles to the Max Patch parking lot.
GPS Coordinates
N35.797045, W82.956811