Creamy Pumpkin Pie Bars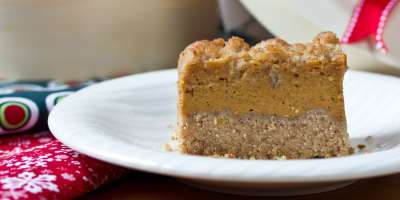 A specialty of the Carolina Bed and Breakfast located in the heart of the Montford Historic District, these pumpkin pie bars are a quick and easy treat to whip up for your next holiday gathering.
Ingredients
2 c. flour

⅓ c. brown sugar

⅓ c. granulated sugar

½ tsp cinnamon

1⅛ cups chopped pecans or walnuts

¾ c. butter

2 eggs

2 ½ c. canned pumpkin

1 ¾ c. sweetened condensed milk

3 eggs

2 tsp cinnamon

¾ tsp allspice

¼ tsp salt
Method
Preheat oven to 350°

Mix flour, sugars, cinnamon and nuts until crumbly (a food processor works nicely) then cut in the butter.

Set aside 1–¼ c. of the mixture for the topping.

Add 2 eggs to the remainder and mix until a dough forms. Spread in the bottom of an ungreased 9×13" pan.

In another bowl, mix well together the pumpkin, sweetened condensed milk, eggs, spices and salt.

Pour over the unbaked crust and sprinkle with reserved topping.

Bake for 45-50 minutes.