Wild Food Foraging Adventures in Asheville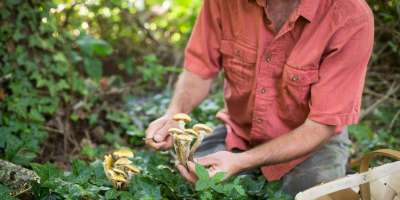 Explore the local "find dining" scene
Ask local chefs and mixologists about the inspiration for their signature dishes and drinks, and they will tell stories about searching for patches of chickweed, chanterelles, sassafras, violets and dandelions in the forests and parks.
The bounty of wild edibles has led chefs out of the kitchen and into nature to forage for fresh, local ingredients. You can taste their passion and dedication -- or get your hands dirty foraging for the ingredients for your supper -- during a foraging adventure in Asheville.
Search for your supper
Spend the morning on a foraging tour offered through No Taste Like Home and learn why Asheville is hailed as, "The Garden of Eden for Wild Edibles."
During tours you'll go on a guided foraging adventure with local Mushroom Man, Alan Muskat, trekking into forests and parks to learn about the bounty of wild foods growing around Asheville and sampling flavorful edibles like fresh burdock root and sassafras tea.
You can collect your own cache of wild edibles for an outdoor picnic or bring them to dinner at Rhubarb, The Market Place, Benne on Eagle, The Bull & Beggar, Vidl, Jargon, Bouchon, Rendezvous or Vue 1913 at The Omni Grove Park Inn where the chef will feature them in a free forage-to-table appetizer.
Shop for samples: For a taste of local flavor, stop by the Asheville Wild Foods Market where wild edibles and prepared foods like pesto, salad dressing and teas -- all made from foraged ingredients -- are offered for sale and sampling. The market is part of the River Arts District Farmers Market, which is held every Wednesday, from 3 - 5:30 p.m.
Got foraging fever? Villagers, a modern incarnation of an old-fashioned general store, sells all of the supplies you need, including field guides for foragers, digging forks to harvest wild edibles and apothecary jars to preserve your finds.
From forage to feast
Local chefs are passionate about foraging and often integrate wild edibles into their menus. The menu at The Market Place features pickles and pesto made from local ramps, seasonings made from the dried berries plucked off of dogwood trees and a Moroccan spice called zaatar that is made from wild sumac and added to the salmon.
Professional forager James Armbruster supplies wild edibles to several local restaurants and recommends Cucina 24, Storm, Plant and The Admiral as hot spots to sample foraged flavors.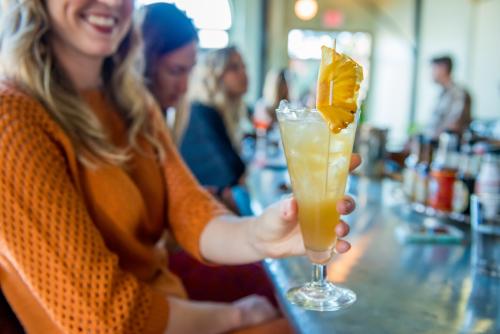 You can raise your glass to the bounty of wild edibles in the Blue Ridge Mountains at Sovereign Remedies. The cocktail bar uses foraged ingredients to create craft cocktails like a root daiquiri made with sarsaparilla, burdock root and dandelion.
You don't have to go far to find foraged flavors in Asheville.