Dog-Friendly Adventures in Asheville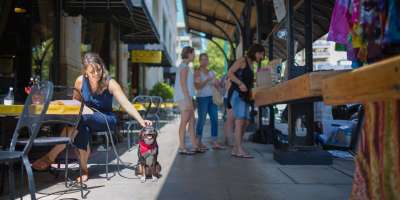 Enjoy a Mountain Getaway with Man's Best Friend
Your beloved pet deserves a little fun, too, and Asheville offers unique opportunities for your four-legged friend. Whether you want to explore the city or the mountains, you'll find plenty of things to do. You can even give your pup the grooming of a lifetime while you relax with a spa treatment.
Get Outdoors
Places to Visit
Explore the city with your four-legged companion on the Urban Trail. The fully interactive trail is marked by 30 stations decorated with plaques and sculptures, each describing an interesting fact about the city. Visitors may choose to walk the trail with a guide or rent an audio narration of the tour.
Places to Eat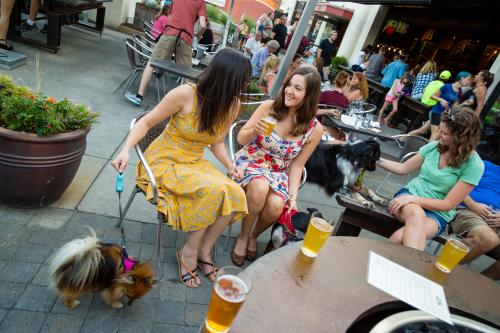 Most area restaurants allow pets to tag along with their humans if they stay on their patios or decks.
There even Asheville eateries, such as Twisted Laurel, which have a menu specifically for dogs!
Check out the Asheville Pizza & Brewing Company, which serves award-winning craft beers, or the gourmet vegetarian Laughing Seed Café, where Fido can lounge on an outside patio. Peruse used books while sipping fine wine or champagne at the Battery Park Book Exchange & Champagne Bar. Even the dogs beat a path to their door.
 A few of the other area restaurants that allow pets on their outside decks or patios include:
Check out a full list of restaurants with pet-friendly dining areas.
Places to Drink
Many bars and breweries in Asheville allow dogs inside including Urban Orchard, Burial Beer, Green Man Brewery, Hillman Beer, French Broad River Brewery, UpCountry Brewing and Fleetwood's.
Shopping
Shop until you bark—er, I mean drop—with an assortment of pet-friendly stores.