Craggy Pinnacle Trail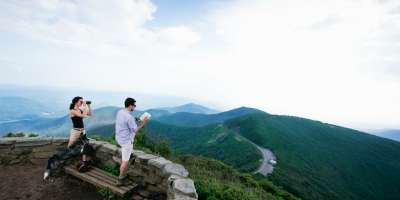 Peak views here are postcard-perfect
A short, easy-to-access hike through a rhododendron thicket brings you to the pinnacle and 360˚views, glorious sunsets or morning mist on the mountains. This close-to-Asheville hike includes a sampler of mountain scenery: long-range views, twisted laurel and dramatic rock formations.
360 View - Craggy Pinnacle
Having trouble viewing on mobile? Click here to see the Google Street View version.
What To Expect
Craggy Pinnacle is one of the closest hikes to Asheville that offers dramatic views, so this hike is ideal when you're short on time. To get to the Pinnacle trail, you'll take the Blue Ridge Parkway north and pass the Visitor Center and proceed to the Craggy Dome parking lot at Milepost 364.1.
The entrance to the trail is on the left side of the parking lot. It enters a thicket of rhododendron so heavy that at times it feels like you're in a tunnel. The plus side of this is that the trail is cool, even in the summer. You'll find stone steps cut into the trail to ease the grade, but be aware that while short, this climb is relatively steep. Toward the top, you emerge from the thicket onto a windswept, grassy hill. At the top, there's a viewing area surrounded by a low stone wall. Looking south, you'll see the Parkway below you; to the west, rows of mountains that reach all the way to Tennessee. For obvious reasons, this hike is popular around sunset. You won't have the place to yourself in June when the rhododendron is in bloom: truly a sight to see. Fall is also a popular time on this trail. Keep in mind that it can be as many as 20 degrees cooler here than in Asheville, so dress in layers.
360 View - Craggy Pinnacle Trail
Having trouble viewing on mobile? Click here to see the Google Street View version.
The Pinnacle isn't the only trail in the area. From the south end of Visitor Center or north end of the Picnic Area, you can access the more level Craggy Gardens Trail. From the Visitor Center, the trail is a mostly gentle climb .3 miles to a shelter, then an additional .5 miles to the Picnic Area, partially through a forest. The whole trail is about 1.4 miles and takes about 20-25 minutes out and back.
The Douglas Falls Trail (sometimes called the Carter Creek Trail) is part of North Carolina's Mountains to Sea Trail and can be accessed from the north end of the Picnic Area or by going 1 mile north of the Visitor Center to Graybeard Overlook. It's a strenuous 8-mile round trip hike to the 70-foot Douglas Creek Falls. The hike takes about 5.5 hours and has a 1,350-foot elevation change.
Hike Details
Difficulty: Moderate

Distance from Asheville: About 24 miles; 35-minute drive

Length: 1.2 miles total (.6 mile each way)

Region: Blue Ridge Parkway

Duration of Hike: About 20 minutes each way to the Pinnacle and back

Elevation Gain: 250 feet

Pet-Friendly? Leashed dogs welcome

Multiple Use? No

Blazes? No

Facilities & Parking: Parking lot, restroom facilities at the the Craggy Gardens Visitor Center

Natural Features: Sunset views, mountain laurel in bloom in spring, fall color
Directions
From downtown, take the Blue Ridge Parkway 18 miles north. Pass the Craggy Gardens Visitor Center at Milepost 364.6. After passing through the Craggy Pinnacle tunnel, turn left into the Craggy Dome parking lot at Milepost 364.6
GPS Coordinates
N35° 42.010', W82° 22.779'
Updated July 10, 2019