5 Awesome Ways to Explore Asheville's Rich History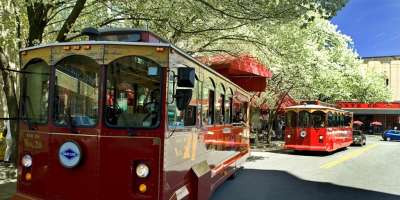 Unlock the Secrets to Asheville's Storied Past
Among the tree-lined streets of Asheville lies a rich history waiting to be discovered. Take a trip back in time with local historians to learn how our thriving mountain town came to be, and about the amazing people who helped shape it along the way. Whether you prefer traveling by foot or by bus, in a group or solo, these are five of the best ways to get your history fix.
Get an up-close account of what it was like to live as a servant in America's largest home, or get an incredible bird's eye view of the estate on a guided tour of the rooftop. These specialty tours take you behind the red ropes of the main tour, and offer a unique perspective as to what life was like on the Biltmore Estate when George W. Vanderbilt still roamed the halls. Advanced reservations are required for specialty tours so it's best to call ahead prior to your visit. See our guide to Biltmore in Asheville for more information.
Many of Asheville's buildings have a storied past. From the bold Art Deco architecture dotting the downtown landscape to the Basilica of St. Lawrence, which boasts North America's largest free standing dome, the stories behind these treasures are as fascinating as the structures. Stroll through the streets with an Asheville native, historian and storyteller, and get an in-depth understanding of how this quirky southern city came to be. This 90-minute easy walking tour includes rest stops, handicapped accessible routes and headphones so you won't miss a word. Other tours include Biltmore Village and the Historic Montford District.
One of the best ways to see all of Asheville's historic treasures, and for new visitors to become oriented with the Asheville area, is with a hop-on, hop-off trolley tour through Asheville's most-storied neighborhoods. The iconic red trolley cars serve as a throwback to the days when Asheville's streets were filled with electric streetcars. Buses eventually replaced this mode of transportation, but the nostalgia of the era lives on today. Stop by the Asheville Visitor Center to purchase tickets.
Take a free, self-guided walking tour of buildings crafted by master brickmason, James Vester Miller, an African American who built many of Asheville's most remarkable historic buildings during its Golden Age of the late 19th century and early 20th century. Pick up a free brochure at the Asheville Visitor Center or at the YMI Cultural Center, or follow along online through the digital trail. This trail features nine stops throughout downtown Asheville and includes some of Asheville's most prominent landmarks, including the Masonic Temple, Jackson Building and the YMI Cultural Center - one of the oldest Black cultural institutions in the U.S.
Weave through downtown Asheville along this self-guided walking tour that is one-part art tour, one-part history lesson and one-part scavenger hunt. Along the way you'll discover a collection of sculptures and plaques highlighting the unique history, architecture and people that shaped Asheville's vibrant mountain culture over the years. These exhibits include downtown Asheville's iconic flat iron sculpture, a tribute to Appalachian music heritage, and a bronze replica of Thomas Wolfe's shoes, signifying the location of his mother's famous boarding house. A downloadable map and mp3 audio tour are available online to help guide the way.