Asheville's Awe-Inspiring Church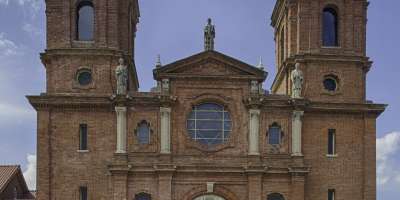 Visiting the Basilica of St. Lawrence in Asheville, NC
A European Master Comes to Asheville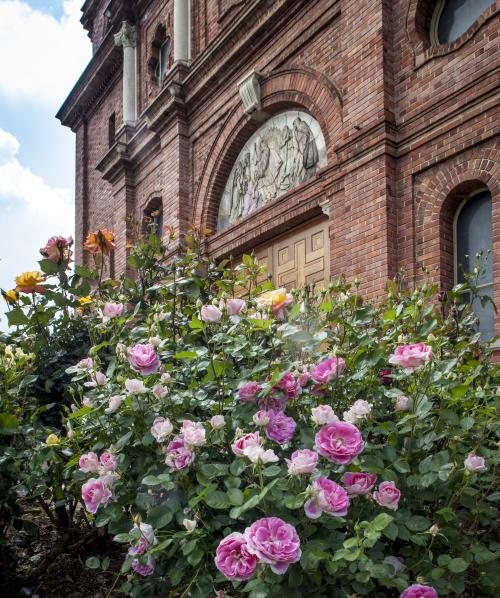 Described as "The Paris of the South," Asheville can boast some keen similarities to the "City of Lights," especially those reminiscent of the Left Bank: bohemian street performers, art gallery upon art gallery, busy sidewalk cafes and of course the food scene is tres magnifique.  But there is one place where you will definitely think you are across the pond in an ancient city like Paris. That place is The Basilica of St. Lawrence in the heart of downtown.  This Catholic Church is notably distinguished by its interior dome, believed to be the largest freestanding elliptical dome in North America.
After Biltmore Estate was completed in 1895, many of the master artisans and architects that Mr. Vanderbilt employed (many European) had fallen in love with the Blue Ridge Mountains and wanted to make Asheville home.  Take a walk down Patton Avenue and you can see similar faces, figures and gargoyles that also adorn Biltmore House.  But no single piece of architecture, from the Biltmore influence, can compare to the work of internationally renowned Spanish architect and engineer Rafael Gustavino.
Before coming to Asheville, Gustavino's achievements included: the U.S. Supreme Court building, the Boston Public Library, Grand Central Terminal, Grant's Tomb, Carnegie Hall and the American Museum of Natural History. All of these iconic American buildings have the same distinct Guastavino Tile Arch System as the Basilica of St. Lawrence. 
The Building of the Basilica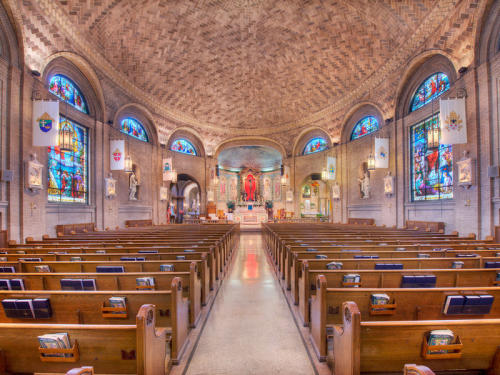 Gustavino believed that Asheville needed a larger Catholic church.  He enlisted the support of his friend architect Richard Sharp Smith, who also worked on Biltmore House. The two began building in 1905 and the Basilica was completed in 1909, shortly after Gustavino's death. This Spanish Baroque Revival masterpiece includes a magnificent exterior of red brick which stands atop a stone foundation built entirely without wood or steel, relying solely on masonry and tile for the floors, ceiling and pillars. Upon entering the Basilica your eyes are immediately drawn to the magnificent tile work and outstanding pieces of religious art. When the sun streams through the brilliant stained glass windows (made in Munich) there is a strong sense of the sacred. 
Perhaps the designation of Basilica says it all.  The title dates back to fourth century Greek and Roman times and referred to public buildings that were later used as places of worship. It was during this time that construction of the greatest Basilicas of Rome began. Today, the term Basilica is a special designation given by the Pope to certain churches because of their antiquity, dignity, historical importance or significance as a place of worship.
Guastavino retired and built a home in Black Mountain where he lived until his death in 1908. Appropriately; his crypt is laid to rest in The Basilica of St. Lawrence.
Plan Your Visit
The Basilica of St. Lawrence is located downtown at 97 Haywood Street and is open Mondays from 11 a.m. to 12 p.m. and Tuesdays - Thursdays, from 11 a.m. to 1 p.m. and 3 to 5 p.m.
For mass and confession information, visit the Basilica's website.
You can take a self guided tour or request a tour online.
Take a walk on Asheville's Urban Trail, which includes a stop at the Basilica of St. Lawrence
Inside the Basilica of St. Lawrence photo by Steven Hyatt.
Updated February 15, 2022