A Solo Traveler's Guide to Asheville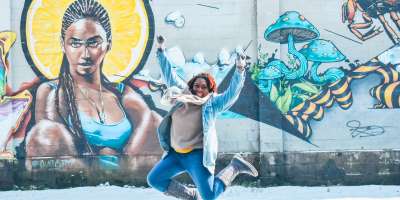 Solo travel continues to trend upward as people look for ways to explore and satisfy their wanderlust safely.
When traveling alone, you can see exactly what you want, when you want, and truly have an adventure that is catered to your individual preferences. If you want to hike to see the sunrise or sleep in until noon, you can! 
Mountain views, incredible food, wineries and plenty of space for solitude make Asheville, North Carolina a prime destination to take a vacation by yourself. 
Where to Stay 
As a solo traveler, looking for options for places to stay can be endless. Asheville has many amazing hotel properties, such as the Omni Grove Park Inn and of course the famous Biltmore Estate – America's largest home that includes three lodging accommodations on its 8,000-acre property! But, a solo escape can be the perfect time to try something a little a less traditional, such as staying in a treehouse or glamping in a dome, especially when seeking solitude in the great outdoors.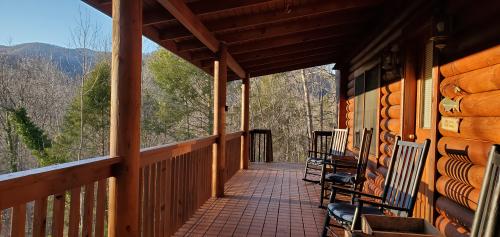 Asheville Glamping offers unique glamping stays in safari tents, skylight domes, belle tents and a treehouse with modern amenities for a stress-free stay while you enjoy your own company.  Asheville also has adorable Bed and Breakfasts like 1899 Wright Inn and Carriage House, which is perfect because of the small and limited number of guests. Pinecrest  Bed and Breakfast also offers discounted rates for solo travelers visiting this spring. There is also no shortage of cozy cabin rentals like Asheville Cabins of Carolina Mornings with mountain views and helpful extras, including passes to some of the area's most popular attractions.   
Things to Do 
When planning an itinerary, solo travelers can choose to explore on their own or join a small group tour to be immersed into Asheville's rich culture. For travelers that love nature or seek adventure, Asheville is surrounded by a natural playground in the Blue Ridge Mountains that is just waiting to be explored. 
Asheville Tours 
Walking tours are great for solo trip takers because they remove the need for planning and make it easy to see many things you likely wouldn't have found on your own.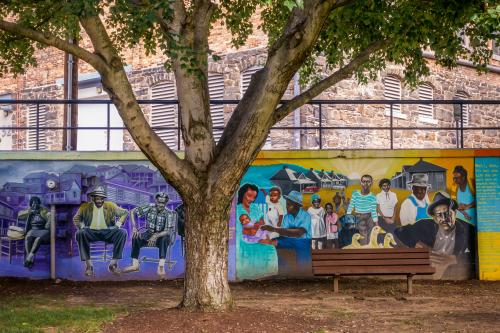 Take a Black history and arts walking tour for some cultural enlightenment with Hood Huggers International. Guests will feel safe to venture out on this educational and enjoyable journey through Asheville's historical Black district and neighborhoods since the tour encourages proper social distancing and requires participants to wear masks. Sign up for an Asheville Rooftop Bar Tour where you can take in spectacular views from amazing rooftop bars and learn about Asheville's deep history. There are also experiences that lead you on scavenger hunts, photography tours, art walks, ghost tours and even a literary tour. 
You can also take an adventure to discover some of the area's cool art murals, including the Beyonce mural near the Asheville Waste Paper Mills, Roberta Flack mural in nearby Black Mountain and the Dolly Parton mural in West Asheville, which are perfect for photo ops and selfies. 
Wineries and Breweries 
Asheville has an outstanding wine, brewery and cidery scene. Many of these offer outdoor seating. Biltmore has one of the most popular and extensive wine tours in the country with its Vine to Wine Tour where you explore the vineyards and exclusive areas of the Estate for 2.5 hours. You can also visit numerous wine bars throughout downtown Asheville or even take a day trip to surrounding areas to do the Hendersonville Wine Trail.  
Asheville is also known as Beer City, USA with more than 50 breweries. Take the Brews Cruise to learn about local breweries and sample safely with a designated driver. Try the unique beers of Oyster House Brewing company, known for their Moonstout, which includes all parts of the oyster in the brewing process. Beer City USA has breweries and tours that are perfect, whether you are a beer enthusiast or just a casual beer drinker. 
Outdoor Adventures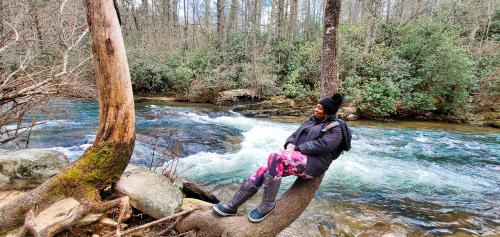 The breathtaking natural scenery of Western North Carolina cannot be missed on any visit to Asheville. Go waterfall chasing and forest bathing at DuPont State Park or drive the scenic Blue Ridge Parkway and stop at the vistas and lookout points along the way. The Asheville Hike Finder is a great tool to help you plan your hikes based on skill level and accessibility. If you would prefer to have a guide help you see Asheville's natural wonders, there are many tour options for hiking, waterfalls and even doing yoga on the hike. 
Wellness 
A wellness focused activity is a perfect way to round out your solo vacation. Plan a spa day at the Japanese-style spa retreat in the forest at Shoji Spa and Lodge. Consider a salt cave immersion at Salt Spa of Asheville or a weightless float experience at Still Point Wellness.  
Where to Eat 
Asheville has a plethora of foodie adventures for every palette. Breakfast at Tupelo Honey is a rite of passage for any visitor to Asheville. Sunny Point Café is absolutely divine, especially the award winning shrimp and grits.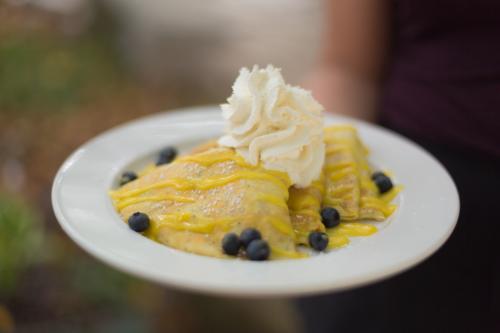 Whatever your tastes may be, there is a delectable restaurant to meet your needs. Solo travel tip: Take advantage of bar seating to avoid long wait times and always check a restaurant's website for up-to-date info. 
There are also out-of-the box foodie adventures like No Taste Like Home Foraging Tours where you forage for foods like plants and mushrooms and have a local restaurant prepare it for you. 
Asheville provides all the ingredients to plan the ideal solo vacation getaway full of great food, fantastic adventures and self-care.