5 Unique Performing Art Theaters in Asheville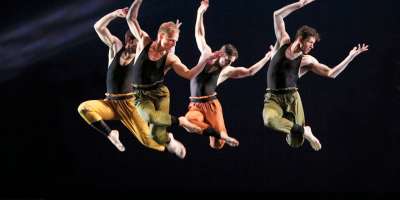 From historic theaters to unconventional outdoor spaces, Asheville boasts a variety of venues that provide unforgettable experiences for those seeking to immerse themselves in the world of performing arts. Join us as we explore some of Asheville's most intriguing and distinctive venues, where imagination takes center stage and the magic of live performance unfolds in extraordinary settings.
The essence of the Magnetic Theatre, besides its funky exterior, is its devotion to displaying new and exciting original work from talented playwrights.
Located in the River Arts District, the Magnetic Theatre offers a diverse and unique experience for audiences and is home to the popular annual One Act Play Festival.
Asheville's jovial spirit makes The Magnetic Theatre's productions a hot ticket for anyone who wants to see the city at its best.
The outdoor Hazel Robinson Amphitheatre fosters a relaxed atmosphere where t-shirts, dogs and picnics are encouraged. The summer performances are free (donations are encouraged) and a palpable sense of joy and humor permeates the air.
Home to the Montford Park Players, the Hazel Robinson Amphitheatre is the perfect place to watch the classic works of Shakespeare morph into modern-day expressions of truth and passion infused with knee-slapping comedy.
The power of the Bard is unparalleled, but each production explores new territory in the hands of the Montford Park Players. In the past, Richard II was reinvented as a steampunk opera; Taming of the Shrew boasted a "Shakespearean flash-mob."
There may not be a bigger ticket in town when it comes to performing arts in Asheville.
The Wortham Center for the Performing Arts is a three-venue, three-stage performing arts complex comprising the Diana Wortham Theatre, the Tina McGuire Theatre and the Henry LaBrun Studio. Located in downtown Asheville, the Wortham Center is a crucial part of a perfect night out.
The Diana Wortham Theatre is a world-class, 500-seat venue known to house some of the biggest shows that come to town that includes a state-of-the art sound system. From big musical acts, original plays and thrilling dance productions, it's hard to find a better place to take in a show.
The Tina McGuire Theatre seats up to 100 people and is at its best when hosting an intimate night of music, comedy or theatre production. A memorable night awaits at the McGuire Theatre.
The Henry LaBrun Studio can hold up to 85 people and is ideal for lectures, storytelling and cabaret-style events.
Are you ready for an intimate night of entertainment?
Welcome to the North Carolina Stage Company and its 127-seat, off-Broadway style of professional theatre that makes you think, oh wow, am I in New York!?
Located in downtown Asheville, the NC State Company offers a memorable night of song, dance, spoken word and comedy as well as thought-provoking content written and directed by local artists. This is a great place to begin a date night!
For more than seven decades, the Asheville Community Theater has been delighting audiences with high quality performances by actors who live among us. Didn't know your plumber had pipes!? ACT has discovered stars in every facet of Asheville.
Come enjoy a show in one of the oldest community theatres in the nation!
Updated July 25, 2023