Experience Outdoor Shakespeare Performances in Asheville, NC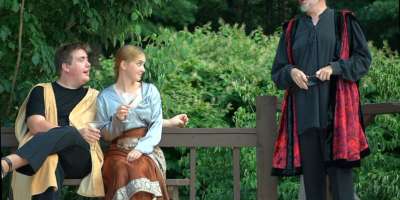 N.C.'s Oldest Shakespeare Festival Draws Audiences Year-Round
On a busy summer evening in downtown Asheville, it can certainly feel like all the world's a stage. But stroll to the leafy historic Montford neighborhood, steps from downtown Asheville, and the play's the thing at the Hazel Robinson Amphitheatre.
Here, the Montford Park Players perform Shakespeare favorites to an audience of locals, neighbors and visitors, bringing the words of the bard to those who share in a love for classic theater -- all free of charge.
When to See Shakeaspeare Performances in Asheville, N.C.
Founded more than 40 years ago by Hazel Robinson and her late husband John — initially to bring works of Shakespeare and other classical playwrights to the mountains of Western North Carolina and make them accessible and affordable — the troupe performs some six plays throughout the year, primarily in the summer, and has an appeal to a wide variety of ages and audiences.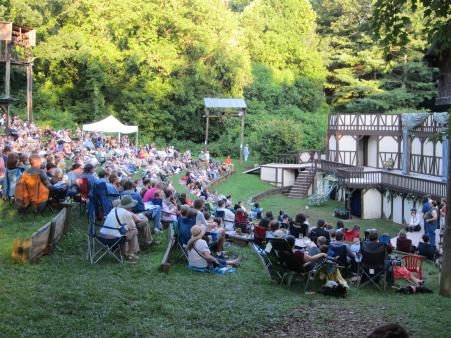 A Friday or Saturday summer evening will find families sprawled on blankets with picnics spread out before them, neighbors have brought folding lawn chairs from a few blocks away. Young folks cobble together a fun and impromptu date night here, nourished by a food truck or two parked in a nearby lot.
The theater is largely composed of volunteers, from the actors and directors to those designing and building sets, creating costumes, lights, sounds, and ushers.
The History and Present of the Montford Park Players
Given its grassroots foundations, the Montford Park Players has a lofty history. It is the longest running Shakespeare festival in North Carolina and was one of only three American Shakespeare companies invited to tour Great Britain to celebrate the U.S. bicentennial.
"Shakespeare wrote for his time," says director John Russell, who in 2006 was appointed the troupe's first professional executive director. "But his words have transcended that time and resonate today, with situations and plots that are just as applicable in the modern world as when he first put pen to paper."
The Players continue to create multi-generational interest by mixing both very classical performances of Shakespeare with modernizing aspects of the performances.
"The Montford Park Players believe in the purity of the language," states Russell, "however, directors are given the freedom to adapt the time and place in which the play is set to settings that Shakespeare could not imagine in his day."
A classic example of this, he says, is 2015's performance of Richard III, set in a future "national-security state" where everyone is under surveillance and a misstep could cost a person not only his freedom, but his life. A recent production of Mid-summer Night's Dream, featured hip-hop music and dance.
Experience the Montford Park Players
And for visitors, Montford Park Players offer a unique low-key evening of smart entertainment. And it's fun! Have a canine companion? Bring Fido to any of the outdoor performances. Guests staying at an Asheville Bed and Breakfast Association member B&B have the unique opportunity for a walk-on role through their Theater Under the Stars travel package.
Photos by Tempus Fugit Designs.