5 Great Winter Hikes Near Asheville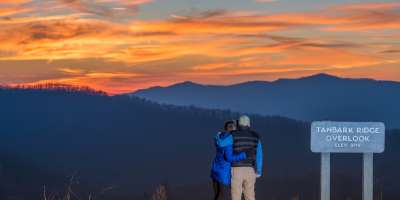 Warm Up On These Top Winter Hiking Trails
Taking a winter hike offers many rewards! First of all, you'll appreciate the refreshing temperatures as you climb a mountainside. Often, you'll have the trail all to yourself since there are fewer fellow hikers. In addition, see the best views of the year thanks to leafless trees and deep blue skies. While the higher mountain peaks often have snow, the valleys typically have mild winter days perfect to get outdoors.
Here are five great winter hikes that are easy to reach from the city:
Less than 20 miles from downtown Asheville is a short hike that rewards with 360-degree views from a treeless summit on the western rim of the Hickory Nut Gorge. Cattle often graze on top, but they will gladly share the meadow with you for a picnic by the historic lookout tower. Carolina Mountain Land Conservancy recently protected the mountain and built the one-mile trail for all to enjoy. The uphill climb will quickly warm you up!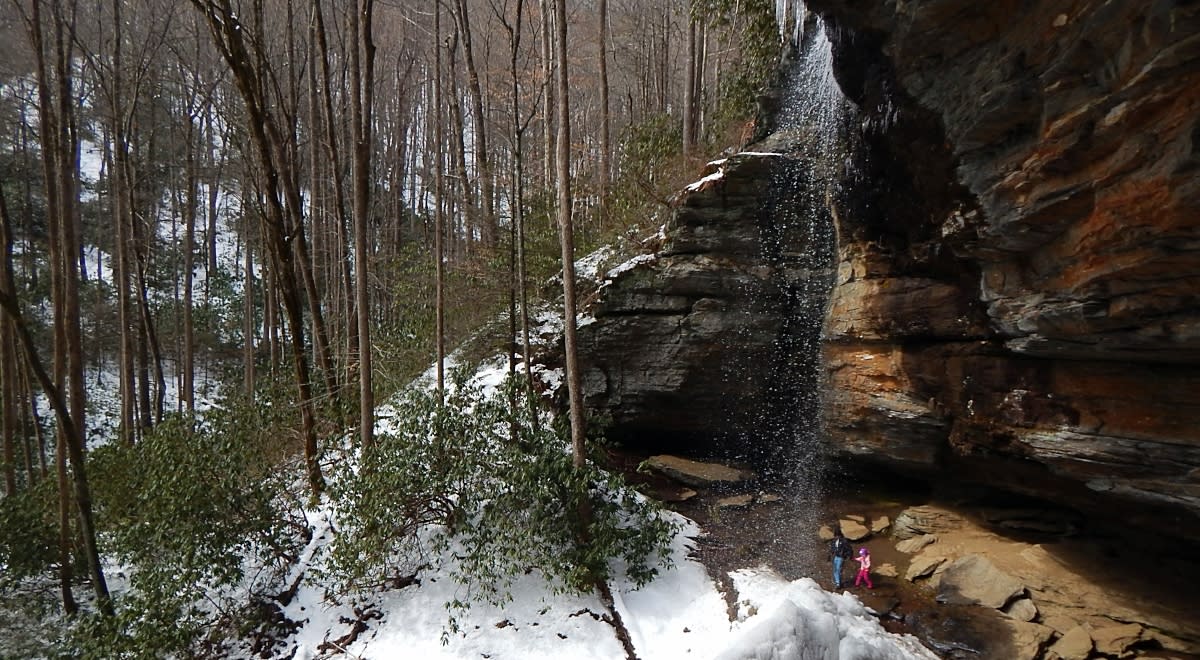 Winter at Moore Cove Falls, a favorite waterfall hike near Asheville, N.C. Photo by Jonna Reiff.
Located near the John Rock hike is a 50-foot waterfall tucked away in a beautiful cove along the Forest Heritage Scenic Byway. The family-friendly ¾-mile trail takes you to an observation deck. If the rocks are not icy, you can even walk behind the waterfall. Moore Cove Falls is a favorite waterfall hike for kids and dogs.
While much of the Appalachian Trail is too remote for winter hikes, you can easily take a "walk in the woods" in nearby Hot Springs. In fact, since the trail runs along Main Street, park downtown and start your hike there. Cross the French Broad River and take the climb the ridge up to several rock outcrops for views across the valley and river. On the way back on the 1.5-mile roundtrip hike, stop for a soak in the hot mineral springs. Hot Springs is a 36-mile drive from downtown Asheville.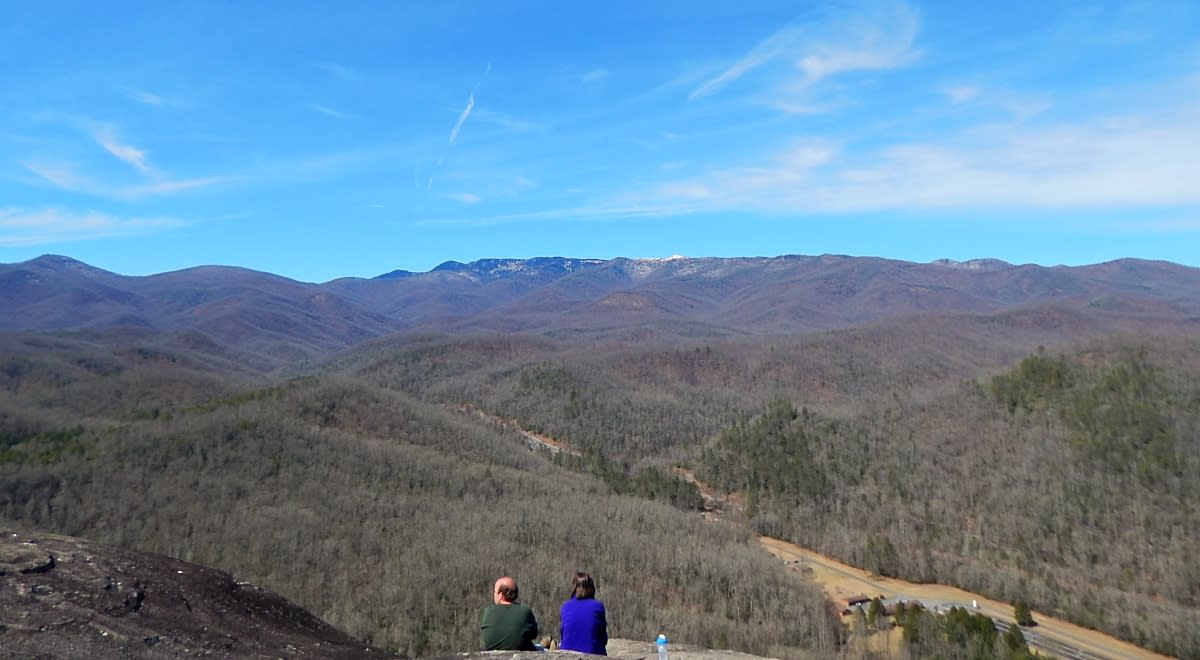 Winter view from John Rock. Photo by Jonna Reiff.
Located in Pisgah National Forest, hike the five-mile loop to the rock summit for sweeping views of neighboring Looking Glass Rock and the Blue Ridge Parkway. On the way up to the 3,320-foot summit, stop at Cedar Rock Falls--easy to spot thanks to the leafless trees. Begin your hike at the Pisgah Center for Wildlife Education, The John Rock trailhead is 37 miles from downtown Asheville.
While the name may cause hesitation, this 3-mile roundtrip hike is a local favorite on the Mountains-to-Sea Trail. Hike the former carriage road up the ridge to the ruins of an early 1900s summer retreat. Winter is the perfect time to visit since you can more easily find the stone foundations of many buildings with the help of an information board at the site. The trailhead is just 17 miles from downtown, along the Blue Ridge Parkway.