Moore Cove Falls Trail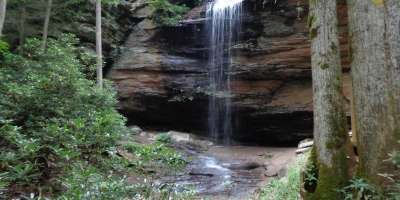 Moore Cove Falls Trail Details
Difficulty:
Easy
Length: .7 miles each way in and out, 1.4 miles total
Region: Pisgah National Forest, Brevard
Duration of hike: About 20 minutes each way
Elevation gain: 240 Feet
Type: Out & Back
Blazes: Yellow
Facilities & Parking: Small parking area, no facilities
Features:
Pet Friendly,
Waterfalls,
Wildflowers,
Kid Friendly
Walk behind a magical waterfall on this family-friendly hike
This enchanting trail in Pisgah National Forest is an ideal introduction to hiking for families with younger kids. An easy .7 mile trail with wooden bridges, steps and boardwalks ends in a 50-foot plunge waterfall over a dramatic rock ledge. Kids love the fact that they can walk under the ledge and be behind the waterfall!
360 View - Moore Cove Falls
Having trouble viewing on mobile? Click here to see the Google Street View version.

LEAVE NO TRACE TIP
Moore Cove Falls offers a rare opportunity to walk behind a waterfall. Rocks here are wet and deceivingly slippery. If you decide to venture behind the falls, be extra cautious and keep a close eye on young children.
What To Expect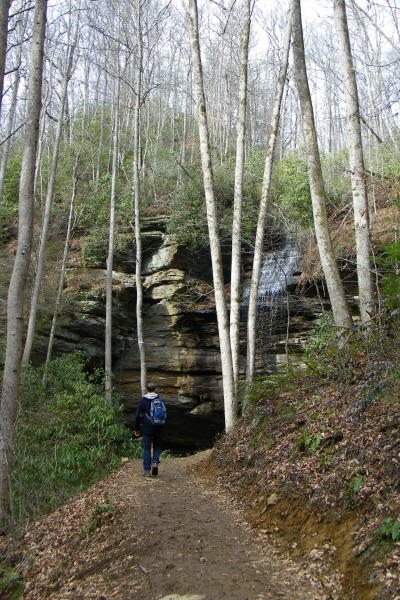 The trail starts with a lovely wooden bridge over the creek, followed by a set of stairs down. The hardest part of this trail is in the first 1/10th of a mile. After that, it's wide and mostly downhill into a cool, shady forest. In the spring, there are a variety of shade-loving flowers here such as jack-in-the-pulpit and trillium. There are ferns all year round. Several more wooden bridges on the way traverse over the babbling creek. There are only a few relatively steep spots with built-in steps along the way.
When you come to the falls, there's a wooden viewing platform with a railing. This is the place for great photo ops. You can still go off the platform, down over the rocks and sand and get behind the falls (another popular photo op). Exercise caution while heading behind the falls as the rocks can be slippery. By no means should you try to get to the top of the falls (there has been a fatality here).
The volume of the falls depends on recent rainfall: in general, they're stronger with the spring run-off and after recent rainfall. The more water, the more impressive the falls.
Directions
From downtown Asheville, take I-240 west, to I-26 east Exit 40. Turn right onto Hwy 280 and go for 16 miles to the intersection of US Hwy 276 and 64. Turn right onto US 276 and follow it for 6.5 miles through the entrance gate for Pisgah National Forest. Around 2 miles after the gate, you'll come around a curve and on the right side of the road you'll see a wooden sign that's covered by a small "roof" and small parking area right before you get to the bridge over Looking Glass Creek (it's easy to miss and not marked). Cars pull in at an angle.
GPS Coordinates
35.311827, -82.777683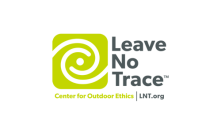 We all love the Blue Ridge Mountains! By working together, we can keep these incredible outdoor spaces beautiful and pristine for years to come. Make it your nature to Leave No Trace: Leave what you find, pack out what you pack in, stay on designated trails and plan ahead. To learn more about the 7 Principles of Leave No Trace, CLICK HERE >>.
Photos by Jonna Reiff.