Where to Dance in Asheville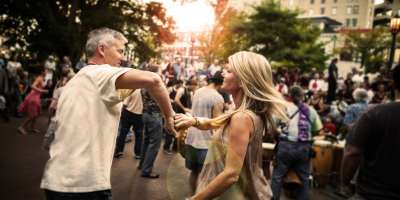 Asheville's Vibrant Dance Scene Has Something for Everyone
You can dance if you want to, and finding a location for releasing your inner performer will be a breeze when visiting the vibrant and eclectic city of Asheville. This Blue Ridge Mountain valley is overflowing with great music, and whether you long to join in on the spirit thumping beats of the drum circle, spin your partner with some contra dance, or just sway and jump to some live music, you are covered.
Move to the rhythm of the drums
The energetic and dynamic drum circle in downtown Asheville is a defining and iconic characteristic of our city. Every Friday night during warm weather months, drummers, dancers, and spectators gather at Pritchard Park, downtown at the intersection of Patton Ave. and College St. Drummers begin laying down the beat around 6 p.m. and continue as the evening wears on. Just show up to take part in the drumming, dance, or just experience the music in the heart of Asheville.
Grab a friend and hit the clubs
Looking to get out and enjoy a night immersed in the Asheville clubbing scene? Room Nine Nightclub is open Wednesday through Saturday and offers an adults-only nightclub environment sure to provide a night of carefree dancing. The Grove House Entertainment Complex refers to three separate venues: Club Eleven on Grove, Scandals Night Club, and Boiler Room. Scandals Night Club, while open to everyone, is Asheville's premier gay dance club. 
Check out one of the local concert venues
Get your groove on as you attend a live show at one of the local concert venues. The Orange Peel showcases talent from all walks. Big names such as Michael Franti and Slayer and have visited in recent years. Other sites that showcase primarily local acts - our area has no shortage of exceptionally talented musicians - include Grey Eagle, and Asheville Music Hall..
Hit up a piano bar
Searching for a fun and interactive way to experience the music scene in Asheville? Check out the world of piano bars! Off the Wagon Piano Bar is located downtown on Market Street, and Elaine's Dueling Piano Bar can be found on the lower level of the Omni Grove Park Inn. Both establishments thrive on audience participation, and the talented pianists are known to perform virtually any requests that roll in.
And, hit up a guitar bar
The Asheville Guitar Bar is located in the River Arts District. Guitars are incorporated into every aspect of the bar, including the ceiling beam made to look like a guitar fretboard! Mixed with the regularly scheduled bands are open jam session nights when musicians come to play. The Guitar Bar has attracted some big names already, including several Grammy Award winners.
Free your spirit with Asheville Movement Collective
Every Friday, Asheville Movement Collective provides an opportunity to move to the beat in an expressive community environment. Friday evening "dance waves" are held at Terpsicorps, and Sunday events take place at the Asheville Jewish Community Center. The mission of Asheville Movement Collective is to inspire authenticity and healthy community through free-form dance.
Make a weekend of it
Asheville is considered by many to be a music mecca, and because of this, several festivals take place each year in our beautiful mountains - and dancing is in abundance! The Mountain Dance & Folk Festival is put on every year by the Folk Heritage Community. The LEAF Festival, is a three-day music festival that takes place in the neighboring town of Black Mountain every spring and fall. There is also a LEAF festival in downtown Asheville. Other dance-bountiful festivals include Shindig on the Green and Folkmoot USA.
Top photo by Steve McBride. Drum Circle photo by Art Meripol. Orange Peel photo by Art Meripol. Guitar Bar photo by Emily Chaplin. Hickory Nut Gap Farm photo by Keith Wright. LEAF photo by David Simchock.
Updated December 22, 2022