Top 10 Eco-Friendly Ways to Experience Fall in Asheville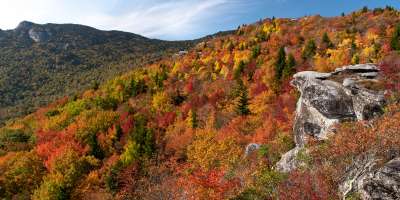 As the weather grows cooler in Asheville, the brisk mountain air paints the leaves of the forest trees in brilliant shades of reds, yellows and oranges. Due to its mild climate and range of elevations nearby, Asheville enjoys one of the longest and most vibrant fall color seasons in the nation. While enjoying the kaleidoscope of colors, consider adding some "green" to the mix. Help minimize your impact while visiting the Blue Ridge Mountains with these top eco-friendly ways to experience fall color in Asheville.
#1: See Fall Color on Two Wheels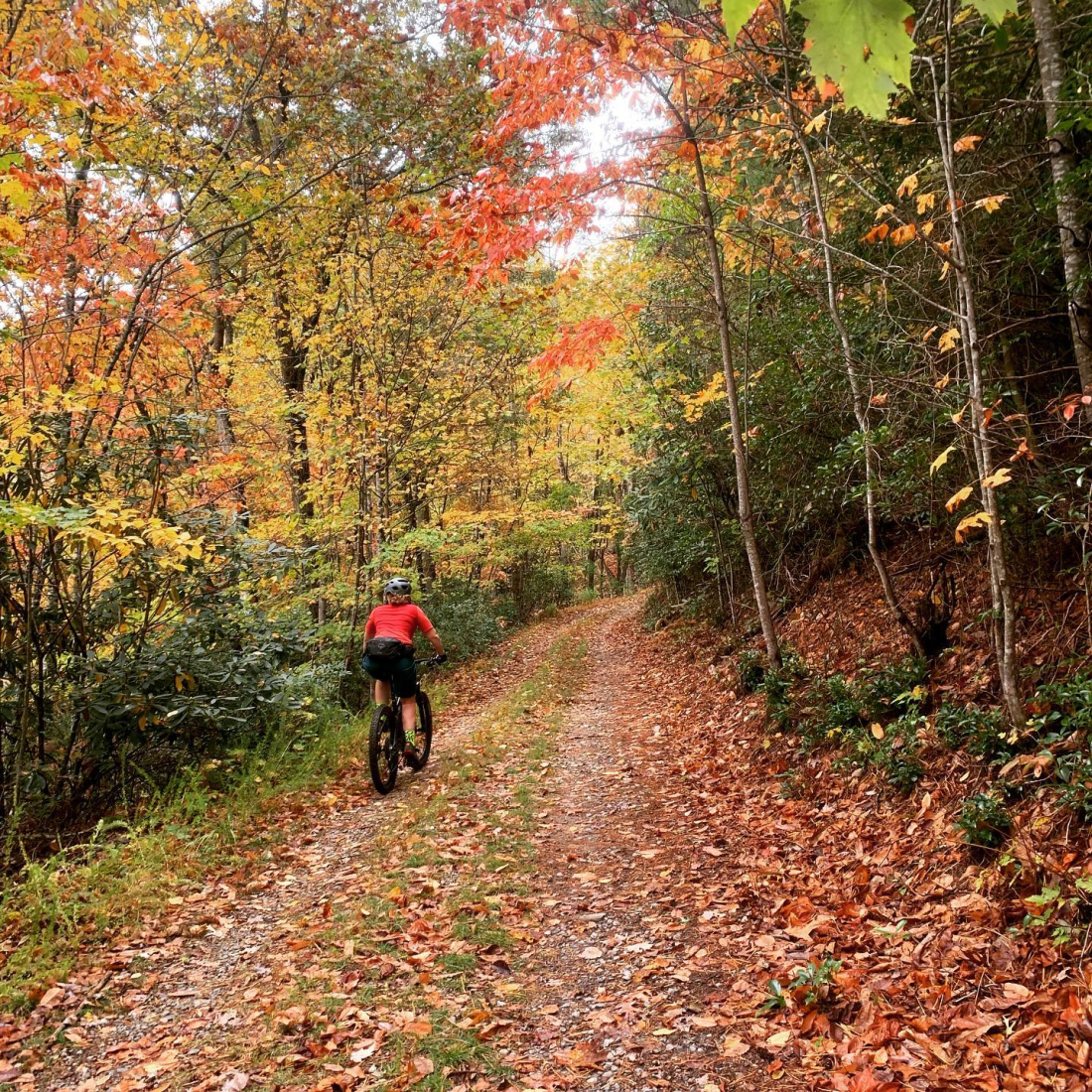 Whether you're soaking in the colors from the crests of the Blue Ridge Parkway or through the urban streets and greenways of Asheville, one of the best ways to experience fall color is on bike. Rent a bicycle or e-bike from local companies, such as The Flying Bike and Asheville E-Bikes - and reward yourself with a tasty brew afterward at Beer City Bicycles. Or, enjoy the thrill of the hills by riding one of Asheville's popular mountain biking trails. Photo credit: @pigtails_on_a_bike
#2: Go on a Fall Hike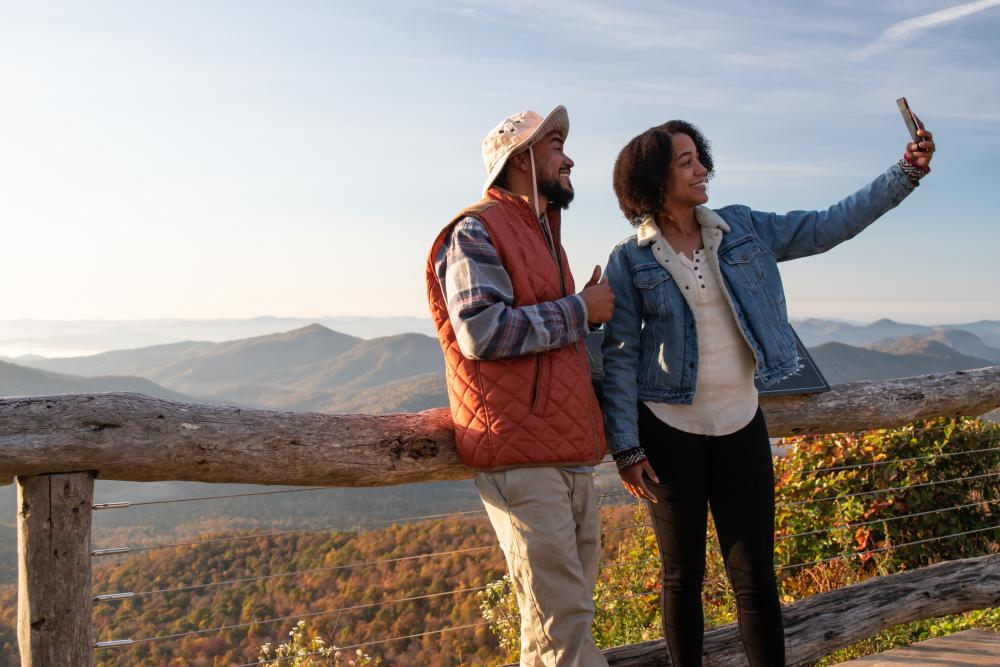 While the Blue Ridge Mountains are beautiful year-round, Asheville has some of the best fall hikes in the area. Waterfalls are surrounded with trees bursting with color. Mountain balds provide 360-degree views of fall's autumn glory. No matter where you venture out, please be sure to adhere to the seven principles of Leave No Trace to help reduce your impact while hiking.
#3: Wade Through the Waters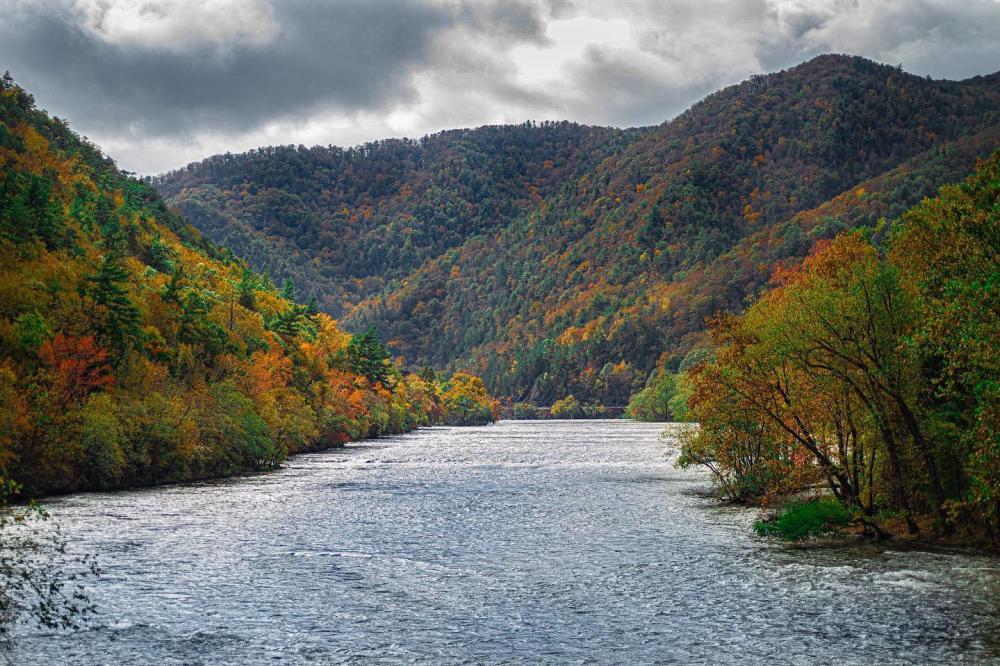 As the third oldest river in the world, the French Broad River is a vital part of Asheville's outdoor community. Skip the traffic and enjoy Asheville's fall colors at your own pace as you paddle through the refreshing mountain waters. Asheville's Wai Mauna SUP offers stand up paddle board (SUP) tours and rentals, including an early morning sunrise SUP tour. Rent a kayak from French Broad Outfitters or Asheville Outdoor Center and cruise through the calm waters as you soak in the views. Bring proper layers and clothing as temperatures can be cooler during the fall season. Photo credit: @walkerwphotos
#4: Taste the Local Harvest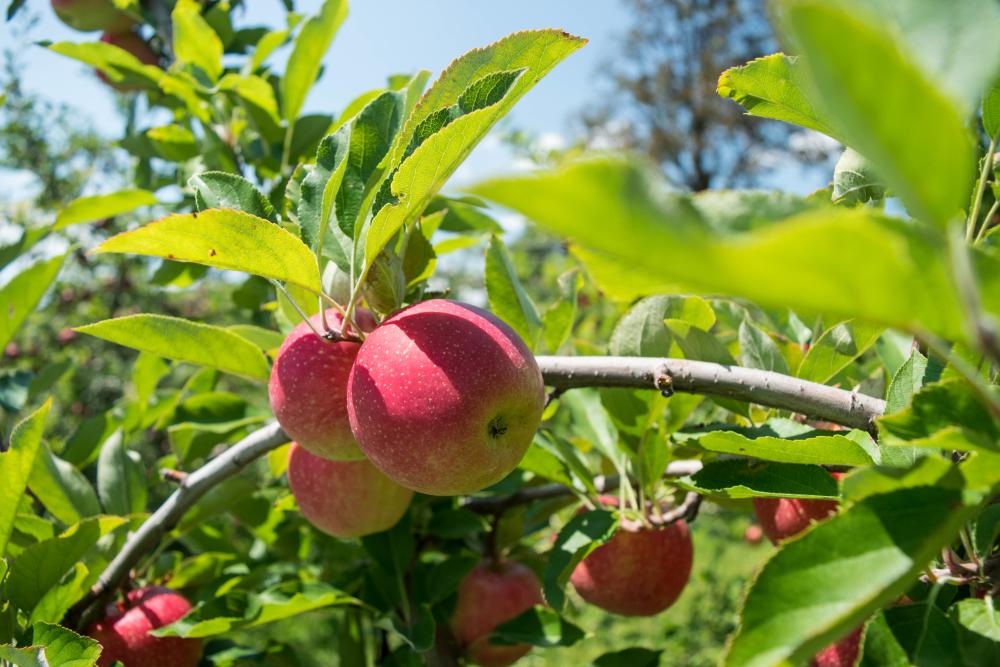 Going "green" should definitely include visiting one of Asheville area's local farms. During the fall season, you can't miss the delicious crunch of fresh apples or a soothing glass of warm apple cider. Just south of Asheville is one of the nation's top apple growing areas. In addition, guests can enjoy the fresh flavors of fall at one of the area's U-pick farms or sign up to get a behind-the-scenes look on ASAP's Farm Tour, September 17 - 18.
#5: Stay Green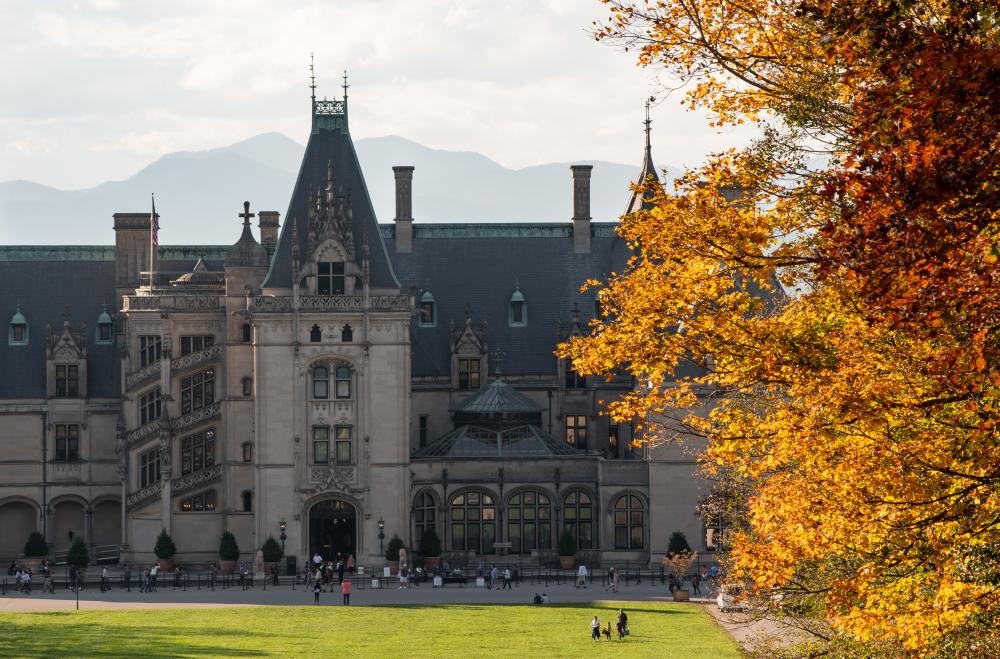 From boutique hotels to charming B&Bs to cozy cabins, there are endless places to stay in Asheville during the fall. As you pick your digs, go green and stay in an eco-friendly accommodation in Asheville. Hilton Asheville is a LEED-certified hotel located within Biltmore Park Town Square, a LEED-ND registered neighborhood. Down the road, Asheville's iconic Biltmore Estate has a nine-acre solar panel installation that offsets more than 20% of the estate's energy needs. In the Montford neighborhood, Pinecrest Bed & Breakfast works with a local composter to properly dispose its waste and receives soil that is replanted in the B&B's gardens. Or, check out the newly-opened Wrong Way River Lodge & Cabins, which is constructed with sustainable materials and offers several voluntourism opportunities for guests to give back during their stay. 
#6: Take it to the Trees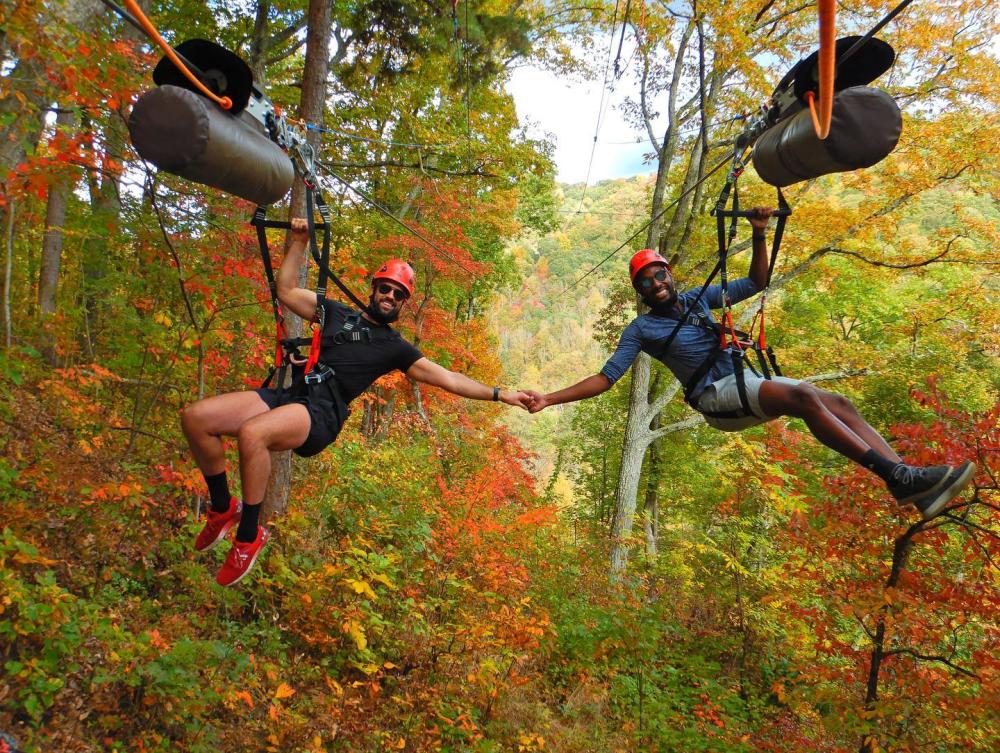 Leave the car behind and truly immerse yourself in the fall colors by taking it to the trees. Get outside and soar hundreds of feet above the ground on one of Asheville's many zipline tours. Take on the heart-pounding thrill of the Mountaintop Tour at Navitat Canopy Adventures, a side-by-side experience that features zips as high as 350 feet. Closer to downtown Asheville, Adventure Center of Asheville offers an urban tour that encompasses 11 ziplines, three sky bridges and soaring adventure towers that offer sweeping views of downtown Asheville.
#7: Learn About Nature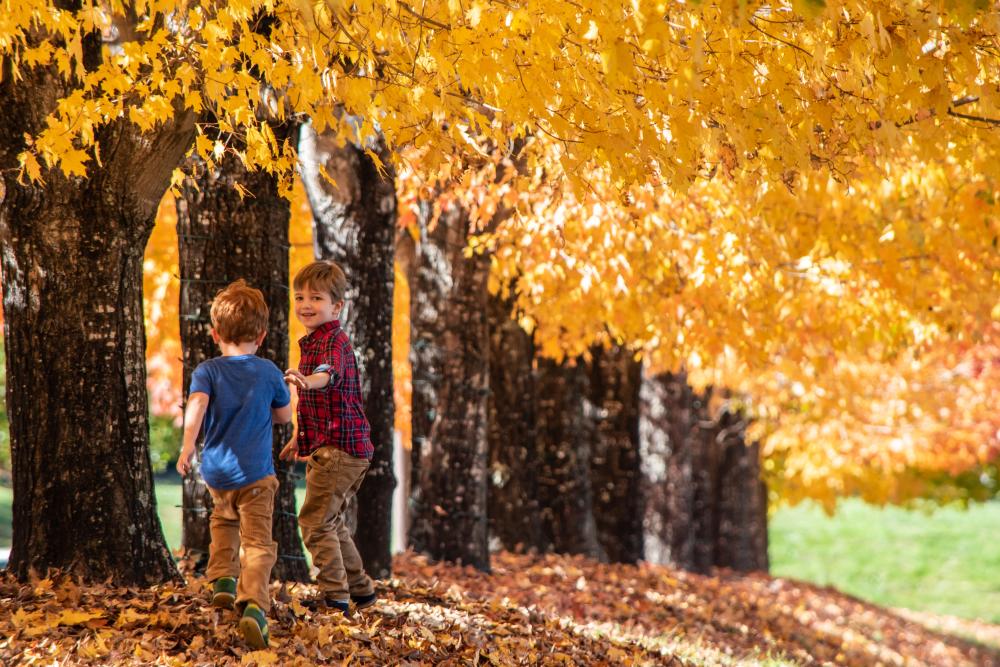 Asheville and the surrounding Blue Ridge Mountains is one of the most biodiverse regions in the world. Expand your appreciation and knowledge for the natural world by visiting one of Asheville's family-friendly nature attractions, where you can also get a great glimpse of fall color. The North Carolina Arboretum is a 434-acre public garden that offers educational events and programs, hiking trails and rotating exhibits. Across town, the WNC Nature Center showcases over 60 animal species native to the area. On the Blue Ridge Parkway, visit the Cradle of Forestry where you can learn about the first forestry school in America. By visiting any of these attractions, you are supporting each of their missions to further protect and conserve this special area.
#8: See Fall on Foot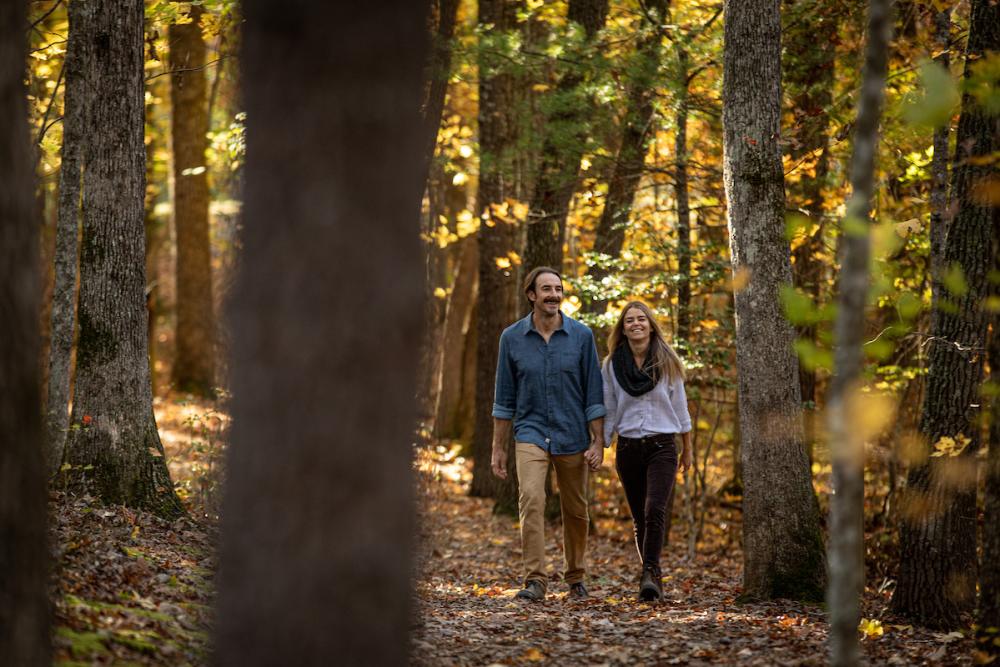 Experience fall while getting your steps in for the day! Whether you're strolling through downtown, along one of Asheville's greenways or discovering the quaint Main Streets of Black Mountain or Weaverville, one of the most peaceful (and eco-friendly) ways to take in autumn is on foot.

Just north of downtown, the Asheville Botanical Gardens is a 10-acre urban oasis located on the campus of the University of North Carolina at Asheville and includes a half-mile loop trail that highlights 600 species of plants native to the region. Situated along the French Broad Rover, Carrier Park is the city's largest public park. Walk along the river or enjoy lunch at the picnic pavilion. In Black Mountain, view the series of mountains known as "the seven sisters" as you take a stroll at Lake Tomahawk Park.
#9: Keep Asheville Beautiful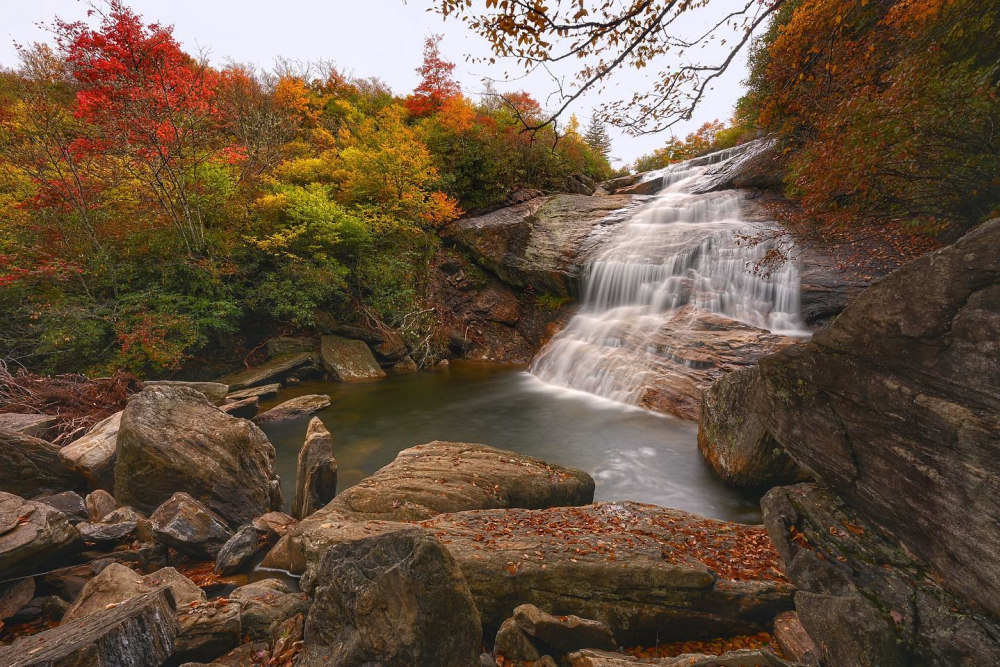 Combine your fall fun with stewardship! Help keep Asheville beautiful in fall – and throughout the year – by volunteering your time and participate in a clean-up activity. WNC Photo Tours' Protect Pisgah program is a monthly clean-up activity where participants pick up trash in high traffic areas and receive a free, three-hour photo tour and lesson afterwards. Locals and visitors can also "adopt" a waterfall through Waterfall Keepers of NC by visiting their adopted waterfall four times a year to pick up trash and sending condition reports back to the organization (now that's a perfect reason to come back to Asheville!). Also, check out volunteer opportunities with the Blue Ridge Parkway Foundation, Asheville Greenworks and other environmental groups for ways to connect during your visit – or provide a financial donation.
#10: Leave No Trace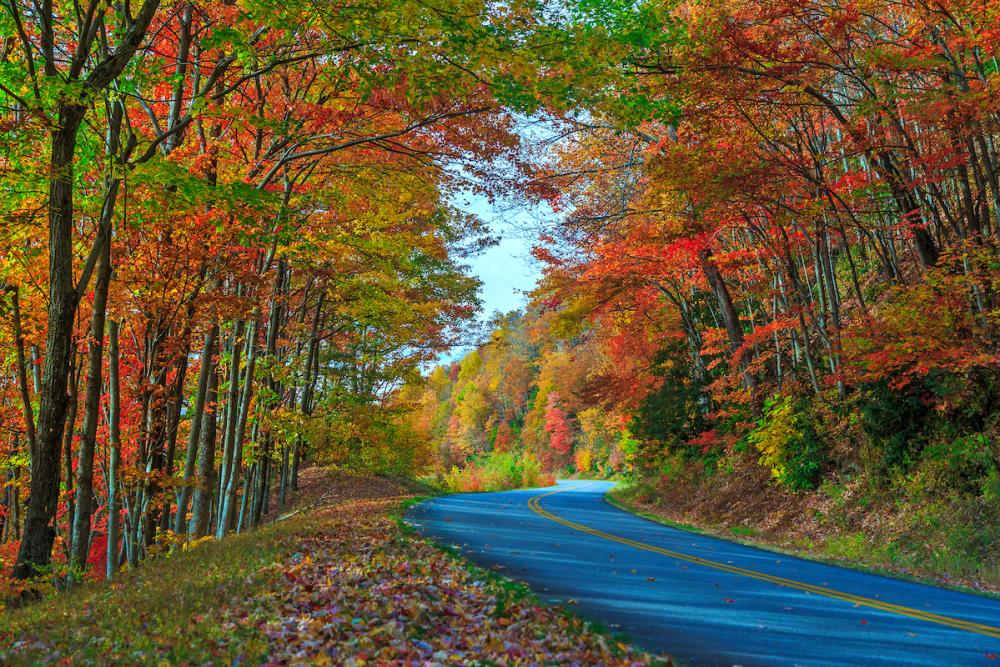 Whatever your fall plans entail, make sure to leave Asheville and the surrounding mountains better than you found it. Follow the seven principles of Leave No Trace and help us preserve this special area for years to come. Do not litter on the trails (and pick up any trash that you may encounter), be respectful of other visitors and animals while out in nature, plan ahead and recreate responsibly.
Updated September 29, 2022