The Most Popular Mountain Biking in WNC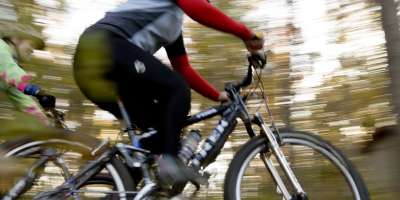 Urban riding to deep wilderness: Where to go mountain biking in Asheville
Asheville is quickly becoming a mecca for mountain bikers throughout the entire country who want to experience the deep, lush forests, while bombing their way over trails that weave past waterfalls, scenic views, wildlife and natural beauty.
An experimental forest and some trails that are slick
No, you won't find any mad mountain bike scientists in the Bent Creek Experimental Forest, but you will find 6,000 acres of wilderness 15 minutes from downtown Asheville, with dozens of miles of trails, ranging from mild to wild. Bent Creek, located at the North end of Pisgah National Forest, was established in 1925 and is currently part of only 80 experimental forests in the U.S., meant for conducting research on sustainable forestry practices.
The Hard Times connector trail is a great jump off point that belies its name. This easy .9 mile trail is accessed right at the Hard Times trailhead and is a great intro to the area. Follow the orange blazes to a short and sweet downhill section that contains some roots and rocks typical to the area- and it's just fast enough to get your heart pumping.
Also for beginners:
Homestead trail runs along Lake Powhatan and features some footbridges, a rhododendron tunnel, and a creek crossing.
Deer Lake Lodge is a paved trail that starts at the Rice Pinnacle parking area. It starts out downhill and crosses a wooden bridge.
Boyd Branch is a trail that can be fast in some spots, but has been tamed by being graded and filled in with gravel. The one creek crossing is easy but fun, with a gravel bottom and large, flat rocks to guide you through.
 
Faster trails at Bent Creek:
You have to go up to go down, and Green's Lick is one of the most popular trails at Bent Creek that will both test your legs and your nerves as you descend down 800 feet in 2.5 miles on an old road bed. A 2006 forest service re-work added dozens of undulating dirt mounds that are meant for water management, but make for perfect jumps if taken at speed.
Further exploring Pisgah National Forest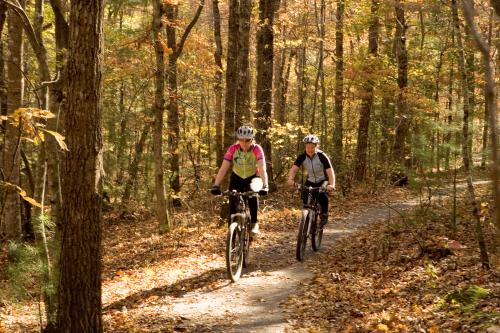 The Ingles Field Gap trail is known for some long, flat, sections with some rocks and roots, but also for the great downhills. Follow it to Little Hickory Top, which features more fast downhills, roots and rocks, and some muddy sections.
Wolf Branch is an intermediate trail that is relatively flat but technical, and known for its scenery. Cross wooden bridges as you traverse through mountain laurel tunnels. You'll know you're in a thick forest here, with lots of ferns and moss covered logs on the side of the trail.
For a guided mountain biking experience in the vast Pisgah National Forest, look south to The Bike Farm, located in the Pisgah Ranger District, the main entrance to the thousands of acres of wilderness.
"Pisgah is beginning to be added to every rider's bucket list," said Cashion Smith, who co-founded the Bike Farm with his wife, Eva Surls. "It's legendary for technical riding, with a good mix of everything from beginner and intermediate to highly advanced trails."
With the Turkey Pen Gap trail located on the back of the property's boundary, the Bike Farm offers a base camp for cyclists coming to the area to hit the trails. The Farm can facilitate bike rentals and offer guided rides into the forest for every skill level and budget.
For advanced rides, Smith recommends you check out Farlow Gap trail, Squirrel Gap trail, and Pilot Mountain trail.
When it rains, hit the slick rock
Most mountain bikers are aware of the legendary slick rock trails in Moab, Utah, but the same style of exposed granite domes that are found out west can also be ridden at DuPont State Recreational Forest in Brevard. This 10,400 acre parcel of wilderness offers about 100 miles of multi-use trails that cross over the sprawling lanes of rock and dive into dense forest, passing waterfalls along the Little River.
DuPont's trails are well-drained and solidly packed, meaning mud isn't as big of an issue as it might be in Pisgah. The Cedar Rock and Burnt Mountain loops are recommended when the weather turns wet, as it often does in this region.
Mountain bikers should park in the Lake Imaging, Buck Forest, Guion Farm, Corn Mill Shoals, or Fawn Lake parking areas and go from there.
Urban escapes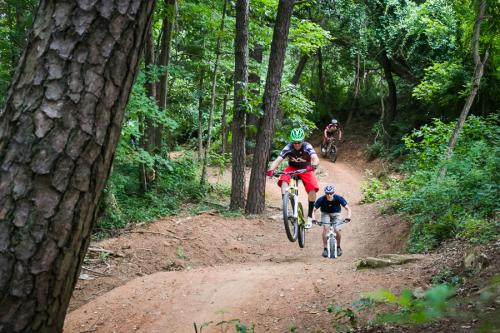 If walking isn't fast paced enough when exploring the grounds of the Biltmore Estate, rent a bike to see things at a quicker clip. The Biltmore offers several miles of biking trails, from woodland excursions to the paved trail along the French Broad River.
Biltmore's bike barn, located on the second floor of Antler Hill Barn, is where you'll need to check in to rent a bike and gather information for your ride.
Located just minutes from downtown, the Kolo Bike Park is part of the Adventure Center of Asheville. This family-friendly facility, built on a former golf course, has miles of purpose-built trails, wooden and dirt jumps for more advanced trail-goers, and a small pump track where kids can race over smooth dirt mounds, pumping over them for more speed.
For something more relaxing, head over to Beer City Bicycles downtown, where you can get your bike serviced, pick up parts and clothing, rent a bike, or belly up to the bar for a local pint of beer.
Kolo Bike Park photo courtesy of Kolo Bike Park.