Tap Your Toes at Asheville Music Festivals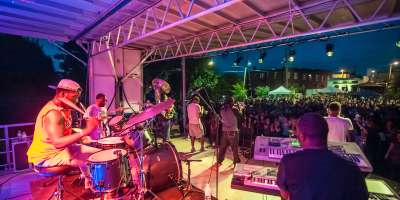 Hear Local and World Talent at Asheville's Musical Celebrations
Asheville's music scene, like the city, is melodious blend of contemporary, classical and old-time traditions. One look at our wide range of music festivals, and it's easy to see why any time of the year is a good time for music in Asheville.
To help you get started, here is an overview of annual music festivals in the Asheville area.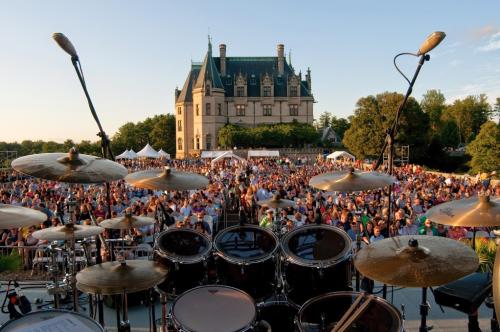 Asheville Amadeus Festival: This biennial festival features the works of – you guessed it – Mozart. International artists join the Asheville Symphony in a week-long celebration every two years in March.
Biltmore's Summer Evening Concerts: Experience the exhilaration of a live concert on the South Terrace at Biltmore in July and/or August. These star-studded performances feature national performers on an outdoor stage set against the backdrop of Blue Ridge Mountain sunsets. (*Note: Cancelled for 2021)
Brewgrass Festival: Since 1996, this September celebration has combined the best of Southern Appalachian music and craft beer. Come prepared with a hat, sunscreen and a thirst for Asheville's tunes and brews. (*Note: Cancelled for 2021)
Downtown After 5: Celebrate the joy of weekends the third Friday of every month from May through September. Performances are free and feature local and regional jazz, classic soul, country rock, funk, and blues musicians.
Goombay Festival: For more than 30 years, this August celebration of African-Caribbean food and music has filled downtown Asheville with memorable flavors and the sounds of gospel, reggae, funk and soul.
Omni Grove Park Inn Winter Concert Series: As the holidays wind down, winter weekends at the historic Omni Grove Park Inn are filled with music. January features the lush sounds of the Big Band era and rousing Rock n' Roll, while February offers a Comedy Classic to help you warm up with laughter.
LEAF: The Lake Eden Arts Festival's weekend celebration of art and music happens two weekends a year in May and October at the site of the historic Black Mountain College.
LEAF Downtown Asheville: For two days every summer, Asheville's Pack Square Park is filled with music, art, workshops, great food and beverages in a celebration of local talent.
Mountain Dance and Folk Festival: This "granddaddy" of mountain music festivals is held in early August. From the stage of the Diana Wortham Theatre, performers pay tribute to the region's rich Scottish, English, Irish, Cherokee and African musical heritage.
Percussion Festival: The "beat goes on" in June when percussionists and dancers from around the globe gather for this annual event. Saturday evening Masters Concerts in the Diana Wortham Theatre feature collaborative compositions from the festival's faculty.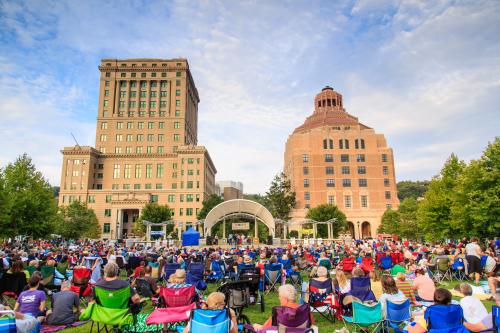 Shindig on the Green: "Along about sundown" is the calling card for these free Appalachian song and dance Saturday evening gatherings. For more than forty years, locals and visitors have spread their blankets and listened to the music of the Blue Ridge while the sun sets and the stars come out in downtown Asheville.
Sourwood Festival:  Black Mountain's annual Sourwood Festival celebrates the region's prized Sourwood honey every August. With a line-up of local musicians, honey tastings, and a decadent food fest, this family-friendly festival is a favorite of locals and visitors alike.
Swannanoa Chamber Music Festival: From late June to late July, The Swannanoa Chamber Festival features 15 performances by acclaimed quartets and individual string and wind performers. The Festival is considered to be the Carolinas' premier chamber music festival.
Swannanoa Gathering: This month-long Celtic music festival takes place on the campus of Warren Wilson College. The festival's workshops and public performances are joyous celebrations of Scots-Irish music and dance and the many musical forms they have inspired.
Check out other music festivals and events on the events calendar.
Summer concert series photo courtesy of The Biltmore Company.
Updated July 16, 2021