Play On In: Immerse Yourself in Mountain Sounds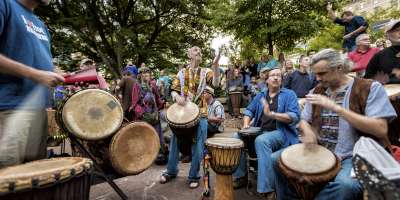 A Feast for the Ears
Musical roots grow very deep in the mountains. The ground is melodiously fertile, and music thrives here. Listen closely and you'll hear a fiddle at dusk down a long mountain cove. Hear the tap-tapa-tap of young mountain cloggers in Pack Square Park. Stroll past guitars and banjos, fiddles and violins, spoons and steel guitars. Sit in the circle and feel the world rhythms of drums. Then join in.
Jam Sessions, Drum Lessons and Musical Tours in Asheville
Music here isn't passive. You can join in and contra dance at the Grey Eagle or practice your drumming at Skinny Beats so you're ready to participate in Friday night's drum circle. Take the Moog Factory Tour or tour the Moogseum and learn about the genius of Ashevillian Bob Moog, who invented and perfected the Theremin, an innovation which totally changed American rock and roll music. Buy yourself a handcrafted mandolin or hammered dulcimer at Black Mountain's Song of the Wood.
Or grab a chair and join a jam session that gathers together the area's more traditional sounds. In the summertime, on Saturday nights, "right around sundown," Shindig on the Green – which has been a downtown Asheville staple for fifty years – features cloggers, musicians and novice amateurs who want to bring their instrument and give the stage a try.
Another more structured musical happening is the Swannanoa Gathering on the campus of Warren Wilson College near Black Mountain. Musicians enroll in classes exploring a wide range of mountain music heritage: Celtic music, fiddle week, mandolin and banjo week, traditional song week.
Be Part of Our Musical Traditions
Music has always been ubiquitous here. Downtown Asheville had an opera house in the late 19th century. In 1925, Jimmie Rodgers, the Father of Country Music, formed the Jimmie Rodgers Entertainers, a hillbilly band, and performed for the first time on Asheville's radio dial WWNC. Two years later, Bascom Lamar Lunsford, the Minstrel of the Appalachians, started the Mountain Dance and Folk Festival, which continues to this day.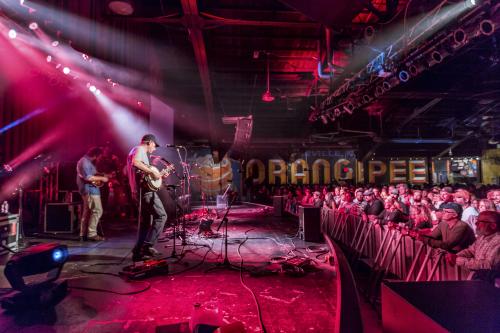 Besides the Mountain Dance and Folk Festival the first weekend of August every year, there are ongoing ways to sit back and listen if that's your preference. Several music venues – including the Orange Peel, White Horse Black Mountain and the Grey Eagle – draw nationally known singer/songwriters and bands to Asheville. Smaller venues feature local singer songwriters, Americana, bluegrass, and home-grown rock and roll.
Help yourself to live music at Highland Brewery, Pisgah Brewery and Jack of the Wood. Stroll over to Lexington Avenue for Fridays at Five bands or wander down to the River Arts District and you're likely to find music and dance up and down the riverfront.