Moog Music: Pioneer of Modern Sound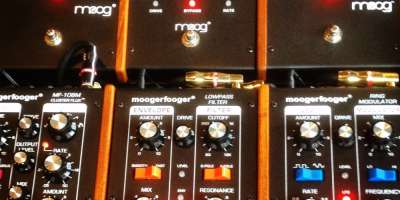 Bob Moog is a well-known legend in the music industry. In fact, in many ways he was a pioneer. Having invented the Moog Synthesizer back in the 1960s, Moog revolutionized the way we enjoy music today. You would be hard pressed to find any major band that isn't using a Moog instrument, and each one is made by hand right here in Asheville.
The Moog factory opened its headquarters in 2011 at the edge of downtown Asheville. Here they produce high-end equipment for musicians and sound engineers across the country and around the world. Thirty different instruments are produced in the factory, including five types of synthesizers. The largest, the Minimoog Voyager XL, takes four people and 360 minutes to produce just one. A total of 51,000 units are produced annually.
It's not surprising that Moog music is a favorite stop on visiting musicians' tours. You, too, can tour the Moog factory and see production up close. There's no charge to go through the factory. And, if you're in the market for a synthesizer, there's a shop right there at the factory.
Animoog
Moog Music also launched the number one selling app on the iTunes market in 2011. It's called Animoog and musicians actively use the app to craft music directly from their iPads. The app projects imagery as you play and gives you all the tools you need to craft your own electronic masterpiece. More about that here.
Moogfest
This signature event that celebrates Bob Moog's legacy made its debut here in Asheville in 2011. The multi-day festival features solid line-ups of electronic music pioneers (think Moby, Brian Eno, Devo and more). Moogfest is now held in Durham, N.C., every May.
September 25, 2015