Live Music Lives in Asheville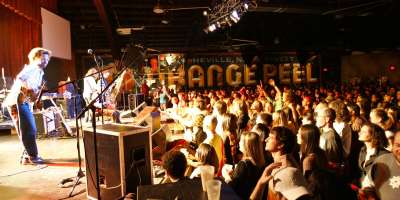 Follow Your Ears to Asheville's Hot Sounds
Wander through Asheville and you'll hear music in every nook and cranny. A bluegrass fiddler on the sidewalk, an indie rocker at a club and an old-timey jam session at a bar are equally at home here. Immerse yourself in Asheville's live music scene with this handpicked list of the city's top music spots.
Busker Street Life Serenade
The fastest way to hear the most music is just to walk through downtown Asheville. The city's street performance scene boasts buskers of all kinds, from country crooners to electric violin players. It's hard to miss the talent that overflows onto Asheville's streets, so keep your ears out for some of the most unique music in town.
Rock Out at Local Clubs
National acts breeze through Asheville every week, ranging from celebrated North Carolina bands like The Avett Brothers to indie darlings like OK Go. In between, local bands including Floating Action and Stephaniesid take the stage.
Big venues like The Orange Peel rock to the rafters, while more intimate clubs like Fleetwood's cater to a relaxed crowd. Stop by the Grey Eagle or head up to White Horse Black Mountain in nearby Black Mountain for folk shows and benefit concerts.
Music Under the Stars
Step back in time with Shindig on the Green, a celebration of old-time and bluegrass music downtown in Pack Square Park's Roger McGuire Green. Fiddlers play their hearts out and clog dancers twirl across the stage at this weekly event, held Saturdays around sundown during the summer months. Bring a blanket or lawn chair and a little pocket change for some sweet snacks at this free event.
A Feast for Your Ears
Chow down on barbecue and enjoy spirited sounds at Luella's Bar-B-Que. Their Sunday brunch and Friday night music set the tone for a lively meal. Burial Beer Co. hosts a New Orleans-style brunch accompanied by rollicking jazz on Sundays. On Friday and Saturday nights Jerusalem Garden Cafe offers live Middle Eastern music and belly dancing performances.
Jump in on a Jam Session
Jack of the Wood in downtown Asheville has been hosting bluegrass and old-time music jams for nearly 15 years. Some of the best musicians in the area sit in on these fierce fiddling sessions and laid-back impromptu gatherings. Stop by Wednesday or Thursday evenings to hear music year-round. Here's a guide on where to find bluegrass in and around Asheville. 
Updated April 11, 2023