In Asheville, There's More to Imbibe Than Beer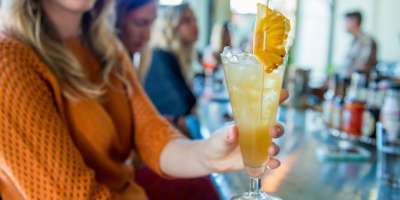 Drink It ALL In
Asheville is known for its craft beer scene with its array of breweries, beer festivals and events and even a pubcycle. In fact, Asheville has earned the coveted title of Beer City USA multiple times. But don't think beer is the only beverage in town.
The craft beverage community is dynamic, vibrant, creative and dedicated to making quality drinks of all sorts. From meads to cider, Buchi to sake, wines to sour beer, Asheville's got what it takes to quench anyone's thirst.
Beowulf Was Here
With hundreds of varieties of wildflower honey in our mountains, it would make perfect sense someone would be producing a honey wine or mead, the ancestor of all fermented drink. And you'll find it in the Fairview community just east of Asheville at Bee & Bramble. The winery uses local and regional fruits in addition to mountain wildflower honey and special yeasts to make a honey wine that's never filtered. Find Bee & Bramble in bottles at specialty shops and on tap at a handful of restaurants around town.
Black Mountain Ciderworks also produces meads in addition to its ciders. Look for unique blends of ciders and meads that create one-of-a-kind flavors and combinations such as their Viking Blood (barrel-aged cider and cherry mead) or Boadicea (barrel-aged cider and Earl Grey mead, a specialty for St. Patrick's Day).
Cider Houses Rule
The North Carolina Mountains are apple country, and the resurgence of locally made, mountain hard cider is robust. Hard cider is technically a wine but it often gets compared to beer. So, some folks think it's the perfect refreshing quaff for everyone in the group. 
Noble Hard Cider in Asheville is the oldest cidery in the area and uses only local apples to produce its pure, gluten-free ciders such as its Standard Bearer and its Village Tart, made with cherries and tart apples. You can now taste their varieties at their brand new taproom, 8 minutes from downtown.
The Urban Orchard Cider Bar serves one-of-a-kind ciders made on site. The cidery features a variety of choices, including three staple options of their own ciders, a rotating seasonal or experimental batch and ciders from around the country. You'll also find the occasional international cider, and a welcoming atmosphere for sipping your cider indoors or out.
Black Mountain Ciderworks chops and presses local apples into juice and ferments in small batches in an effort to produce a dry, country-style cider, which gets any hint of sweetness only from fresh fruits, herbs and spices. This cidery also collaborates with local producers such as Dynamite Coffee and Dobra Tea.
The Birth of Buchi
The brainchild of two local moms, Asheville's Buchi Kombucha began in 2008 and is the first commercial kombucha brewery in the Southeast. Their Buchi is nutrient dense with bold flavors and restorative probiotic tonics. The company quickly outgrew the two moms' kitchens (both of whom had been home brewers for years) and now has a home in a former wine distribution warehouse on an organic farm. Buchi's sweet and sour flavor profile is the perfect alternative to high fructose beverages. Order up a flight or sip a Buchi cocktail at The Buchi Bar in downtown Asheville.
Sake and Moonshine?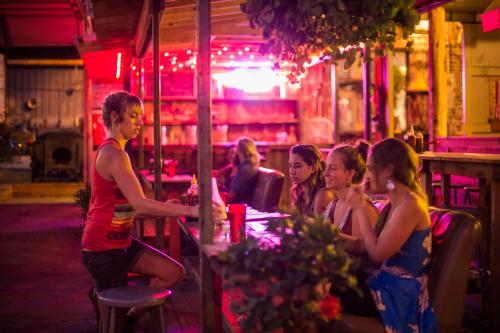 In Asheville's South Slope neighborhood, Ben's Tune Up is an all-in-one place to eat, drink and shop. Its restaurant and beer garden are popular spots until the wee hours of the morning, but it's their East-meets-West American sake brewery that draws many curious visitors, as well as sake aficionados.
Want to experience real mountain moonshine? Drive a little east of downtown and watch Troy Ball and her crew make premiere fine moonshine (who knew "fine" and "moonshine" would ever be anything but an oxymoron?). Troy & Sons Distillery is state-of-the art and produces award-winning moonshine whiskeys from heirloom corn grown right down the road in Old Fort. Tours and tastings are available at the distillery.  
Sour beer and sweet bluegrass
Wicked Weed Brewing's South Slope sister location, The Funkatorium is part tasting room, part production facility for sour and barrel-aged beers. Some beers are blended in bourbon barrels for bold, bourbon-hinted brews. The Funkatorium also creates Belgian Lambic beers, an almost extinct style of beer using wine barrels to age the Wicked Wild strain of yeast for at least three years. These and other sour beers are offered with sweet live bluegrass on the Wednesdays.
Just Tell People You're "Going To The Vineyard"
And it's not Martha's. It's not California. It's here and it's authentic. 
Addison Farms Vineyard is a family-owned vineyard planted on a 55-acre farm that's been in the family for four generations. The vineyards are planted with Cabernet Sauvignon, Cabernet Franc, Sangiovese, Montepulciano, Petit Verdot and Petit Manseng, and the winery also collaborates with other growers to add additional fruit to the crush. The tasting room is open on the weekends and by appointment.
The largest winemaking operation in North Carolina is at George Vanderbilt's estate, Biltmore. The estate's winery, which opened in 1985, is the country's most visited and is located in an historic re-purposed dairy in Antler Hill Village. Self-guided tours take you through the production facilities and bottling operations, highlighting the winemaking process. The tour ends at the winery's large tasting room where you can sample one of several dozen fine varietal wines and browse in the winery's gift shop. Tours of the vineyards, located on the west side of the estate, are available for an additional fee.