Homegrown Headliner: Lyric Catches the Ear of Asheville's Music Scene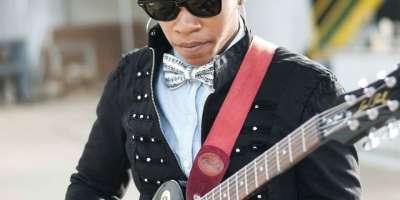 Asheville native takes soul-pop sound from the sidewalks to the main stage
Performing on the street in downtown Asheville's Pack Square Park one day in 2011, Leeda "Lyric" Jones caught the attention of someone she never could have imagined.
"I saw her and turned to my dad and said, 'That's Lizz Wright!'" Jones said. Wright, an internationally-known jazz musician, had stopped to hear her sing. "I called her name and she turned around. We talked and exchanged emails."
A few months later, Jones would open for Wright at Atlanta's Variety Playhouse and have a backstage meeting with musical inspiration, India Arie. It's the kind of opportunity she says street performing in Asheville has made possible for her time and time again.
"Busking (street performing) in Asheville is where I got my start," Jones said. "Without that, I don't think I would be where I am today."
Where she is today is at the peak of Asheville's music scene with a style all her own. Her mixture of pop, soul and funk has enlivened audiences and helped her five-part band, LYRIC, develop a dedicated following. Readers of Asheville independent weekly newspaper, The Mountain Xpress, even named LYRIC the top local act in both the soul and R&B/blues categories.
Get to know Lyric and hear about the song "You Can Win" off her latest EP:
The journey from Asheville's sidewalks to the mainstage has been especially gratifying for the 27-year-old musician. That's because Asheville is where she was born and raised, and where her family has made a name in music for three generations.
She says her grandfather, nicknamed "Guitar Shorty," was a well-known slide guitarist, singer and songwriter in town who often played with B.B. King. Her father, Dave Matthews, is an exceptionally talented bass player who now jams alongside her in her band.
Her earliest music memory is sitting on his knee while he sang her The Zombies song "Time of the Season."
"That's just a moment I really remember of when I began to love music," Jones said. "I feel like if he was not my dad, I don't know if I would be who I am."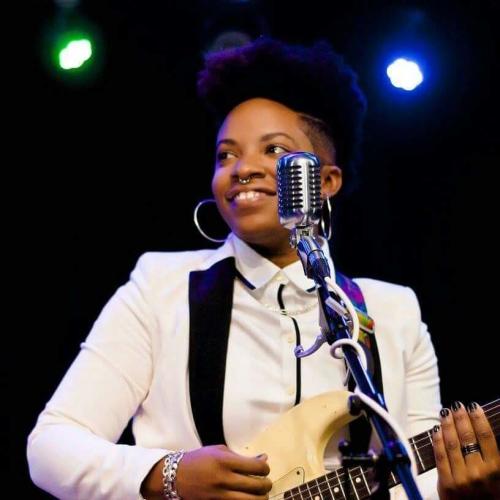 Her dad watched her love of music take flight when she was a 19-year-old student at Western Carolina University. That's when she began to teach herself to play guitar by watching YouTube videos. Jones says her father encouraged her to showcase her talent by busking in downtown Asheville. She made her debut in 2008.
"When we performed on the streets, it was like a live show," Jones said. "There are always new people coming up watching you and it makes you a better musician because you are always on your toes."  
It's not just busking that's kept her on her toes in Asheville. She credits the "melting pot" of artists and their collaborative spirit with helping her take her performances to a bigger stage.
"Growing up here has helped me evolve as a musician because you can just go and jam on any night with other musicians," Jones said. "Asheville is unique because you can go downtown and find just about any style of music. There are so many venues, so many different types of talented artists."
She says locals and visitors alike have embraced those artists, especially those like herself who have Asheville roots. She says she feels the support at her live performances all around town and the karaoke show she hosts in Asheville.
"I do have that positive push from all the locals and people who know that I am from here," Jones said. "I get a lot of people who come up to me and say, 'You make us proud. We love that you are chasing your dream and showing other young ladies they can do the same thing.'"
Inspiring others is exactly what she hopes to accomplish. With each performance, she seeks to give back to the community that helped launch her career.
"I would hope that my audience leaves feeling enlightened, feeling happy, feeling empowered and feeling like they can accomplish their dreams," Jones said. "I went from playing on the streets to where I am now and that's making a pretty good living playing music."
Top photo by Mike Berlin; all photos courtesy of LYRIC.